We are pleased to announce that sponsorship support for then 2016 oOople Offroad Open Series has been greatfully recived from the following......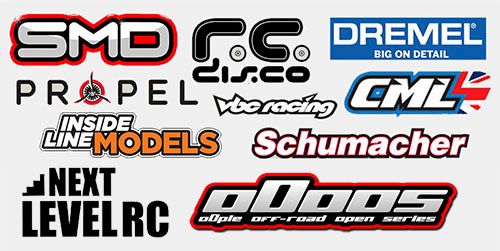 Ongoing thanks to our established and new supporters alike.
2016 SERIES
23/24 April - Bury
21/22 May - Broxtowe
4/5 June - Dunfermline
9/10 July - Mendip
23/24 July - Southport
Saturday
Registration and practice from 9.30am in the morning.
Booking in closes at 11am - make sure you have booked in!!
Practice will be controlled and timed - 4 minutes each session
12 heat schedule, 5 minute heats, 3mins between heats
11.30am - drivers briefing
12.00am - RD1
01.36pm - RD2
03.12pm - RD3
04.40pm - End
Sunday
10.00am - RD4
THREE LEG FINALS FOR ALL STARTING AT:
12.00am - Finals Round 1
01.36pm - Finals Round 2
03.12pm - Finals Round 3
04.40pm - End