Paul Crawford - also known as 'Eyeball Paul' is the new superstar in the UK national series. Pauls years of training, hard graft and devotion, along with certain medical 'gifts' have allowed Paul to move his eyes independant from one another to monitor both his car on the track for any upcoming hazards. Like some sort of half-man half-chameleon hybrid racing genius.

Sometimes Paul will watch his competitors transmitters whilst racing with one eye to see how they approach an area of the track where Paul might be still perfecting his lines. This weekend however he was mostly using one eye on the skies to avoid rain drops.
How long have you been racing?
On and off for 20 years +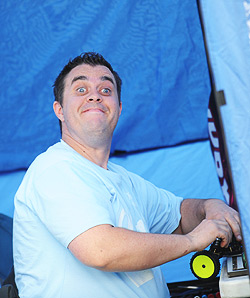 Where do you mostly race?
Batley is my local club, or RHR. There aren't any tracks in Hull. Batley is the nearest club at 1hr away.
Proudest R/C achievements.
I ain't really got any. Was pretty good dominating the L final at Silverstone though and I might do that again today.
What do you aim to achieve in the coming year?
Not to come last.
What made you choose Hull?
It wasn't my decision really, to be in Hull. If I could move Hull to anywhere else in the world I'd take it somewhere nice and hot - possibly Grimsby although I haven't been there before.
How about telling us about your equipment?
I'm running the B44 and the c4.1 for the time being, Sanwa transmitter with sticks, LRP speed controller, Thunderpower motors 6.5winds, saddlepack orion cells, schumacher tyres, and yellow wheels - they go faster.
If you could have any superpower?
Bigger eyes, so I could see the track better and improve my driving skills.
Favourite book?
50 shades of smut. (not really, he couldn't think of any books)
Favourite food?
Chicken pizza. I can manage one and a half decent size pizzas.
Racing hero?
Bradders - he's a decent lad, and alright at driving too.
First r/c car.
TopCat - straight in with a good car. The shell was appaling though. I wanted purple with orange stripes - so I sprayed from a can and ended up with a brown stripe.
Eyeball Paul from Hull has been celebrating the launch of his exclusive range of parabollock ark visionary techniques this weekend. He was spotted in Stourport's top nightclubs surrounded by the local talent whilst consuming champagne using only his eyes. If your ark is due a servicing Paul is offering a whopping 3% discount off all full price products when paid for in cash.