| | |
| --- | --- |
| | CML Raceway is a new track in the south of England, not too far from London. Owned and developed by CML team driver Lee Martin, on his own land -- the track is designed to be as close to an American style track as possible, with plenty of timed-jumps which need thought and skill to race upon. With the unpredictable weather a constant feature in the UK, the track is a combination of Astro Turf and Tarmac rather than dirt as you might see in the USA. |
Lee and his friends have put a lot of effort and money into the track and it shows. The tarmac is professionally laid along with the Astro - which is brand new quality stuff from none other than NIKE -- so you know this isn't a half hearted attempt. Lee wanted to make a track that the top racers in the UK could be challenged on - and from the looks of it has suceeded.

You might notice from the photos, that the rostrum is rather unique - being an old converted double decker bus! Complete with centre spiral staircase leading to the top deck open-air drivers area - fantastic stuff.

This being the first in the 4-round winter series, coincides with the official opening of the track. Previous to this the track has seen only some limited action on test days, where Lee and guest drivers have had a play.
55 drivers turned up for the days racing at around 8am. Parking was tight since the field behind the rostrum wasn't in use early on, but still everyone managed to park and get set up early. Pitting was available in a few areas, the biggest of which was the field beind the rostrum with plenty of space- but for friends and those who arrived the day previously there were some extra special pitting places in Lees Parents conservatory and garage also! World Champions only need apply.

Open practice started a little after 8am. The track was wet from rain the night before and this showed with cars finding it hard to put power down.

Practice finished at 9.45am following a short drivers briefing and introduction to the track by Neil Round - racing commenced around 10am. With 55 drivers split over two and four wheel drive, there were 4 heats of 2WD and 2 heats of 4WD.

Racing was to be round-by-round qualifying, with the best two round scores from 5 to count. The first round of racing saw 4WD up first and Ellis Stafford walk away never to be seen again. Ellis was driving for his new sponsor, XFactory, with the X-5, and looked very comfortable on the challenging track.

Chris Doughtys thoughts - Vicky oOple

What did you think of the first official race meeting at CML raceway this Sunday?
- Superb, to me it felt quite similar to a national, there was a class field, great track, and the event ran very smoothly.

Was this your first visit to the track or have you had chance to practice previously?
- I had a secret session there running my S4 and a few runs with my new B4 a month or so previous, it was dry then though.

Were you happy with your overall race result this weekend?
- Yes and no, in most of the qualifiers I was tripping over a few other cars, I ran an ace final though, really happy with the way the B4 ran.

What was your choice of tyres for the event, and how many runs did you get from each set of tyres?
- Proline M3 Bow-Tie rear and Narrow Proline M3 ribs front, I ran the rears all day other than one run on BB green spikes.

How easy did you find the track to get to grips with?
- I knew what to do from my brief secret session a while back, but knowing what to do and doing it are two very different things. It's not a hard track to plod around, it's a hard track to get all the features right every lap.

If you had to escape from a burning building what one item would you pick up and why?
- My phone to call the fire service.

Do you think CML raceway should hold a national event?
- I would like to see a national there, it would compliment the current tracks we have and have good variety for the whole season.

Did you have difficulty parking at CML raceway?
- No

Which part of the track did you find to be most challenging?
- The big double dropping down, hard to get drive in the wet!

What changes would you make to the track if you could?
- Some corners would be ace if they had proper apex like kerbs to ride.

Are there any other comments you have to add?
- Thanks for such an ace facility thats actually close (just over an hour) from my house!!!!

Two wheel drive was more of a challenge because of the moist conditions, this was most noticable under the cover of the trees which created a shade over half of the track for the whole day.
Lee Martin went on to secure the top position in round 1 by over 4 seconds. Lee had some nice lines over the jumps but others were learning quickly.
Paul Bradbys thoughts - Vicky oOple
Did you enjoy the first official race meeting at CML raceway?
-Yeah, the meeting was cool. Very well run by John Cockill. Loved rallying the car round the track even if I couldn't get it to handle how I wanted all day long.

What did you find most challenging about the track?
-Well, for the first two rounds, getting onto the straight was a major issue (think I was driving too hard!) Apart from that I'd say the jump down the hill after the quads and hairpins... In the wet it wasn't always easy to get the power down to clear it all, and make sure you got the line good after it.

What changes would you make to the track if you could?
-Add a few more features and different layout options in the parts not used yet... But Lee's already got some of that in hand, so the track may be slightly different next time?!

If you had to escape from a burning building what one item would you take and why?
-My Ipod... Simply because, if I had absolutely nothing in the world except music, I'd still be happy! (I'd have to steal a charger from someone though!) Is that allowed?!

Did you have any difficulty parking at CML raceway?
-Nope, VIP parking because we were staying at Lee's house.

Have you had chance to practice at the track or was the meeting this Sunday your first race there?
-I'd been down to the track about a month ago, but it was hammering down with rain all the time, so it wasn't quite the same! Still good though.

Were you pleased with your race result at CML raceway?
-2nd behind Ellis [4WD] ain't nothing to be sniffed at, but I was hoping to be closer to him so we could have had a bit of a battle. Until next time...

Do you have any other comments you would like to add?
-I gotta give a massive thanks to Lee's mum and dad. Firstly, for making the track and the meeting possible. Secondly, for putting up with Lee for so long... That's a tough job!! And of course, big well done to Lee and everyone that put the effort into making the track in the first place.

The track starts with the fairly long straight right in front of the drivers rostrum, this is covered with astro and leads onto a banked tarmac corner with plenty of grip. a quick chicane and bobble and you are down into the bomb-hole which turns into a large tabletop jump with long progressive down slope. A sweeping right turn brings you to a wooden ramp placed carefully to propell you over a large permenant mound to land on the down slope once more. A left, right hair pin brings you to the quad jump. Lee Martin was double-double jumping this but most people chose to either double-single-single or single-single-double this. Another couple of hairpins and a couple more small jumps drop you down to a slightly down hill tarmac section which hairpins and then heads back up the hill toward the rostrum. Coming back toward the begining of the straight there are a couple of final jumps after on a small chichane which some people could clear in one. The track is great fun and a real challenge, proper jumps - at last! Welcome to CML Raceway.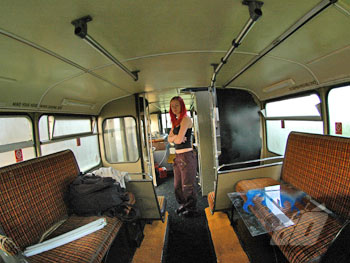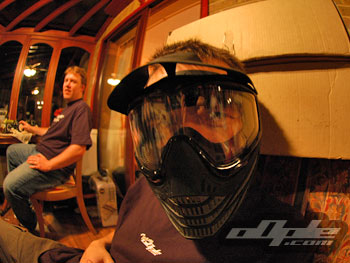 Neil Cragg on his first visit to the track showed his World Champion credentials by winning the next two rounds of Two wheel drive whilst Ellis Stafford continued to dominate the four-wheel class - challenged by Simon Reeves and Paul Bradby.
The great weather meant the track was certainly drying out by half qualifying distance but it was drying slowly and the shade provided by the trees kept about 50% of the track permenantly damp, though not excessively so by any means. Tyres were a challenge to find the best combination, with most starting out on prolines of some description. The proline wide ribs up front [2WD] gave little steering on the damp astro so some were using narrow ribs which helped. On the rear, the proline bowties were popular and gave decent acceleration but less than perfect side bite.
After 5 rounds of qualifying Ellis had a perfect score of five wins giving him pole from Simon Reeves (With two 2nds) and Paul Bradby (with a 2nd and a 3rd). Neil Cragg took the final round of two wheel drive which gave him three wins and pole from Lee Martin (with a 1st and 2nd) and Chris Rowcliffe (with a 1st and 3rd)
The finals were all one leg. Dave Mudford took the win in the 4WD B final with a sneaky pass on the two men in front when they crashed out. Ellis again confirmed his intentions with the X5 by taking the 4WD A final win.
Neil Cragg, surprise surprise, took the 2WD victory from Chris Rowcliffe and Lee Martin. Chris Doughty took 4th place driving the Associated B4 now. Stuart Wood got it together and took 5th. Special mention to Nick Goodall driving an ancient Associated B3 on his first race back in years - and made a great 8th (Qual 7th) in the A !
LEE MARTIN Interview -

Vicky oOple



Thank you for a fantastic weekend, Jimmy and I both really enjoyed ourselves; your family are ace.
- Cool, glad you did! Pics are ace! Hope you two come down again.

Did everything go as you had planned for the first meeting?
- Yeah everything went well; due to the wet weather beforehand the field was too wet to park on, which caused a few traffic issues, but was sorted quite well. Also the track didnt dry as I had hoped.

How long did the track take you to build?
- Well it's been on going since around March last year, but was left for about a year with no progress, then we got cracking and it took around 3-4 months from then.

If you don't mind discussing... what was the total cost of the track build
- The total cost was around £6,000.

Have you had a good support team building the track?
- Yeah the team's been good, although small. Orignally, myself, Si Moss, Chris Rowley, Ian Boulter and Trumans started it, after the year break it has had amazing help from Tristram Neal and celeb apperances by the Trumans, Ian Boulter, Ryan Lees and Neil Round.
Obviously my dad was at the forefront of the operation, and nick goodall helped.

The bus made a fantastic rostrum and race control area - what a great idea, who thought of it? And what do you think of the paint job?
- The paint job went well, and was nothing to do with me, I supplied the paint and brushes and let Tris go with it! Although by the next round its likely to have its new custom CML raceway banners. The bus is very
original - my dad come up with the idea and we found one on EBAY.

The race meeting on sunday seemed to be quite popular, with a number of top name drivers turning up to race. Was the turnout as good as you had expected?
- Yeah it was, I hoped for over 50 drivers and we achieved that. I am glad the big names came out to play at the meeting, this should give the hobby some good support and get alot of other drivers interested in racing and watching/learning at CML Raceway.

Have you had chance to practice at the track or was the meeting this Sunday your first race there?
- I have practised, but not half as much as you would have expected from the track being in my garden! Most of my spare time was spent getting the track ready and Sunday was the first time I went on it in a month!

Well a very good performance from you anyway, were you pleased with your overall result?
- Well yes and no, I wasnt pleased how I raced at all and know that I can drive better, but yes because I enjoyed myself and was glad to see others enjoying it too. And hopefully everyone wont say 'home advantage', as I did worse than usual!

If you had to escape from a burning building what one item would you take and why?
- Oooh hard one; I probably would not take an item, I would ensure my family and my two dogs were safe, but if I had to grab an item it would be my car keys.

Thanks for your time Lee.

B final 4wd
1.david mudford (2)
2.nic child(4)
3.daniel cockill(7)
4.phil child (3)
5.jordan cook(6)
6.joe cockill (1)
7.allan davies(9)
8.nicholas child(5)
9.wayne elliot(8)
A final 4wd
1.ellis stafford (1)
2.paul bradby (3)
3.alec springer(5)
4.james ebden(7)
5.matt benfield(4)
6.john spencer(9)
7.brian preddy(8)
8.ryan lees(6)
9.scott follington(10)
10.simon reeves(2)
D final 2wd
1.stu agget (3)
2.kris gardner(2)
3.giles bishop(4)
4.clive wilson(5)
5.vicky storey(6)
6.gareth coates(1)
C final 2wd
1.mark stanley(1)
2.ian southwell(6)
3.jimmy storey(8)
4.ian boulter(2)
5.andy bell(3)
6.keith calder(10)
7.mark knight(4)
8.alex brayshaw(9)
9.lewis strong(5)
10.rick evans(7)
B final 2wd
1.matt dodd(1)
2.ian buck(7)
3.jonathan palmer(8)
4.tristram neal(3)
5.paul timberlake(6)
6.siman chambers(5)
7.simon overall(10)
8.nathan ralls(2)
9.neil round(4)
10.chris jenner(9)
A final 2wd
1.neil cragg(1)
2.chris rowcliffe(3)
3.lee martin(2)
4.chris doughty(8)
5.stuart wood(9)
6.tony truman(4)
7.kevin lee(5)
8.nick goodall(7)
9.nigel buck(10)
10.richard barton(6)
Thanks to the Martin family for their hospitality and dedication to the sport - the track really is something to behold and can only get better. Thanks also to John Cockill for his work in race control and organising, and indeed all those that helped make the track and prepare it for the days racing.
With the 'CML' name now on the track, this shows that 10th scale off road is recognised as an important part of this great hobby, so thanks also to them for their promotion of the sport and this very cool venue.