TTRC Live is here at the York EBOR24 race, broadcasting the racing live on the internets like some sort of modern day publishing hero.
The 'TT' in TTRC stands for Tony Truman, the genius and race commentating mastermind behind this reportage phenomenan. Tony grew up suckling upon the teet of 10th electric off road racing, though these days he's more at home among his 8th scale off road bretheren - Still, Tony appears now and then for 10th electric races and promises a renewed interest and focus on the smaller silent brothers he's used to in 2011. We managed to kidnap TT away from his important TTRCLIVE duties to get a few questions in:
Tony, thanks for attending this race and covering it - we're using your website for results since the wifi here seems to be broken. How long have you been doing the TTRC stuff, and why?
TT. Well i think the UK needed something like this to take it to the next level and i thought it would be something i would enjoy. We have been up and running for 6months now and have over 15,000 hits on the site.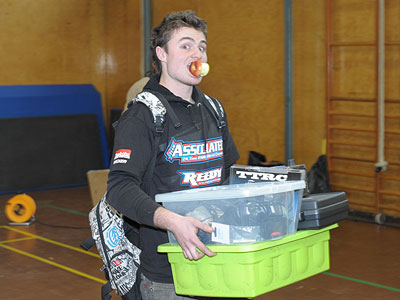 Tony Truman packs up his gear after some hard work
What are your plans for TTRC Live, do you have any plans to get bigger / cover more events?
TT. Yes next year i plan to go bigger and better. I think now i have all the setup sorted the sky is the limit. I plan to to cover all the B.R.C.A offroad events 1/8th rallyX and 1/10th electric. Then all big events and events im invited to inbetween.
What sort of money have you put into the venture - has it paid for itself?
TT. At the moment im scared to work out how much money i have put into this, but hopefully the plans i have for the future can help me to become bigger and better.
You've recently defected to 8th off road racing - why? Do you prefer the racing?
TT. As i race with my dad it gets him alot more involved with pit stops etc, plus i have raced 10th for 11years so i just fancied trying something else.
What's the best race you've covered, and why?
TT. proberly the 1/8th euros. The website was at its basic early stages but still we had over 600 viewers watching the main final.
Your girlfriend seems to help out a lot with TTRC Live - do you pay her?
TT.no no, she does it because she loves me :)