Euros Day 2 [Tuesday 15th August]
Two rounds of practice are first up today, then three rounds of qualifying. The first round of practice started off slightly damp from the previous days rain but the sun soon dried things up. Rain started toward the end of the round which again didn't slow the racing down.
The order in the first round of practice was as follows:
| | |
| --- | --- |
| Hubert Honigl | 11/300 |
| Peter Pinisch | 11/301 |
| Neil Cragg | 11/305 |
| Paul Bradby | 11/305 |
| Jorn Neumann | 11/305 |
Round 2 of practice on Tuesday was the last before qualifying and the order of the top 5 was the same with only Hupo managing to break the 12 lap barrier. Neil and Peter were close behind. Since the rain started earlier it hasn't ever really stopped for long, with light rain every few minutes. The track isn't so wet though and grip is good.
Commentating on the European Championships is Scotty Ernst from the USA. Scotty was brought over for the week for his great professional commentating skills, which really adds to the racing and gives everything a profesional feel. "Caution over the double-double" - class.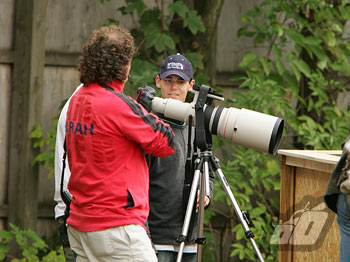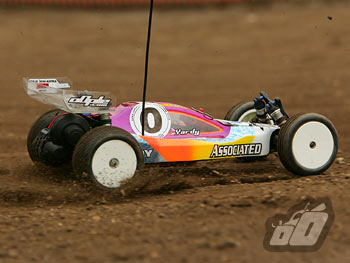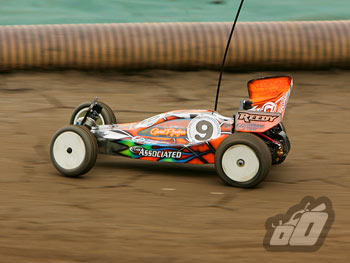 Two guys with the biggest cameras ever turned up today. One [pictured above] with a huge 600mm f4 Canon with tripod / cage around it. I'm not sure what they were taking photos of - but it must have been far away! These guys do it just for a hobby - and I thought 'I' took it seriously!.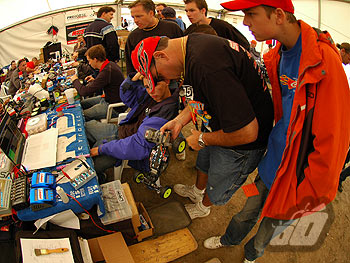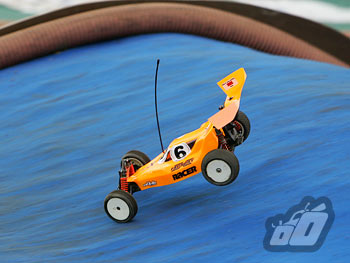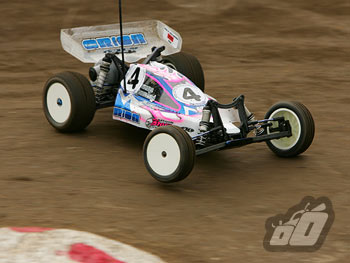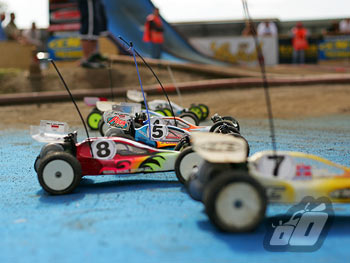 Round one of qualifying saw Hupo Honigl lose his dominant position at the top and have to settle for second in the round behind fellow Austrian Peter Pinisch on the only 12 lapper. Neil Cragg took 3rd in round 2.5 seconds behind Hupo, followed by another two Austrians - Michael Gadermayer and Roland Hauletiner.
| | |
| --- | --- |
| Peter Pinisch | 12/327.12 |
| Hubert Honigl | 11/300.20 |
| Neil Cragg | 11/302.93 |
| Michael Gadermayer | 11/304.30 |
| Roland Hauletiner | 11/305.13 |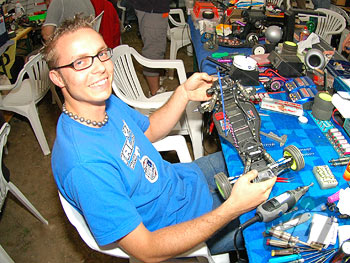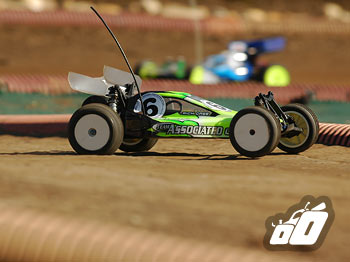 By round two of qualifying the cloud, and with it the rain, had gone and strong sun soon dried out what little dampness was left. The dust didn't come up enough to slow lap times - indeed this round saw 4 people break the 12 lap barrier. Again the Austrians were taking the top two spots.
| | |
| --- | --- |
| Hubert Honigl | 12/320.03 |
| Peter Pinisch | 12/322.69 |
| Neil Cragg | 12/322.73 |
| Paul Bradby | 12/325.24 |
| Jorn Neumann | 11/301.10 |
Round three of qualifying saw the quickest times of the day, heat 13 with Neil Cragg and Hupo Honignl was the one to watch. Neil and Hupo swapped the lead and fastest laps of the day constantly - Neil tangled slightly with a back marker which was enough to let Hupo finish 0.20 seconds ahead. Neil ended the day with the fastest single lap - maybe a good sign that Neil is starting to put pressure on the Austrians.
| | |
| --- | --- |
| Hubert Honigl | 12/318.60 |
| Neil Cragg | 12/318.80 |
| Jorn Neumann | 12/325.82 |
| Lee Martin | 11/300.34 |
| Peter Pinisch | 11/301.72 |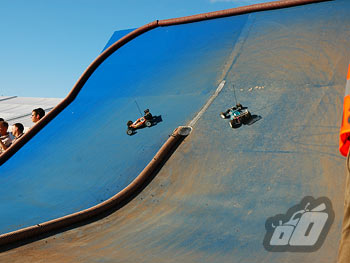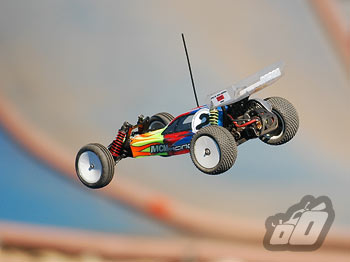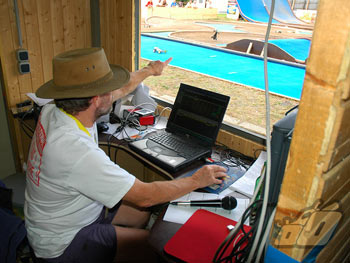 Rob Nelson [above right] from BBK-Timing in the UK is timing the event on behalf of the RMC-Wien club. Rob develops the BBK timing software along with selling AMB systems - but along with this he travels to many big events to provide a first class and reliable timing service. Rob flew to the European Championships right after timing a world R/C boat championships in Norway.
With three rounds of qualifying now over and two more to come tomorrow, Hupo is on top followed by Pinisch and Cragg.
Results after 3 rounds on round by round qualifying - best 2 rounds to count
| | | | | |
| --- | --- | --- | --- | --- |
| Pos | Name | Result | Score Round(s) | Country |
| 1 | Hubert HÖnigl | 12/ 318.60 | 0 [(2) 0 0 (121) (121)] | A |
| 2 | Peter Pinisch | 12/ 327.12 | 2 [0 2 (5) (121) (121)] | A |
| 3 | Neil Cragg | 12/ 318.80 | 5 [(3) 3 2 (121) (121)] | GB |
| 4 | Jörn Neumann | 12/ 325.82 | 9 [(8) 6 3 (121) (121)] | DE |
| 5 | Lee Martin | 11/ 300.34 | 9 [(18) 5 4 (121) (121)] | GB |
| 6 | Michael Gadermayer | 11/ 304.30 | 11 [4 7 (12) (121) (121)] | A |
| 7 | Roland Macho | 11/ 302.80 | 12 [6 (9) 6 (121) (121)] | A |
| 8 | Tom Yardy | 11/ 304.05 | 14 [7 (10) 7 (121) (121)] | GB |
| 9 | Paul Bradby | 12/ 325.24 | 15 [11 4 (15) (121) (121)] | GB |
| 10 | Roland Hauleitner | 11/ 305.13 | 16 [5 (12) 11 (121) (121)] | A |