Euros Day 4 [Thursday 17th August]
Four wheel drive practice day is today. 6 practice rounds with the latter 4 timed so it isn't so easy to compare the drivers right now. Richard Taylor looked fast in the same heat as Hupo and Jorn Neumann, should be a much better event for him than 2WD.
Marc Rheinard is here and is going very well with the Jconcepts BJ4x4 Worlds [below left], a change for him from the Durango. And speaking of Durango - their latest car looks amazing. The entire car is now raw aluminium and looks superb on and off the track. A few drivers are using the car but Hupo Hoenignl and Jorn Neumann are their top drivers.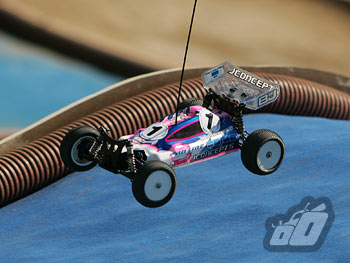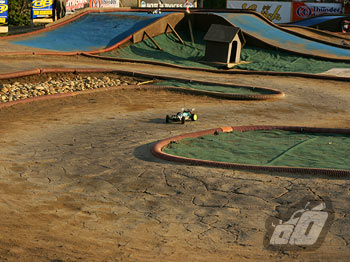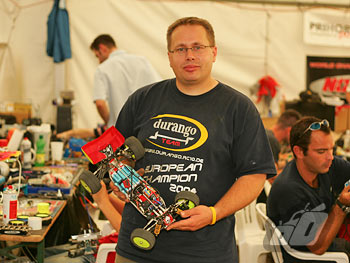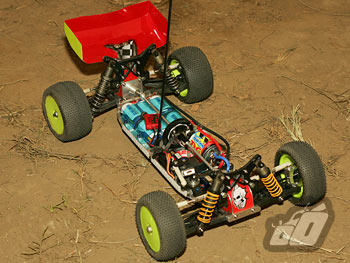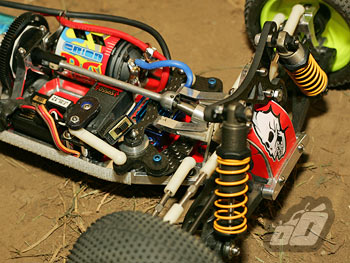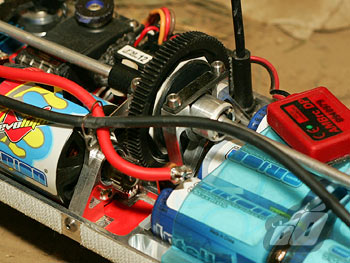 I blew my beloved Keyence ESC today in the second round of practice, probably over heating. That combined with blowing my other Keyence in 2wd (after landing a jump hard) left me without many options so Jurgen Lautenbach from LRP managed to sort out an LRP brushless system to test out. Jurgen is here to help team drivers and indeed anyone who runs LRP or related brands such as Nosram.
Jurgen helped set up the LRP Sphere brushless with an LRP Vector 3 Star motor. After my first race with the system, Jurgen helped to adjust the settings to my preference and smooth out the low end power.
The brushless needs gearing differently to standard brushed motors, so in the BJ4x4 I am using, Jurgen told me an overall ratio of 13.00 (or close) would be about right. Tom Cockerill helped with the BJ ratios and pinions so I ended up using a 15 tooth pinion on the kit 78t spur which gave 13.00.
It took a few laps to get used to the power band of the motor, the top speed seemed similar to my fast brushed motors but the mid range is certainly more powerful which does make it easier to recover the large jumps here at RMC Wien and still clear them cleanly, nice.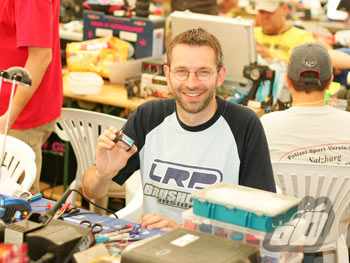 Practice heats have been 6 and 7 minutes today so it is not easy to learn who is fastest. Rob Nelson from BBK produced me a list of drivers best 5 consecutive laps from any heat & round - This gives a rough idea of who is on pace at the moment.
The fastest 10 on this list are, in order after round 5:
Neil Cragg
Darren Bloomfield
Jorn Neumann
Roland Macho
Marc Rheinard
Hubert Honigl
Peter Pinisch
Paul Bradby
Lee Martin
Marcus Lubke
Darren Bloomfield had the fastest lap of the day at the time of writing.
The track is still in good condition and is being run exactly the same as two wheel drive, with no changes to the layout. The racing line has developed a 'blue groove' where rubber has been laid down, which did not happen in 2wd maybe because of the very hot conditions today. The heat, combined with the 4WD traction is wearing tyres quicker than in 2wd.
Pitting inside the tented area is not pleasent and a few people are experiencing thermal problems on their cars - the track isn't too power hungry so things aren't as bad as they would be with this heat back in England with our high grip tracks.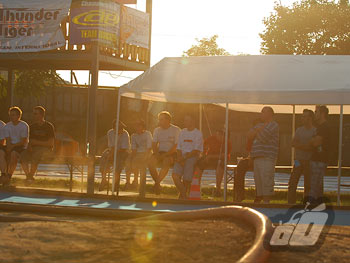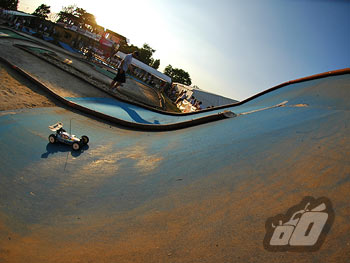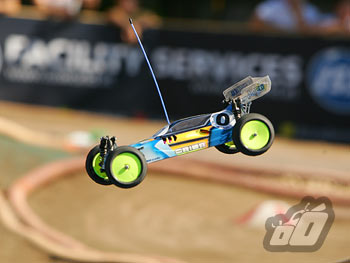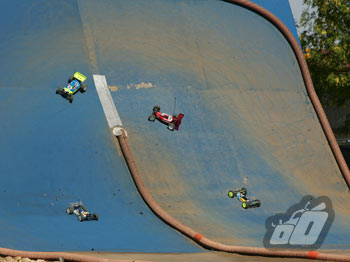 Neil Cragg is looking dialed, along with Bloomfield. Hupo's Durango looks amazing around the track, as you'd expect, but he isn't quite as dominant as in 2WD.