2008 Euros - Day 1 - 07 July 2008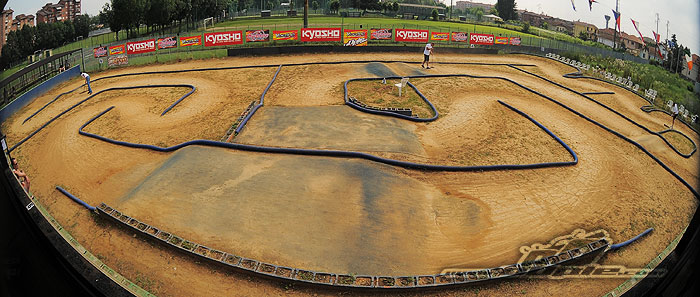 The racing hasn't even started and barely anyone is here but already we have an interesting new product to show. This was seen on Lee Martins table - a brass anti squat block for the Associated B4 designed by Lee Martin. This extends under the gearbox slightly and adds maximum weight down low and far back on this chassis to give better rear traction. Lee Martin used a prototype to make the A final at the World Championships last year - but now it appears that the part is available to buy. The blocks are machined by TrishBits and adds 28.4grams to the car. The brass block is already being used by a few of the top UK drivers here - and Simon Moss.
| | |
| --- | --- |
| | |
Round 1 of two wheel drive practice was due to start at 08.30 on Monday, being in heat 2 Jimmy was due to practice at 08.37, so we were waiting eagerly at the bottom of the rostrum steps when heat 2 were called up, and Jimmy went to test the track out. As Jimmy left the rostrum we heard heat 2 being called up to practice - ACE.
The day began with overcast skies and cooler (less roasting) temperatures than we'd experienced over the weekend, however into the morning the sun started to force its way through the clouds. Even overnight rain hadn't done much aesthetically for the track, which remained very dry, cracked, and dusty.
We caught sight of some of the top lads preparing their cars for raceday. Below left, Lee Farrer dremels his foams, below right, before and after comparison shot. This is serious stuff.
This year is the fourth Euros that we've attended, below are some comparison shots of the previous years tracks.
When asked who is quick, Ellis stated 'me', and then said 'do the Eden Park report, then we'll tell you' - in other words no one knows right now. Unlike last year, the un-timed practice has no timing (almost makes sense I guess).
Neil Cragg is also fast. As is Wraggy - lets face it, no one knows, they are just making this up. - Jimmy
Mick Cragg smells (so he says), but at least he has useful gossip - the new Yokomo 4WD shaft drive buggy is coming to the Euros on Wednesday, accompanied by a team of Japanese mechanics. If it doesn't turn up then Mick is a liar - please forward all greivances to him.
Each round of practice lasts around 75 minutes, although a few minutes are allowed in between rounds for race organisers to sweep the track. This is a very dusty affair.
| | |
| --- | --- |
| | |
| Mad old 'tub' RC10 - looked good on the track | Mike Cockerill watches son Tom race |
| | |
| --- | --- |
| | |
| Simon Moss had a bad first outing | Tom Cockerill is driving the X6 for his new sponsor |
Above left, Simon Moss broke his car in round one of practice, he was fortunate to do this however since he nearly didn't make it to the event at all after missing his flight and having to fly to Milan at the last minute then Taxi to Turin!
All drivers must ensure their car goes through technical inspection before 17:30 on Monday, during which the cars' chassis is marked, batteries, motors, shell, dimensions are all checked to make sure the car is classed as race legal. If any driver should break their chassis after the car has been inspected, the chassis may only be replaced with one of the same material and design, and both the old chassis and the new chassis must go through technical inspection again.
Most of these items are checked again after each and every timed practice and qualifying session.

Tom Yardy is ace and likes to help me out by going way off line into the loose stuff just to get nice photos! Tom = Ace
Because the practice is untimed we don't know what times people are doing (haha, stating the obvious) - individual laptimes are down to 30.5 for the best drivers like Neil Cragg and Ellis Stafford. The track started dusting up after the first cars hit it and wasn't swept until the begining of round three.

Above: A heavy rain shower during round four made a mess of a few cars and the practice was halted for about 15 minutes. Though puddles formed on the asphalt outside the dirt track, the track itself soaked up the worst of it and was dry in time for the next round.
Hupo Honigl has switched from the Losi XXXCR he ran at last years event to the popular Associated B4. Hupos car is using the Tamiya 501X shock absorbers - no 2WD from Tamiya yet I'm afraid to say.
Above, the new prototype lightweight bodyshell from MRC in Russia - this example is being raced by the only russian racer in attendance and should be available soon.