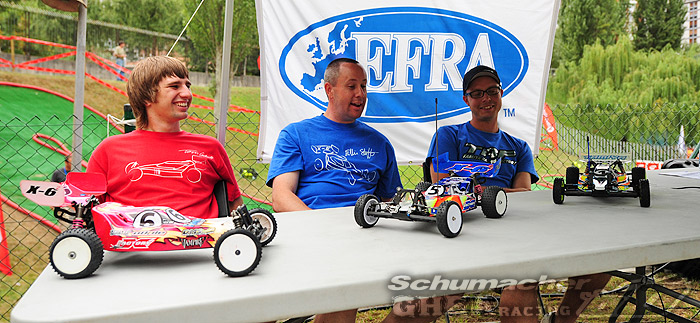 DMS would be proud
Round One Press Conference.
At the end of round 1 qualifying, the top three drivers from the round were gathered together in the race commentating tent to answer some questions from their fans. First the commentator spoke to Hupo asking him how he'd found driving on the track, would he be making any setup changes to the car, and was he aiming overall for a top 10 result, or something higher like top 3.
Hupo hasn't planned to make any major changes to his Tamiya-hopped-up-AE-B4, he felt the car had performed well already. He had made a couple of mistakes out on the track and felt that the dirt was getting bumpy as the track wore in.
When asked by the fans if Hupo felt left out, being the only driver out of the top 3 who had a rear-motor car, Hupo replied he would only drive a mid-motor machine if they made it look as nice as his bling ride.
When asked about the track conditions Tom Cockerill (2nd place in round) states it gets difficult in the wet, but the track is dry at the moment and three times European A Finalist Tom was pleased with his top 10 round 1 result. The power of piespeed.
Ellis was chuffed to bits with his TQ in round, especially considering he hadn't even completed a practice round today. Ellis would quite like to secure himself a place in the A final today so that he can sack this shiz off tomorrow and stay in bed in the morning. We think that sounds pretty lazy. Ellis is struggling most on the dirt where the track becomes a big 'random', he said the same thing about Stotfold last weeend, it sounds like a bit of an excuse to me.