The 2010 European Championships for 10th off road electric buggies is back in Austria for the first time since it was held here in 2006 - whilst it's the same club (RMC Wien) running the show, the venue has changed to outside Vienna in a small town called Traiskirchen.
We came over for the warmup event in May - where Lee Martin ruled the 2WD class to take the win and severe weather interupted the proceedings in 4WD at the end of practice and no one got to race in that class.


Austria has been around for a long time, although it has been known as a number of different names (i.e Austria-Hungary, Osterreich, the Empire of Austria, German Austria, and now the Republic of Austria). Austria covers an area of around 32,500 square miles, but since the invasion of the Alps has been mostly mountainous - 68% of this beatiful country is located over 500m above sea level. Since Austria is totally landlocked, it's not really the sort of place you'd come on holiday if you were looking for a beach, however if mountains, lakes and toy cars are your thing then you've hit the jackpot. Many different countries have latched onto Austrias milky teats - the border meets Germany, Czech Republic, Slovakia, Hungary, Slovenia, Italy, Switzerland and Leichtenstein (where?!) - so the racers from these countries, probably haven't had to drive all that far. The inhabitants speak mostly german, and many are very accomodating to our linguistic ignorance and speak the good English.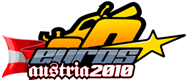 Our Euros 2010 trip started on Saturday morning, with a steady day of travelling through Manchester, Zurich, and Vienna airports. We eventually landed in Vienna at 21:30hrs, and were able to collect our hire car from the airport thanks to a nice lady who had agreed to miss the X Factor (or whatever the Austrian equivilent is) in order to wait for our arrival and despatch our rather cute little rally car - a compact Fiat 500.
| | |
| --- | --- |
| | |
| The contents of Jimmys sack were internally examined at Manchester Airport. | This chap in Swiss-land was mad for having his photo taken near a picture of some mountains. |
| | |
| --- | --- |
| | |
| The Zurich airport kindly provided mobile phone charging facilities free of charge (badumpch). | I like airports me. |
| | |
| --- | --- |
| | |
| On Swiss airlines it is mandatory that salt and pepper is added to drinks... | ... We found this to be a little odd, especially in the diet coke-pop. |

By the time we joined the UK team at our hotel, the Saturday night antics were already well underway, and BBK Rob had already been well and truly DC-Vodka'd and escorted (carried) to his bed. We joined the group who were still able to stand and spent a pleasant evening at the hotel bar, which isn't actually inside the hotel.
| | |
| --- | --- |
| | |
| These guys have recently found love with each other. | Fortunately the hotel was expecting our arrival and had stocked up accordingly - with an entire room set aside. |
The GK hotel is pleasant but very minimalist, it has no swimming pool but at least there is running water and the rooms are clean. Unfortunately there is no air conditioning, and our first day in Vienna was spent roasting in temperatures of 30 degrees +. Many of the UK team chose to chill out at a nearby water park, however we opted for the scenic mountain drive instead. We couldn't find the top of the very high looking mountains, so gave up on the venture pretty early. Sadly as we learnt at the warm up event earlier this year, the town of Traiskirchen (and Austria as a whole) closes on a Sunday, so other than the occasional petrol station and sports bar, cold drinks and entertainment were few and far between.
| | |
| --- | --- |
| | |
| It's been a long time since Jimmy last went paddling, and he forgot to remove his shoes and socks - oops! | The mountain driving saw us attempting some rather tight tracks, we opted out of this one however. |
| | |
| --- | --- |
| | |
| Crazy rocky mountain bridge. | Mad castle. |
We arrived at the track early on Sunday, to find the venue almost deserted other than a few dedicated club members setting up the tables in the pitting area - as it turns out the racing doesn't start until Monday. Still we seized the opportunity to baggsie a table before departing to enjoy a spot of rally driving on nearby dirt tracks. On our return to the venue in the afternoon teamGB were happily wrenching away at our reserved tables - as it transpires the tables are strictly limited to one space and chair per driver, so we'd have to make alternative arrangements. Following consultation with BBK Rob who kindly directed us to team member Marcus (?) the calamity was quickly corrected and it was arranged that a spare table would be sourced in the morning for media attendance. Just as well for us because we're joined at this event by the superb JEROEN from doitschland who will be snapping away at rapidly moving toy cars throughout the week and and contributing his literary goodness to the reportage.
| | |
| --- | --- |
| | |
| Bart is almost transluscent due to health and safety regulations at work. The long drive from Bratislava had made Nathan Ralls slightly delerious. | Energy drinks and SAUSAGES would be the order of the week for racers seeking nourishment trackside. |
| | |
| --- | --- |
| | |
| Jimmy shows his approval of another Austrian-run European Championships... | ... and to the team who have supported our presence at this event, and long-time fans of oOple.com |

The track was pretty much the same as we'd seen before at the warmup / EFRA GP earlier in the year - but many improvements to the facilities were being finished off and everything looked more professional. The track itself had been changed a little with the big tabletop jump lowered and looking less extreme, and an extra jump put between the twin doubles to create a series of 5 jumps - which should make things interesting instead of the all-out attack method through that section people were using at the warmup.
| | |
| --- | --- |
| | |
| Fiat 500 all camera'd up and ready to ROLL... nearly! | ...traction control - off, steering - off, ABS, GPS. ESC - OFF, let's go! |
| | |
| --- | --- |
| | |
| The field we selected for our off-road antics. | Sheissen!!! - and then we nearly rolled it, video coming soon. |