EUROS 2010 DAY Six - 4wd Finals.


Overnight rain was very heavy at times and we weren't sure there would still be a track in the morning - but by 8am things looked a lot more healthy, though dark clouds on the horizon seemed to surround in all directions.

As had been arranged the previous day, team managers met at around 08:15 to determine the schedule of the final day of 4wd racing. A vote was held to decide whether the days format should be to continue qualifying rounds before finals, or go straight into finals. Interfrastically, 15 teams voted in favour of continuing qualifying, and 6 teams voted go straight into finals.

So it was agreed that a very quick round of practice would be run, starting at 09:40hrs to ensure the track was raceable, then round 3 of qualifying would continue from where it was rained off yesterday, with heat 13 first out on the track.
The decision was deemed to be somewhat controversial by many drivers from the Austrian and British teams (the teams with most drivers in attendance and dominating the top 10). Due to the weather forecast, if the event was to be rained off part way through finals, the qualifying result would still determine the championship winner - which wasn't great. With three top heats of qualifying taking to the track first, and due to the altered conditions since qualifying was discontinued yesterday, it would be likely that racing times for round three would be affected. Similarly, with a changeable forecast reckoned for todays event, there remained the possibility that times throughout round 4 could also be affected.

Martial Desrameaux has a shop called M2D Racing

Ross Williams had been annoying people all week with his antics - the British racer was here only to support his brother - Superstar racer Grant Williams, and to wrench for crazy-dude DC. But with nothing much to do when racing was suspended, antics were foremost on Ross's mind.

The original idea was to tape up another driver, Mikael Johhansson, the 15 year old super racer from Sweden. This was quickly discovered to be impossible as Mikael figured out something was going on and legged it out of the pitting hall - despite the best efforts of the 'capture team', he was just too fast.

Ross found himself turned from hunter to prey as he was wrestled to the floor and taped into a tight ball - much to the amusement of the entire pitting hall full of racers and international visitors.

Eventually the security guard took charge of freeing the still writing Ross and produced a knife to cut his bindings. Probably the funniest thing to happen at the Euros 2010.

| | |
| --- | --- |
| | |
| Mikael runs past - escaping the fate that would befall his persuer, Ross Williams. | The guys pin Ross and begin the taping. |

| | |
| --- | --- |
| | |
| Job done | Ross is left laughing like a crazy, unable to move |

| | |
| --- | --- |
| | |
| Ross gets cut free | If his thumbs weren't still taped down Ross would be giving some serious thumbs up right now. |

With temperatures noticably cooler and once again threatening looking clouds lingering overhead, the challenge was on to get things underway and utilise the track to its full potential.
There were some issues on the track which the organisers were working hard to resolve early in the morning, following yesterdays heavy rainfall and further moisture occuring overnight On initial assessment of the brief practice round, which started with heat 13, lap times were approximately 2 seconds slower than the previous days fast laps - so traction was well down.
| | |
| --- | --- |
| | |
| 'Tamiya Dave' Gibson was the first to break a chair and after going down hard got a big cheer. | Some discussions on the track about the rain |
During the first interluditude of the morning, the full round of practice was completed, however as if on cue the rain started, lightly at first but by 11:09am it was pouring down. The continuation of round three of qualifying was on the line and just about ready to set off when the rain stopped play just like it had the previous day. It was like the gods wanted no more qualifying - and the EFRA gods agreed, straight to finals it was agreed.
When the rain came down once again after practice the orgnaisers were quick to completely cover the dirt areas as much as possible. It's a big shame to have such disruptions - maybe we should have raced in the pitting hall instead?
Interview with Team 'All of Russia'

you're building 3 durangos at the moment, why's it taking so long?
hmm... very tough, i'm putting this thing inside, it's taken 10 minutes already, i cannot do it. it is only for english or germans, not for us, it is built in Austrian.

What cars do you run for 2wd?
We all run B4.

OK, because it's a simple car and not many things can go wrong?
Maybe...
This is the best car that you can build and run, you don't have to mind what to do with it. You can just run the stock setup and it doesn't matter whether it's indoors or outdoors.
The B4 is a universal car.
I don't usually ride 2wd, the last time was in winter, and the time before was at the Euros.

What about the tracks in Russia, are they similar, do you have a national series?
We have different tracks in Russia, my local track looks like last years Euros track, but the astro turf is more shorter than the Euros track, more like the carpet at this years Euros. Our track is very very fast with the high grip, and the speeds are much faster than they are here.
Also we have tracks for 1/8th scale where we run electro, but those tracks are much larger and much longer, and it's about 1 minute per lap, and they're very very wide, so this track is very new to us, so in some places it seems to be very narrow even for one car, and the speed is not very high. Every mistake and every time you lose time it is very bad.

Do you have a Russian Championship?
Yeah, we have a Russian championship, it was this year, it was a couple of weeks ago.

How many races is it?
The national championship is just one race in Russia, it's one event but also we have club races which are seperate races. For example this year we were building tracks at exhibitions and different events, and in Parks. so we built tracks where there were many people around.

How many permenant tracks do you have in Russia?
We can't say definitely how many tracks we have because Russia is a very big place and people build different tracks in different regions and don't tell people that they have. In Moscow we have three working tracks; two tracks for 1/8th scale, one is good enough for electro, and one is special for electro.
Also we have tracks in winter for on road, indoor tracks. And also we have three tracks in St Petersburg, one is for on-road, indoor, and two outdoor, but one is closed.

Do you race in the other classes as well?
For most of us we usually run 1/8th scale, I also like very much electro 1/10th scale, and in winter we usually go on-road indoors, because last winter there were only two races for off-road.
Winter usually lasts from October to March, but sometimes we race outdoors even when it is minus 20 degrees. Something that is fun, not serious racing, like short course trucks.

Do you get nice weather in Summer?
This summer was very very hot, we've had two months of about 35degrees, and we've had problems with forests burning, there was a very big smoke and you could hardly see anything, if you were driving on the highway you couldn't see buildings.

I see that in Russia you also have R/C TV?
RC - in Russia we have sevral people who are making movies and one of these people is me. One of the channels takes project videos.

And team Russias female driver - are you the only female driver here at the Euros?
Yes, I think so, but there are many more female racers in Russia.


With just two rounds of qualifying completed, they would have to use best single round scores to decide positions - in the case of the tie then it's the time that score was done in (rather than counting the second round score). Lee Martin clearly had no worries - taking both rounds meant he had no challengers for the top spot and would take TQ for the second time at these championships.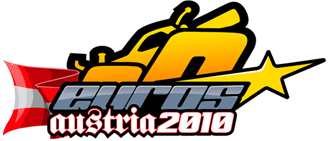 Further feedback from UK team manager Paul Worsley was that the track team required at least 45 minutes to ensure the track was raceable after the most recent juicy load of transmotic moisture had been dumped on the venue by passing clouds. The elite crew anticipated that due to potential hold-ups caused by further rainfall the finals could take four hours to complete, therefore if finals were unable to commence before 2pm there would be no further races and the championship would be decided on qualifying.
Fortunately however with the team working hard, using their flaming torches to scorch the ground, the track was prepared and open for finals by 13:10hrs. Finals would be run to the same schedule as 2wd, with some of the low finals racing first before the first leg of the A final was run.
The Finals

Manolis Troullos, the racer / designer from Greece was racing his 4WD creation in the N final and simply wasn't going to risk breaking his newly created 4WD buggy - taking the set-of-5 jumps (lets call them the triple-double from now on) as five single jumps! The crowd quickly got the picture and began celebrating every single undulation that Manolis car took - clearly the weather hadn't put such a dampner on the fantastic atmosphere.
Manolis attacks the jumps with his self-made 4WD buggy.

Interview with Stephan Mesker - The greatest ever 10th off road racer from Holland!

Hello Stephan, welcome to the oOple interview 2010, Are you enjoying the european championships so far?
Not really, no, due to weather.

What's your least favourite, the extreme heat or the extreme rain?
I prefer just in the middle, little bit of heat, little bit of rain.

Who have you travelled over here with?
With Wouter!

Are you the only two dutch guys who do 1/10th offroad?
We are yes, last year I was the only one. There are more racers over there but they don't race competitively. We're combined with belgium. The dutch are less into their r/c. We have a lot of races but not a lot of big races, just club races.

What's the best race you've ever raced it?
Oh, the Belgian Grand prix.

Any particular year?
Last year, I finished third.

Have you been to any other big races other than the Euros, like the worlds?
No, not yet, I'd like to go to the Cactus next year.

You race the 2wd and 4wd in offroad, do you race any other classes?
Yes, the short course truck, that's it.

And you race X factory cars, what do you race for 4wd?
I race the Yokomo.

How old were you when you first started racing?
About 12 or 13 years old.

Do you think you've reached the top of your field now or would you like to go further?
Yeah I'd like to get better.

What's your ambition in R/C?
Not a really ambition, but to end up high at the Euros, make the a-main or something.

What's your favourite ever r/c car?
The x-factory X6. It;s the car that I've driven the longest now, I usually drive a car for one or two years, but this is the one I have kept for the longest now.
I'm waiting for the 4wd from x-factory, the prototype, there's been a lot of input from the drivers.

how many drivers do you normally have at a club meeting?
About 20-30 people, and more than 10 people with short course trucks.

What is your favourite food?
Difficult, I eat almost everything, i'm just like a trash can. My favourite drink is beer - belgian beer is the best, there are over 600 kinds of beer.
| | |
| --- | --- |
| | |
| BEARD OFF - these two bearded racers nearly came to blows over who had the best facial fluff. | Serious about stickers |


A Final Leg 1
After a brief photo session and skies likely to dump a load of juice on the racers at any moment (they didn't, thankfully) things were done as quickly as possible. Lee Martin lined up on the front row with his Tamiya TRF511 - ready to try and win his second title in a week.
Leg one started nice and clean around the first few corners with all drivers maintaining their start order. Lee Martin in pole position lead the drivers over the 'triple-double' jumps, making a clean exit followed by Jorn and Rheinard. Fourth place warrior Hupo travelled too far over the triple however, smacking into the face of the double jump and being forced to take the stage as two singles. Meanwhile however, Bradby took the jumps nice a smoooothly, passing Hupo on the double and slipping through into 4th place.
| | |
| --- | --- |
| | |
| Lee Martin, Jorn Neumann, Rheinard - Hupo flying TOO high. | Hupo Over-jumps and has to single-single - Bradby passes on the inside for 4th. |
| | |
| --- | --- |
| | |
| Jorn jumps to the inside - hoping for an inside line on the next corner. | Again Jorn looks inside as they come around the final section before the main straight |
The top 5 pulled off down the straight with Jorns Yokomo very close to Lees Tamiya, and Bradders getting very up close and personal with Rheinards pink machine. Cragg and Mossy both made errors coming through the jumps on lap 2, and dropped down the order. Pinisch and Kreil had now moved to 7th and 8th place.
Bradders ran into some trouble over the tabletop on lap 3, losing two places to Hupo and Wilck, whilst Rheinard had dropped down to 6th place.

Jorn wanted to be inside Lee so badly it hurt - on the track we mean. Lee was having none of it - no pressure, no mistakes, fully ON IT.
Up at the front and Joern kept close to Lee Martin, Lee seemed to have a bobble coming over the triple-double, but this wasn't sufficient to see him lose any time to the chasing Joern, Lee had his Tamiya well and truly adhered to the track.
On the 4th lap it was Viktor Wilcks turn to run into problems in the multi-jump, whilst he re-aligned himself in between the triple and the double, Pinisch and Moss came through. The order was now Lee, Joern, Hupo, Bradders, Rheinard, Pinisch, Moss, Wilck, Kreil and Cragg.
| | |
| --- | --- |
| | |
| Close up front - Jorn obscured by Lee | Victor Wilck loses it in the triple-double |
Joern landed hard on the double jump coming through lap 5, an error which saw Lee Martin pull some breathing space on the youngster. Joern pushed to catch up to Lee, and was moving in again towards his rear when he clipped the inside track marker, spinning off the racing line and into the dusty wood shavings at the track edges. Joern was quick to rejoin the line but now had Hupo almost inside him as the pair raced through the chicanes and towards the straight.
Lee now had some track to himself, as Joern, Hupo, Bradders and Rheinard all kept close in positions 2-5. Bradders made an error on lap 6, flipping off a track marker and giving up 4th place to Marc Rheinard.
With some space clearing in between each driver the next few laps were relatively uneventful. Moss lost a place to Wilck as the pair left the triple-double jump.
| | |
| --- | --- |
| | |
| Jorn crashes on the inside of the corner but manages to rejoin (facing the wrong way above) | Hupo back in contention for 2nd with his Durango DEX410 |
With Lee now comfortably in the lead, and Joern a short gap back on his own, the battle commenced for 3rd place. It didn't last long, as Rheinard pulled a smooth move on Hupo as the pair drove through the chicanes towards the straight, Hupo pushed like a warrior to take 3rd place back, but Rheinard slammed his back door shut.
Marcs 3rd place glory did not last long though, and he turned in too soon coming off the many jumps, shunting himself off the racing line, and seeing Hupo slip through back into 3rd place.
Lee continued the race up front on his own despite Jorns best efforts to close the gap, leading the a finalists around to take the first leg win, followed by Jorn in 2nd place, and Hupo in 3rd.
| | |
| --- | --- |
| | |
| Hupo Hongil has the nicest looking car, honest. | Jorn didn't look happy with his performance |
A Final - Leg 1

| | | | |
| --- | --- | --- | --- |
| 1 | 1 | Lee Martin | 13/ 322.73 |
| 2 | 2 | Jorn Neumann | + 0.88 |
| 3 | 4 | Hubert Honigl | + 3.47 |
| 4 | 3 | Marc Rheinard | + 4.75 |
| 5 | 5 | Paul Bradby | + 5.19 |
| 6 | 7 | Viktor Wilck | + 9.63 |
| 7 | 9 | Peter Pinisch | + 14.00 |
| 8 | 10 | Martin Kreil | + 20.97 |
| 9 | 6 | Neil Cragg | + 21.58 |
| 10 | 8 | Simon Moss | -2/ 289.50 |
| | |
| --- | --- |
| | |
| The crowd were loving the racing, and the beer. | The EFRA guys were serious about being serious |
A Final Leg 2
Another nice clean start to the second leg of the A final saw Lee lead the drivers through the chicanes and over the triple-double; Lee landed long coming off the triple and lost momentum over the double, smacking his chassis on the top of the second jump, and leaving Jorn with no-where to go. As Jorn landed on the double jump the pair collided, sending the Yokomo spinning off the racing line as Lee tried to push to stay in the lead. Third place Rheinard had flown through the jumps and moved straight past Jorn as he re-aligned himself, and pulled a tight line on team-mate Lee Martin. Rheinard was through into first place but went wide around the corner and either slipped on some schnitzel, or backed off to let Lee back into first place - tucking in behind the 2WD champ.
| | |
| --- | --- |
| | |
| Lee lands long and Jorn looks to come through - but ends up facing the wrong way - Rheinard through for the lead! | As Jorn gets back underway Cragg lands on Hupo |
Cragg had moved up to 5th place but became caught up with the off-line Jorn, and Hupo looked as though he would make a pass but clipped the track marking, seeing Bradders take up 4th place. Jorn was back in the room and pushed hard in third place to catch up with Lee and Marc. Jorn slipped in some wood shavings just off the racing line, and Bradders made his move up into third place as the top drivers entered the straight to complete their first lap.
After the first lap the order was Lee Martiin, Rheinard, Bradders, Jorn, Hupo, Kreil, Cragg, Pinisch, Moss, Wilck.
Bradby landed hard coming off the triple-double and Jorn clipped him slightly as he passed through to take 3rd place. Bradby maintained his composure and rejoined the line in 4th place.
| | |
| --- | --- |
| | |
| Loss of traction or giving it up for his team mate - either way Rheinard slowed and Lee came back past immediately for the lead. | Lee comes around to hit the straight for the first lap |
More trouble for Bradders as he took a rough landing coming down the edge of the tabletop, popping one of his balls and requiring some marshalling assistance. Jorn was now hammering down hard on the gearbox of reigning 4wd champion Marc Rheinard, looking every way to make a pass, hassling the rear end of his Tamiya as the pair negotiated the chicanes.
Martin Kreil who had moved up from 10th on the grid into 5th place clipped the corner of the track, at around the same time as the referee instructed drivers to drive carefully. It was chaos on the track as Kreil flipped onto his lid right in the path of oncoming hero Neil Cragg, who tried some car-on-car marshalling, but as a result slid off the groove, still though he was through into 5th place, and Peter Pinisch moved up to 6th.
Marc took a bad landing coming off the triple-double, and Joern was back into second place and preparing to challenge Lee Martin for the number one spot. Marc was marshalled back onto the racing line, but Hupo was already trying to make a pass and the two cars became entangled. As Manolis battled to seperate the wrestling pair, Cragg made his move up into third place.
| | |
| --- | --- |
| | |
| Jorn pushing Rheinard hard for second | A mistake from Rheinard and Jorn was back up and looking for Lee |
By now Lee Martin had a decent lead, and Jorn was pushing hard to catch up the multi-titled hero. Cragg kept in clean in 3rd place as he landed off the tabletop jump, but chaos ensued behind him as Hupo and Marc launched some big air off the tabletop in a battle for 4th place. Marc cut some crazy shapes as he spun through the air, and landed all scewed and facing the wrong way. Meanwhile Pinisch and Kreil were battling it out right behind and got caught up in Marcs error. As Lee sped down the straight to start another lap, the race order was Lee Martin, Jorn Neumann, Neil Cragg, Hupo Honigl, Peter Pinisch, Marc Rheinard, Martin Kreil, Simon Moss, Viktor Wilck and Paul Bradby bringing up the rear after his earlier ball disjointing.
Neil Cragg found a slippery schnitzel coming through the chicanes and lost some momentum, Hupo was right up his rear and gave the gearbox a little nudge to hurry Cragg along. Cragg took a bad landing coming through the triple-double, and Hupo saw his chance to pass and move into 3rd place. Lee Martin held onto his lead with a reasonable distance back to Jorn, who in turn had pulled a gap on all chaos behind him.
The pair drove the last few laps uneventfully, and Joern never really got close enough to challenge Lee for the top spot. On the final lap Jorn turned in too soon on the approach to the tabletop, Lee 'the machine' was miles away and flew down the straight for his last race of the week, taking the 2nd leg win and with it the 4wd championship title, having won every qualifying round and every final he'd raced all week.
| | |
| --- | --- |
| | |
| Rheinard did the most amazing flip - I think in BMX terms it'd be called a FLAIR or something. Either way it was ace and he landed it - albeit sideways. | Pinish needs a photo in here for being a warrior- |
| | |
| --- | --- |
| | |
| Lee can't quite hold in the emotion as he screams down the straight for the win 2 seconds ahead of Jorn. | Lee gets some adoration for his victory - and domination of the 2010 EUROS |
A Final - Leg 2

| | | | |
| --- | --- | --- | --- |
| 1 | 1 | Lee Martin | 13/ 322.69 |
| 2 | 2 | Jorn Neumann | + 2.18 |
| 3 | 4 | Hubert Honigl | + 10.59 |
| 4 | 3 | Marc Rheinard | + 12.61 |
| 5 | 5 | Paul Bradby | + 17.90 |
| 6 | 7 | Viktor Wilck | + 18.21 |
| 7 | 9 | Peter Pinisch | + 20.19 |
| 8 | 10 | Martin Kreil | + 20.58 |
| 9 | 6 | Neil Cragg | + 21.83 |
| 10 | 8 | Simon Moss | + 23.02 |
Lee Martin

Hi Lee, congratulations on doing the double at this year European Championships. Did you ever dream of this level of success?
I have always dreamed of this, but making my dream a reality was always going to be a hard task! I'm just so pleased to be able to live my dream.


Go on, give us a quick run down of your two rides – we know what they are, but give your adoring fans a brief flavour of what you're running and winning with.
Well my Tamiya 201X is running a Speed Passion GT2.0 ESC combined with Speed Passion V3 8.5 Motor and Speed Power 5300 Lipo, this package provides the perfect mix of power and control, choosing the 5300 lipo for Weight reasons. (weighing 280g) The option parts I used on my 201 included Rudebits thick under servo weight and under lipo plate. Combined with the Rudebits battery strap in carbon. Tamiya 1 degree rear hubs and lots and lots of sexy Tamiya blue screws!

My Tamiya 511 is also running a full Speed Passion set up with a 6.5 V3 motor on a 21 pinion so as to not get too much low end power, Speed power 4200 lipos providing the go. Option parts include Rudebits centre plate at rear of car and block weights up front (17g each). Alaste lipo cradle and rear diff cover – the cradle moves the lipo slightly further back than standard and the diff cover protects the diff from any stones of dirt trying to find its way in the ruin the party! Ghost RC diff Balls &Tamiya 0 degree rear hubs and more sexy blue bling!!


Who helped this year? Did you get / need any setup advice – who helped you on the way to victory I guess I'm asking. Well this could be a long list, but I will start at the top; I would like to thank:

Tamiya
Toni and Wilson at Speed Passion
Pumpi my good luck charm
Team Mates Marc & Victor
Rossi for help where needed
Room Mate Brads
Tony @ Rudebits for help throughout the year(hello Maaaaa)
David Spashett for increased help and support
Marc @ MK Racing
Kifo Paint for the Baller designs!
Darren Bloomfield
Andy Griff
Belston for the Nuclear products
Scott Morgan for start of year mentoring
All you guys at oOple for the hard work you put in
Fiancée Liz for putting up with all the hours I spent in the garage wrenching
And most importantly my Mum & Dad – They are the best!

Did you approach things any differently this year – we heard a rumour that your girlfriend couldn't sleep in your room, is this true?
Yeh, this is true! Although not for reasons you might be thinking…..


Lee Martin's TRF511

You looked full of emotion after both wins – now you've had chance to settle down does it seem real and are you still buzzing?
I'm still buzzing! I think I will be for a while yet! It's been quite an emotional year for me and to finish it off in this way was just amazing! It kind of seems real; I'm unsure how it seems. All I know is I want to get back out racing again as soon as possible, but I don't think I can replicate that feeling when I crossed the line again for a while, my wrist started hurting from high fives and hand shakes!


Tamiya have come a long way and clearly made the right choice when taking you on board their small team – do you think now's the time for Tamiya to really make an impact in electric off road?
I honestly do, they have the products, they have the drivers, now if we just had a little bit more support of the product in Europe I think Tamiya would be car to have in off road!


It was really great to see you win the titles and I have to say you looked like you were almost on another level this week. The World Championships is next year, we assume you'll be going, will you spend some time at the track before and what do you think your chances will be come the main event?
Thanks, Yep the big one next year! The WC! I think you will see me around Finland a bit before the event that's for sure. I will try to get out there when I can, and my chances of winning? I will let the public be the decider of that!


Thanks for talking to us Lee and please list your sponsors so we can pimp them out for you.
Thanks Jimmy & Vicky and the oOple Team, here you go:

Tamiya TRF
Speed Passion
Speed Power
JConcepts
Rudebits
KifoPaint
Fastrax
BC1 / Stick it 1 racing
MR33 Racing products
Ghost RC
Acer Racing
B Fast Performance
Horizon UK
CML
Answer RC
Ghea Racing
P Dub Racing


A Final Leg 3
Lee had already won it - so he once again got the pleasure of standing on the rostrum drinking beer.
Jorn started in the lead for the first few corners, but seemed nervous without Lee the Machine up ahead of him, and clipped a couple of corners on his way to the triple-double. Marc Rheinard must have sensed his fear, and went for the inside line coming through the corner after the multi-jump, similar to how he'd passed Lee on the previous leg, however this time there was no schnitzel to slip on and Marc held onto the lead.
| | |
| --- | --- |
| | |
| Jorn lost his composure and Rheinard looked for the inside | Forcing Jorn to the outside - Rheinard makes the pass as Bradby joins the fight |
As the leaders hammered down the straight Jorn went off the racing line and Bradders moved up into 2nd place. Viktor Wilck meanwhile made his move on Hupo and was up to 4th place. Bradders nosedived into the centre of the triple-double and required some marshalling assistance, whilst Jorn was back into 2nd place, Wilck in 3rd and Hupo in 4th.
The next few laps were uneventful, Jorn nudged in closer to Marc Rheinard and the pair pulled off from the rest of the crowd. Coming through the triple-double and Jorn pulled a fancy manoevure on Marc, outjumping him and taking the lead. Viktor kept close behind Marc in 3rd place, with Hupo a short distance back being hassled from the rear by Bradders in 5th place.
| | |
| --- | --- |
| | |
| Jorn follows close behind | Bradby moves up to second after a mistake from Jorn |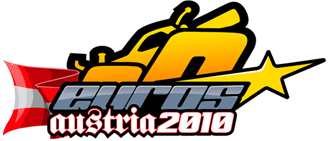 Jorn ran into problems as he approached the straight, losing out to Marc moving into first place and Viktor through into second. Jorn was back on the line though and came hurtling down the straight like a missile. Viktor turned too soon at the end of the straight, spinning off the track marker into the path of oncoming Jorn. It was Hupo who came off the best and moved through the chaos into 2nd place behind Rheinard. Bradders stealth-bomber looking B44 was now up to third place after his earlier mistake.
Jorn made a bad landing coming off the triple-double and his car was covered in gremlins, unable to continue in the race.
Bradders was all over Hupos rear end, looking to make it past, however he came too close on the approach to the triple-double and had to slam his brakes on.
The top three were well spaced out on the last couple of laps, and things finished with Marc Rheinard taking the third leg win, followed by Hupo and Bradby.
| | |
| --- | --- |
| | |
| Bradby went nuts in the triple-double | Hupo kept Bradders at bay with his nicer looking bodyshell. |
| | |
| --- | --- |
| | |
| Neil Cragg goes for some style over the big table top | Hupo couldn't close the gap in time - EX.Champion Rheinard took the win. |
A Final - Leg 3

| | | | |
| --- | --- | --- | --- |
| 1 | 3 | Marc Rheinard | 13/ 327.10 |
| 2 | 4 | Hubert Honigl | + 1.32 |
| 3 | 5 | Paul Bradby | + 3.16 |
| 4 | 7 | Viktor Wilck | + 4.24 |
| 5 | 8 | Simon Moss | + 8.48 |
| 6 | 9 | Peter Pinisch | + 9.28 |
| 7 | 6 | Neil Cragg | + 10.41 |
| 8 | 10 | Martin Kreil | + 19.66 |
| 9 | 2 | Jorn Neumann | -5/ 201.60 |
| 10 | 1 | Lee Martin | DNS |

Overall A Final positions after 3 legs

| | | | | |
| --- | --- | --- | --- | --- |
| position | Qual | name | Points | Car |

| | | | | |
| --- | --- | --- | --- | --- |
| 1 | 1 | Lee Martin | 2 ( 1 1 10 ) | Tamiya TRF511 |
| 2 | 2 | Jorn Neumann | 4 ( 2 2 9 ) | Yokomo BMAX |
| 3 | 3 | Marc Rheinard | 5 ( 4 4 1 ) | Tamiya TRF511 |
| 4 | 4 | Hubert Honigl | 5 ( 3 3 2 ) | Team Durango DEX410 |
| 5 | 5 | Paul Bradby | 8 ( 5 5 3 ) | Team Associated B44 |
| 6 | 7 | Viktor Wilck | 10 ( 6 6 4 ) | Tamiya TRF511 |
| 7 | 9 | Peter Pinisch | 13 ( 7 7 6 ) | Team Associated B44 |
| 8 | 8 | Simon Moss | 15 ( 10 10 5 ) | Schumacher CAT SX |
| 9 | 6 | Neil Cragg | 16 ( 9 9 7 ) | Team Associated B44 |
| 10 | 10 | Martin Kreil | 16 ( 8 8 8 ) | Team Durango DEX410 |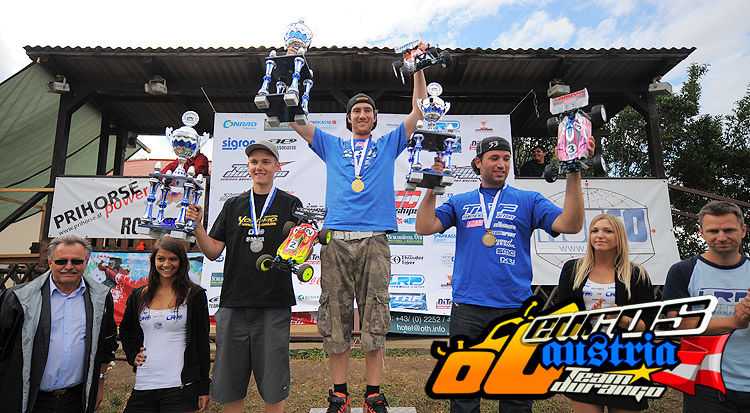 The organisers once again had a couple of lovely ladies to pose with the winner - but this time Lee got a nice surprise in the form of a thorough soaking from several buckets of water and even a hose! ace
With the ceremony over, things wound down quickly - with the pitting area already mostly put away by the time we made it back to our reporting table. We want to thank the organisers for their hard efforts and great help - Jeroen Vanneste - Richard Sitar for 'the internet' - Rob from BBK and all the guys at Team Durango for sponsoring our report.