The Annual North-East Interclub meeting was held this year at the Batley Buggy Club outdoor venue. The Interclub is a team based event between the regions clubs. Teams of 10 drivers, split 50/50 between two and four wheel drive, race head to head against the other teams in a series of races throughout the day to find the Interclub Champeens.
The Interclub works by each team being assigned a number, Bury being assigned 4, for example. Each race consists of one member from each team who race head to head from the buzzer for 5 minutes, the winner taking home the top score – 8 points, 2nd place 7points and so on.
Since the Interclub is a fun event and drivers of different ability are competing in the same team and same races - with F1 graded drivers racing against F5 grades for example, there needs to be a way to make the racing fair and enjoyable for all. This is done by a system of staggered starts, with F1 drivers starting just in front of the loop and F5 drivers just behind it, F3 drivers start mid way through the track and so on. This means that F1 drivers start almost a full lap behind the F5's and have 5 minutes to claw their way back past – if they can!.
This can make for some great racing towards the end of the 5 minutes as the different grades close in on each other.
8 Teams turned up to compete from across the North East region. These were York-A, York-B, Teesside-A, Teesside-B, Bury Metro, Durham, Batley, Newcastle.

Clearly, some clubs mustered up enough for two teams where some, Batley for instance, struggled just to make up the one team.
In previous years Harrogate has been the choice to host the Interclub, since it has a more central location. Harrogate, as a club, has now more or less disappeared however and the Batley track is ideal.
Some early morning controversy arose when someone representing the leisure centre adjoining the track, informed us that the rostrum needed to be moved within one week since complaints had been made by the occupants of the houses newly built 'inches' behind the rostrum. This later turned out to be somewhat of a fib, but the pressure seems to be mounting on the track from the new residents – never good.
The day started off sunny with the forecast of showers later on – and it wasn't long before the deluge began. After a late start at around 11:35 the rain really came down along with strong gusts causing havoc among the pits with gazebos flying in all directions.
The rain soaked the track and soon cars had to negotiate standing water on some sections, particularly around the end of the straight. Out came the duct tape, as people hurried to seal the worst of the water out from various vents and gaps.
A few cars came off badly, with blown speed controllers or receivers, lets not mention Dan Greenwoods run away X-6 which after being trapped, managed to wriggle free and end up under a car in the car park. Sorry Dan.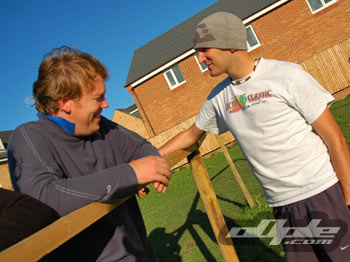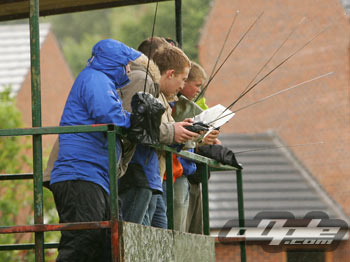 York A took an early lead which isn't unusual for them, being Interclub champions many times over. So by the end of the first round, things looked like this:
York A – 74pts
Bury – 54
Teesside A – 49
Durham – 43
Batley - 38
York B – 37
Newcastle – 37
Teesside B – 29
The York team were clear favorites on paper, with many good drivers. Bury, in 2nd place, were already a good distance behind after the first round.
A peek of sun at the end of round one was a relief from the rain and by the end of round 2 things were drying out nicely. This was pretty much how things panned out weather-wise, with a couple more light showers later in the day and then clear skys and sun drying the track.
This didn't seem to stop the Newcastle team from all but vanishing completely with some members reportedly moving into spaces in other teams and others going home.
In rounds 2,3 and 4 York-A again showed their dominance by stretching their lead at every opportunity. They were simply uncatchable at this point and it was a race for 2nd place between Bury and Batley, with Teesside-A and Durham not far behind. Before round 4 it was decided, due to time constraints, to drop the 5th round and finish early after round 4.
The 4th and last round decided things with Bury taking 2nd only 1 point ahead of Batley in 3rd. Durham ended up 4th, 10 points behind batley and Teesside-A 11 points further behind in 5th. York-B in 6th followed by Teesside-B 7th and Newcastle 8th, rounded off the results.
Final results were as follows:
| | |
| --- | --- |
| TEAM | POINTS |
| York A | 277 |
| Bury Metro | 199 |
| Batley | 198 |
| Durham | 188 |
| Teesside A | 182 |
| York B | 172 |
| Teesside B | 117 |
| Newcastke | 67 |
Overall, the weather early on did likely tarnish the event for some people but the fun couldn't be stopped – and the Interclub once again proved to be a good source of close and competitive racing. Well done to York A, and indeed everyone who turned up to race.