The 2010 oOple Invernational is the first in what we hope will be a long-running annual event to celebrate the goodness of electric off road. Robin Hood Raceway is the venue for the 2010 event and is itself a new track having only been completed last year, 2009. The track is an all-astro turf track with a whole host of available layout options and features that can be incorporated into the track. With 6-minute heats it was decided to run nearly all the available track for a longer lap time.

The first oOple race event commenced its early planning stages in February 2010. Dates for various weekends in the coming season were reviewed, and checked for any potential clashes with other race events such as regionals, nationals, and 1/8th offroad races. The number of available weekends was already very limited, so with an almost full calender, the weekend of June 12th and 13th was chosen. June of course felt to be ages away, yet so much would need to be done to ensure the smooth running of this event.
First off the event would need a name, well we of course like the name oOple, but didn't want to be quite so standard as simply 'oople race', yet didn't want to be quite so exclusive as hosting an invitational event, we also hoped the race would appeal to drivers from all over Europe (and maybe even beyond...). And so to aim for a fair range of the regular club drivers, the local heros, national warriors and international visitors, it was decided that potential competitors would first register their interest in racing at the event, then a panel of oOple ninjas would send out invites for up to 120 of these drivers to officially sign up to racing at the event.
And thus the name Invernational was born (inv (invite) -ernational (national and international appeal).

Invernational day -01 (Thursday June 10th); Lots to do - the marquee went up, Rob Fox and his team of dedicated professionals grafted hard for hours to provide us with a top notch pitting area and evening entertainment zone.
Race control needed setting up, with thanks to Mike Cockerill for travelling down with all the equipment and setting it all up, performing sound tests etc.

| | |
| --- | --- |
| | |
| The marquee just awaited delivery of tables and drivers! | DJ Kirky gets his gear set up and we sampled his fine skillz. |

The grass surrounding the track needed strimming, Coatsey worked hard-on this until his hands were a trembling mess and he was covered in grass shavings, then Stu took over, which all went well until he became distracted by Rob Fox's rather large power tool.

Thursday evening was all about getting food, beer, and testing out DJ Kirkys equipment in the Marquee.

| | |
| --- | --- |
| | |
| Stu Evans gets razzed up and pulls some moves to DIE ANTWOORD - ZEF | Chilling out on the big oOple pillow |


Thursday night - preparations nearly complete.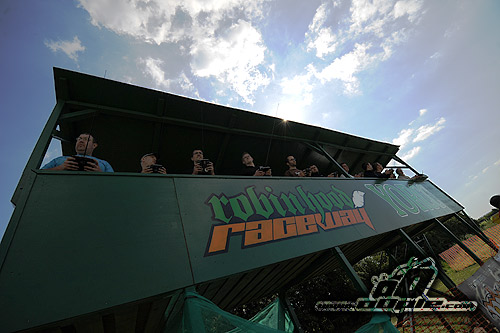 Practice makes perfect.
Friday was the opening day for those who wanted free practice on the track - most of the overseas drivers arrived early this day to get set up on the provided tables and free mains electricity we'd put together. Things kicked off early with drivers starting to arrive by 9am. Officially practice didn't get underway until about mid day but drivers were on the track by 10am and as more turned up the drivers stand quickly filled up.
DJ Kirky took to his decks at around 5:30pm and as the sun blazed through the clouds outside the pitting area was bathed in some fast kirky dance beats - pumping up the atmosphere, squirrel stylee.
Pits filling up

DJ Kirky set about peoples eardrums with a sledgehammer at 5:30pm but got asked to turn it down slightly at 6:13pm exactly so people could think.
| | |
| --- | --- |
| | |
| COCKCHAFER beetles are everywhere at RHR | Some crazy French guys |

It became clear early in the day that there would be a lot of cockchaferage occuring as the weekend progressed. The little creepy-beasts were everywhere...This particular brand of beetle only emerge from the ground every 3-5 years due to their slow gestation period, so we might not see any more for a few years yet. Make the most of them while they last, wikipedia has some tasty sounding recipe ideas for serving the CockChafer.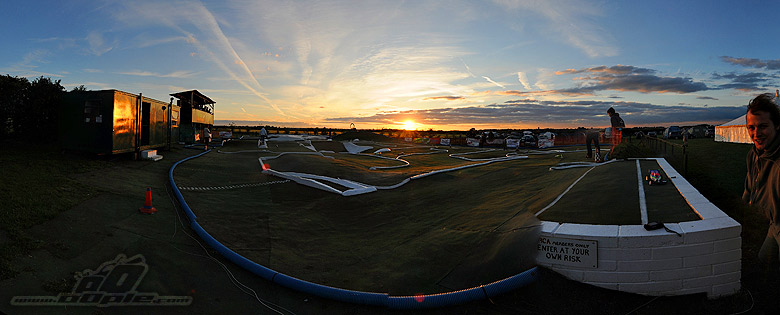 End of Practice:
As the sun was setting and illuminating the local scenery beautifully, practice was continuing well into the evening, with keen drivers continuing to battle it out on the track until their eyes were almost bleeding. Results from the day were reviewed and a couple of interesting nuggets became evident.
Steve 'practice warrior' Lawson had put in the most practice sessions, making a grand total of 22 visits to the track throughout the day, and putting in an estimated 300 laps. Now that's dedication.
| | |
| --- | --- |
| | |
| | Nathan Waters had 5 practice sessions - 4WD only |
| | |
| --- | --- |
| | |
| Dan Greenwood was on the track into the late hours | Sexy sky |
The fastest timed visitors from overseas were Bart Van Echepol, Wouter Wymen and ELVO. Team Fluffy Bum is awesome. Other fast drivers putting in 27-28 second laps included Tom Cockerill, who TQ'd practice, James 'Ralph' Helliwell (who was TQing practice for most of the day), Graham North!!!!!! Nathan waters, Adam Skelding, Dan Greenwood, Paul Bradby, Ben Jemison, Grant Williams, and Richard Coates. As this is still practice and not officially timed many drivers have been out there without transponders, so tomorrow could see an interesting turn of events. Competitors were still arriving late into the evening which could also affect standings when we start the final practice tomorrow morning.
The international presence for the first oOple invernational is also impressive, with a number of drivers having made the trip over from Belgium, France, Spain, Ireland - erm, and possibly others.
One of the Irish drivers appeared to be the last one on the track at 10:40pm - quite how he could see anything is a mystery.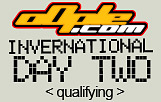 Saturday morning saw one round of timed practice which finished a little after 10am. Racing was due to start at 10:30am but various small delays put this back slightly. A drivers briefing was in the gap before qualifying started and was hosted by Stu Evans - who introduced himself as Paul Worsley, this was however a lie.
Race officials were introduced - Stu as Chief Dogsbody, Northy and Race Director, James as Race Steward, and first aiders Steven Kirk, Vicky, Steve Pierce and James Helliwell.
Stu went through some basic rules - he mentioned that there is NO scrutineering and that following basic BRCA rules would be on trust as this is a relaxed race format. Stu also mentioned that this isn't an oOple race - this didn't really come across properly as it made it sound like it wasn't an oOple race - which it is. Stu was trying to make the point that this is seperate and a lot of people are involved and we've set up a bank account just for this annual event and any money left over will only be used for this event / preparing the next. Stu's a bit special so we forgave him.
| | |
| --- | --- |
| | |
| Stu talks the talk - but this IS the oOple Invernational! | The guys discuss how many rounds to count! oops |
It was announced that we'd run 5 rounds of qualifying with three of these to count - but half way through the briefing someone pointed out that the computer was currently set to just two rounds of five to count - and that we didn't actually know how to change it. oops! Stu quickly made up for this by announcing that everyone should just do five good rounds and they'd be OK. (After two rounds of qualifying - it was finally confirmed as 3 rounds to count).
Stu and Vicky thanked a number of people who have spent a lot of time and effort ensuring that this race could happen, and paying fine attention to detail (except for the omission of race numbers for cars! Oops), including Rob Fox and his team of merry men for the awesome marquee which really does take hours of grafting to erect, John Price for his hard work in time control, Graham North and YORCC for their help in organising the event, James Helliwell for a lot of the behind the scenes organisation (and allowing us to roam his land), Jimmy for his design efforts, and everyone else who has worked hard to bring this weekend of kick-ass fun to you.
We forgot to mention sponsors, but this meeting has been kindly sponsored by Durango, Schumacher and DMS racing, who have donated prizes for a raffle, every entrant to the event gets entered for a chance of winning some goodies. Finally Stu asked if there were any questions from the gathered racers - at which point the only question was 'why do dogs always look sad' from Barry Williams. Ok, time to race then!


| | | | |
| --- | --- | --- | --- |
| | | | |
| | | | |
| | Vicky had her invisible nursey hat on, and spoke up to draw attention to mens health week (June 14th-21st), advising everyone to check their manbits regularly and seek medical advice if concerned. James Helliwell, Brian Shardlow, Vicky oOple and some friends are walking the '4 peaks' next weekend - the four highest mountains in Ireland, Scotland, England and Wales, in 40 hours, to raise money for the Everyman Campaign (raising awareness of cancers affecting men). Donations will be very gratefully received throughout the weekend in the form of loose change, or if you'd prefer to make your pledge online, please visit www.justgiving.com/4peakswarriors | | |
| | | | |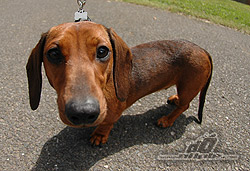 Sausage dogs love oOple - fact.
After that mighty drivers 'briefing' everything was all set and organised to start the qualifying races, Stu had rambled on for a while so we started 10 minutes behind schedule, but with John Price vowing not to delay for anyone now...
The small gap between heats was a problem for the lower heats - by the time the last car had finished it could be only 60 seconds (thats a minute, by the way) before the start of the next heat, which might not be long enough to get on the drivers stand and get the car round for a warmup lap.
| | |
| --- | --- |
| | |
| Cedric Devillers, crazy french warrior. Optimized owner | Action over the big double |

Lee Martrin on his way to pip Craig Collinson for TQ in round one of 4WD with his TRF511 Tamiya
Lee Martin is the dominant driver in 4WD in the UK right now and showed his form by taking round one of 4WD qualifying - backing it up with a win in round two. Tom Cockerill is THE MAN at this track - taking the 2009 and 2010 2WD nationals here and didn't disappoint his screaming fans in round one with a tasty win.
2WD Round 1 Qualifying

| | | |
| --- | --- | --- |
| 1 | Tom "God" Cockerill | 13/ 373,58 |
| 2 | Grant Williams | 13/ 378,79 |
| 3 | Paul Bradby | 13/ 382,95 |
| 4 | Craig Collinson | 13/ 388,48 |
| 5 | James Helliwell | 12/ 360,29 |
| 6 | Lee Martin | 12/ 360,34 |
| 7 | Ben "Smirnoff" Jemisson | 12/ 363,53 |
| 8 | Craig Harris | 12/ 365,57 |
| 9 | Wouter Wynen | 12/ 367,61 |
| 10 | Richard Coates | 12/ 368,96 |
4WD Round 1 Qualifying

| | | |
| --- | --- | --- |
| 1 | Lee Martin | 13/ 367,65 |
| 2 | Craig Collinson | 13/ 369,19 |
| 3 | Nathan Waters | 13/ 373,27 |
| 4 | Paul Bradby | 13/ 375,64 |
| 5 | Adam Skelding | 13/ 378,33 |
| 6 | Ben "Smirnoff" Jemisson | 13/ 381,56 |
| 7 | Colin May | 13/ 383,40 |
| 8 | James Helliwell | 13/ 385,11 |
| 9 | Richard Lowe | 13/ 389,44 |
| 10 | David Poulter | 12/ 360,10 |
Jonathan Clarke from Atomic Carbon always has some interesting things hidden away in the boot of his car and we managed to con him into letting us take a look with the promise we'd not take photos - luckily we brought our camera along.

Jonthan had a couple of interesting cars he's created - the first being this stunning HPI Cyber 10b with thick machined carbon fibre chassis. The chassis is as narrow as the Durango chassis but retains the wide bodyshell and undertray in this case.

I WANT THAT ONE - sexy chassis makes the 10b a serious looking race machine.

Nice orange parts are HPI options for the cyber

Brass block puts some weight at the back


The second car we spied was this mad single-belt creation which appears to use a few Losi XXX4 parts such as the suspension and of course belt. Most of the rest of the car however is custom made, including the gearboxes and centre bulkhead which houses the motor and a 'bag of pulleys' to contort the belt around the motor. The rear of the chassis plate has a chanel machined into it for the belt to sit down into - allowing the belt to rider underneath the saddle lipos.

| | |
| --- | --- |
| | |
| Belt sits inside a chanel in the chassis | XXX4 suspension parts |

| | |
| --- | --- |
| | |
| Front end | Centre bullkhead |

We don't believe these projects are intended to be developed for sale - just interesting creations from the mind of a great designer.
Lee Martin improved his time with another win in round two - Nathan Waters and Craig Collinson weren't far behind leading the Durango charge. Paul Bradby took the 2WD round with his Associated B4 -who said rear-motor cars can't compete here? Craig Collinson took an impressive 2nd in round with his newly aquired production-ready RB5 Mid Custon - the new mid-motor conversion for the Kyosho RB5.
4WD Round 2 Qualifying

| | | |
| --- | --- | --- |
| 1 | Lee Martin | 13/ 367,07 |
| 2 | Nathan Waters | 13/ 371,58 |
| 3 | Craig Collinson | 13/ 373,16 |
| 4 | Richard Lowe | 13/ 385,60 |
| 5 | Colin May | 13/ 385,74 |
| 6 | James Helliwell | 13/ 386,12 |
| 7 | Craig Harris | 13/ 386,25 |
| 8 | Adam Skelding | 12/ 348,96 |
| 9 | Ben "Smirnoff" Jemisson | 12/ 360,66 |
| 10 | Sam dixon | 12/ 362,02 |
2WD Round 2 Qualifying

| | | |
| --- | --- | --- |
| 1 | Paul Bradby | 13/ 382,40 |
| 2 | Craig Collinson | 13/ 389,21 |
| 3 | Colin May | 12/ 364,07 |
| 4 | Wouter Wynen | 12/ 366,51 |
| 5 | Tom "God" Cockerill | 12/ 367,16 |
| 6 | Richard Coates | 12/ 368,66 |
| 7 | Craig Harris | 12/ 370,32 |
| 8 | James Helliwell | 12/ 370,64 |
| 9 | Eugene Galley | 12/ 370,71 |
| 10 | Dan Greenwood | 12/ 371,37 |

A rare sighting of Cockerills CAT - he gave up trying to run two classes and switched to his Cougar in both classes!
BELSTENS oOple Buggy: You know a guys having a bad days racing when he dons the big 8th buggy rear wheels on his car - Dave Belsten possibly was still drunk 18 hours after the 'night before' and did that very thing during his racing. Strangely enough, it looked like our very logo so we very much approved. I'd not say 'anything goes' at this race - but who can argue against this madness, its ACE.

Mr Atomic Carbon himself Jonathan Clark - could have painted a proper wing up.

Richard Lowe's JConcepts BJ4 Worlds car.
Tom Cockerill came back in round three to take another win - this time Bradby losing out and having to settle for third barely half a second behind Craig Collinson who was doing rathre well. Lee Martin again took the 4WD honours and with the by-the-announced confirmation that we'd be counting three rounds - he confirmed overall TQ with two rounds left to play.
2WD Round 3 Qualifying

| | | |
| --- | --- | --- |
| 1 | Tom "God" Cockerill | 13/ 379,80 |
| 2 | Craig Collinson | 13/ 382,30 |
| 3 | Paul Bradby | 13/ 382,91 |
| 4 | Grant Williams | 13/ 386,98 |
| 5 | Ben "Smirnoff" Jemisson | 13/ 389,49 |
| 6 | Lee Martin | 12/ 360,50 |
| 7 | Dan Greenwood | 12/ 362,78 |
| 8 | Colin May | 12/ 363,46 |
| 9 | Wouter Wynen | 12/ 363,83 |
| 10 | Richard Coates | 12/ 365,38 |
4WD Round 3 Qualifying

| | | |
| --- | --- | --- |
| 1 | Lee Martin | 13/ 367,49 |
| 2 | Nathan Waters | 13/ 369,59 |
| 3 | Craig Collinson | 13/ 373,28 |
| 4 | Richard Lowe | 13/ 378,09 |
| 5 | Colin May | 13/ 378,80 |
| 6 | James Helliwell | 13/ 379,53 |
| 7 | Craig Harris | 13/ 385,42 |
| 8 | Richard Coates | 13/ 386,10 |
| 9 | Wayne Collinson | 13/ 387,28 |
| 10 | Andy Griffiths | 13/ 388,71 |
Interview with Bart Van Echelpoel from Belgium


Bart, thank you for travelling all the way to Blyth to race at the first oOple invernational event, how has your experience been so far?
It's been better organised than the Euros warm up, and most of races in england are always good organissation, we don't see that much of good organisation in Belgium.

What is your favourite English food?
Bacon and eggs.

Where do you usually live when you are not travelling the world as an international racing superstar?
antwerp, Belgium.

Which track is your all time favourite, and what has been the most memorable event you have raced at?
My most favourite is Eden Park, The Players at Worksop was my most memorable event. It was a complete different style of racing, i like reedy style.

What racing result are you the most proud of?
5th place at the european 235 (nitro).

What is your favourite feature of the venue here at Robin Hood Raceway?
The track itself, it's a hard one to get good and to get faster rounds without too many mistakes, so it's one of the most challeenging tracks i have raced so far.

How did you hear about the oOple invernational race?
oOple.com :) And Nathan Ralls.

What do you think about the race format?
We're used to having longer race times because we race for 6 minutes at Belgium nationals, and everyone has 3-legged finals.

do you think anything could be changed to make this event better?
Nothing.

What colour wheels do you prefer?
White.

Do you have enough drive?
More than enough! not enough RPM in the engine.

| | |
| --- | --- |
| | Check out the newly installed BELGIAN forum on oOple! |

Interview with Jeroen Vanneste from Belgium

Jeroen Rooney, thank you for travelling all the way to Blyth to race at the first oOple invernational event, how has your experience been so far?
Well I've had a lot of fun, that is why i'm at most events. because I am a shitty driver, I come for the fun, there are nice people here and a very good atmosphere, very relaxed and very fun.



What is your favourite English food?
Very difficult question because there's not much english food I like, the first night we were here I ordered lasagne with peas, peas... what's that aboout?!

Where do you usually live when you are not travelling the world racing at fun events?
During the week I work in Ghent and live there with my girlfriend, at the weekends I live with my parents. I would highly reccomend anyone visiting belgium comes to Ghent, it is very nice there, down with the students.

Which track is your all time favourite, and what has been the most memorable event you have raced at?
I like my home track a lot because we have the grand prix there, if you're good there you can drive very fast, if you're a beginner you can drive there without making too many broken parts. I like the Euros but that probably changes every year, the atmosphere etc, but particularly Bilbao because of the good weather, and it was fun because I didnt have to race, I could just relax and take photos, that is my main hobby. and probably ths event too now.

What racing result are you the most proud of?
At the petit race i'm mostly intermediate there, my goal is jjust being inb the intermediate section.

What is your favourite feature of the venue here at Robin Hood Raceway?
I like the ring of fire, I think most people love that., and if I had won something in the raffle that would have been most amazing.

How did you hear about the oOple invernational race?
Just from the forum and immediately asked a few other people if they'd like to come. A lot of people would have liked to come but the distance was too far.

What do you think about the race format?
It is probably better running one class on one day, so racers can continue on one car per day, and make changes to the track for the second day.

do you think anything could be changed to make this event better?
We're dry, we have electricity, food, fun... maybe wireless internet for everyone., although i don't have a computer to use it!

What colour wheels do you prefer?
I prefer yellow because it matches my bodyshell, but yellow is slower!

Richard Lowe's JConcepts BJ4 Worlds car - 5th in round 4.
2WD Round 4 Qualifying

| | | |
| --- | --- | --- |
| 1 | Paul Bradby | 13/ 379,68 |
| 2 | Craig Collinson | 13/ 384,92 |
| 3 | Grant Williams | 13/ 388,34 |
| 4 | James Helliwell | 12/ 363,49 |
| 5 | Wouter Wynen | 12/ 364,25 |
| 6 | Dan Greenwood | 12/ 364,65 |
| 7 | Richard Lowe | 12/ 365,77 |
| 8 | Craig Harris | 12/ 368,16 |
| 9 | Eugene Galley | 12/ 369,03 |
| 10 | Colin May | 12/ 371,28 |
4WD Round 4 Qualifying

| | | |
| --- | --- | --- |
| 1 | Lee Martin | 13/ 364,28 |
| 2 | Paul Bradby | 13/ 369,79 |
| 3 | Tom "God" Cockerill | 13/ 371,96 |
| 4 | Craig Collinson | 13/ 372,78 |
| 5 | Richard Lowe | 13/ 374,57 |
| 6 | James Helliwell | 13/ 379,97 |
| 7 | Ben "Smirnoff" Jemisson | 13/ 382,27 |
| 8 | Colin May | 13/ 383,08 |
| 9 | Adam Skelding | 13/ 386,77 |
| 10 | Wouter Wynen | 13/ 387,39 |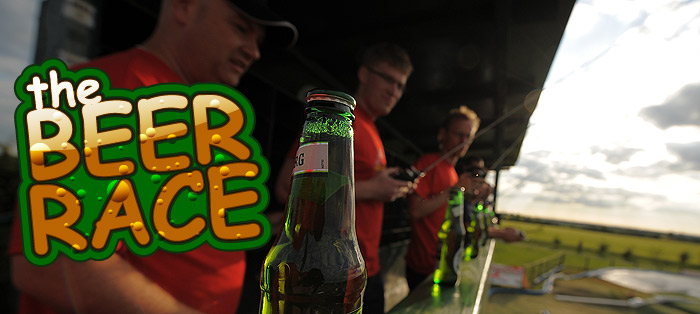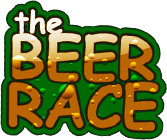 The end of the second day and after four of the planned five rounds of qualifying it was 'party time'. The England football match was about to be screened in the marquee but first the racers had the chance to volunteer to take part in the beer race. All the drivers would have to line up on the rostrum (running up the stairs lemans style was ruled out for safety reasons, duh) then open their bottles of beer at the sound of the buzzer - down the whole bottle (no cheating) before picking up their transmitters and RACING.
To make things more insane it was decided that the drivers would have to run the track backwards to how it had been run for the racing. Transponders were hastily taped onto cars as the crowd and the racers became restless whilst the race was being properly sorted on the computer.
CHAOS reigned throughout the race - too many crashes and madness to really describe and do it justice - you had to be there. Jamie Chesire 'won', Pete Watson was second and Chris Long third - probably.
| | |
| --- | --- |
| | |
| Unfair advantage? The pint cup gave Nick Gurnell the EDGE - But Shane Foot was QUICKER (also cheating) | Hammered, yes - but on his way |
| | |
| --- | --- |
| | |
| Glug glug | Shane Foot is already racing - Helliwell has a sip and thinks about the next one. |
Special mention to Stu Evans, who after downing his bottle of beer rather slowly, picked up his transmitter with the antenna already extended and managed to bring it up between his face and his glasses - which sent his aforementioned 'seeing aparatus' flying off his face and onto the track below - Stu was last off the line, by a long, long way.

After the race was done the drivers were taunted by the crowd to jump off the big banked corner at the end of the straight and through the hoop-of-fire which wasn't actually alight - so I guess it was just a hoop. Several drivers attempted this feat of near-impossibility and to the baying crowds great delight Pete Watson made it through along with Nick Gurnell, who happily smashed his car up.
| | |
| --- | --- |
| | |
| Lots of excitement during the football match. | Plenty of England supporters in attendance. |


Burn baby burn
After the football match was screened DJ Kirky started his thing off - it was slow at first as some people were still practicing outside on the track (free practice). It was decided by the organisers to try out the hoop jumping again - on fire. Full safety equipment was brought forward including a bucket of water and a fire extinguisher.
| | |
| --- | --- |
| | |
| Diesel burns well | Colin May ruled the fire hoop |
| | |
| --- | --- |
| | |
| Diesel burns well | Mole2k was in full flex snapping this amazing shot |
The hoop was liberally doused in diesel fuel and hoisted into place to be set well-alight. The light was fading which made the scene ever more dramatic as well over a hundred oOple fans gathered around the track to see the spectacle
Colin May was the man - making it through the hoop more times than anyone else and showed utter disrespect for his car to a level that made us proud. Awesome. The DJ was now going off the hook in the marquee as the dying embers of the mighty hoop of fire ebbed away - time to call it a day.
Right, who wants a barbecued buggy? .......no? Lets dance!

DJ Kirky - also known as Steve Kirk - actually, I think he's ONLY known as Steve Kirk and we made up the name DJ Kirky. Anyway - whatever. He's a racer, a nurse, and a DJ - we just wanted the last bit from him - but if he dressed as a nurse that's fine by us.
Kirky spun his decks up early on Thursday to test and we were BLOWN AWAY by his masterful skills - I was personally in tears from laughing so hard with sheer excitement and joy. Actually - that's true. So away Kirky went to pump out some tunes on Saturday night - the first time I've ever seen a DJ at a race meeting I have to say. After all the evenings fun and games it was a great end and one that'll be memorable to people for a while I'd imagine.
| | |
| --- | --- |
| | |

James Helliwell stunned everyone with his beered-up breakdancing antics whilst Ross Williams interfered with people dressed as a mexican wrestler. There were rumours of 'doggers' down the lane and Shane Foot pronounced his undying love for Jimmy oOple. I'm not going to do a report on this madness - so you can check out the photos and draw your own conclusions.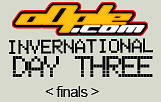 Sunday.
The final round of qualifying kicked off at 08:00, this was the tell-tale qualiyer for many drivers, especially Richard Coates, who when saw that he had finished 11th overall thought he would be in the dreaded 'BQ' position, however when it was revealed that finals would be run the same as qualifying, with 11 car heats, Coatesy could hardly contain his excitement.
When qualifying was all over and the finals listing was released, a quick drivers briefing was held on the track, the main focus of this briefing being the raffle prizes on display which had kindly been donated by our sponsors: Durango, Schumacher, DMS racing and Optimized rc. Every entrant to the event had their names thrown into a cardboard box, and

these were duly drawn by Vicky oOple. Richard Lowe was first up, and he couldn't resist the Motor donated by DMS. Richard Coates was next, and went straight for the Durango kit.

| | |
| --- | --- |
| | |
| Rich Lowe had his pick but went for the Trinity motor | Lucky Richard Coates (!!!) |
| | | |
| --- | --- | --- |
| | | |
| Tel wasn't really unhappy with his EPIC cells - he just missed out on the Durango that's all. | Anderson motorbike from Schumacher! | Exotek mini-t buggy conversion |
Massive thanks to those companies, Durango, DMS Racing, Schumacher & Optimized RC, that sponsored the event with prizes so we could give something back to the racers.
For the oOple Invernational we didn't want to do the same-old trophies that every other race has. Crystal, printed, cups bah - whatever. I laid down some designs in Adobe Illustrator and had the trophies custom made by a local company, 'Creative waterjet' in Mirfield, West Yorkshire. We had the guys at CW cut the 1st place trophies from 15mm mild steel in the shape of the oople buggy - zinc plated and attached to a beautiful wooden base that a fellow racer made for us.
For the rest of A-finalists we did a slightly different design made from 1-cut of 2mm thick aluminium sheet with a base designed-in that just needed to be bent to shape to create a standalone trophy. These turned out really well and worked out a decent price for a unique trophy design.
Thinking about it - it would have been preferable to do top-three trophies for the A final, then trophies for the winner of every other final, B,C D - etc. Oh well - next year. Overally - it was just something else that made the event a bit different.
| | |
| --- | --- |
| | |
2WD overall Qualifying - 4WD overall Qualifying

| | |
| --- | --- |
| 1 | Paul Bradby |
| 2 | Craig Collinson |
| 3 | Tom "God" Cockerill |
| 4 | Grant Williams |
| 5 | James Helliwell |
| 6 | Lee Martin |
| 7 | Wouter Wynen |
| 8 | Ben "Smirnoff" Jemisson |
| 9 | Dan Greenwood |
| 10 | Colin May |
| 11 | Richard Coates |

| | |
| --- | --- |
| 1 | Lee Martin |
| 2 | Nathan Waters |
| 3 | Craig Collinson |
| 4 | Richard Lowe |
| 5 | Paul Bradby |
| 6 | James Helliwell |
| 7 | Colin May |
| 8 | Adam Skelding |
| 9 | Ben Jemisson |
| 10 | Wouter Wynen |
| 11 | Craig Harris |

A final 2wd leg 1.
During the warmup lap Paul Bradby tried the tricky double jump second lane out and snapped a front wishbone, they didnt have enought time to change it so Steve Lawsons B4 was brought in as T-Car for him, secondly James Helliwell hit Vermins leg and snapped a ball joint which was quickly fixed, then Lee Martin had some intrusion from the rear in the form of a small pebble in the spur gear, pitman Jon Dell ran off with the car to give it a quick prod and Lee was back on track with a smooth rear end. On lap one Bradby failed to clear the double and 5 cars came through, Tom Cock being the first of them , he managed to pull out a good lead over the following laps with Grant and Craig fighting for second, they collided coming over the loop and Helliwell squeezed through to take up second for the next couple of minutes. A bobble allowed Craig, Grant and Wouter to catch up, and the three went 3 abreast over the stepup, round the chicane and down the straight with some really clean driving Jon Cockill would be proud of. The section towards the loop was tight and allowed them to settle into regimental formation , Craig leading, followed by Wouter and Helliwell. Lee Martin was in fifth with Helliwells back door on his mind, he was pretty close and on the call for the last lap he succeesfully did the double over Helliwell, but ran wide, James squeezed inside Lee on the apex which he didnt like and took the place back, he chased very hard and the pair were side by side on the straight, James came over the line just ahead of Lee; Tom Cock was totally gone from the word go and got through for the extra lap, whilst Belgian legend Wouter and Craig Collinson had a solid race for second with Craig getting the important 2 second spot. and stuff. :)


A final 4wd leg 1.

Lee Martin lead the boys away from the grid, because he'd qualified in the top spot, he was followed by Nathan Waters, Craig Collinson, Richard Lowe, James Helliwell (who gained a place on the first corner), Bradders, and then everyone else who was a bit further back.
Lee and Nathan were soon pulling a gap on the rest of the field, but Nathan made an error with a track marking just over the loop, allowing plenty of breathing space for Lee, and seeing a number of cars some past (Collinson, Lowe, Bradders). Meanwhile 'Jen Bemison' was up the rear, mounting track markers and driving round in circles.
Lee went on to make an error in front of the rostrum, and Craig Collinson was up into 1st place, Lowe and Bradders were very close behind. Collinson was FAST, and kept ahead of these boys, but Nathan was FASTER and hammering down through the rest of the field.
Lee Martin was hot on Collinsons gearbox now, and looking eagerly for a way through, making an attempt at an overtake manoevre on the straight but not quite slipping all the way through.
Now Nathan was coming down hard on the top two cars, and as all three drove around the back of a large jump together, something happened to Lees direction, and all of a sudden Nathan came flying through the air and overjumped Collinson, snatching the lead from his thumbs.
Lee had lost a few places, and Helliwell was up to third, but Lee soon regained this place. and was making his move on Collinson for 2nd place. Lee then pulled exactly the same move on Collinson that Nathan had pulled some laps earlier, overjumping on the double. Lee was into second place but Nathan was about a mile ahead. Further back Bradders nuzzled through past Lowe. looking at the video everyone was about as fast as each other.

A final 2wd leg 2.

TQ man bradders, 2nd place collinson, and TomGod cockerill were at the front of this race, which was much better videod from the rostrum. Tom slipped through past Collinson on the first lap and started to get to work on Bradders. He chased his northern buddy for a lap, then Bradders clipped a track marking in the centre of the track, and flipped his car; Tom was through into the lead. All the cars were spaced out for a while. Then Tom came off the double jump badly, landing off the racing line, in fact landing on a track marker, and seeing bradders return to 1st place.
Tom was starting to pull quite a lead on Bradders, and feared this may cause him embarrasment, or make the race less exciting, so he single-singled the double jump, and went all chilled out for a while, the gap remained sizeable though, and track time was starting to run out. The top two lapped a backmarker, then continued their relaxed chase. When the finish tone sounded though, Bradders seized the opportunity to come in with some pressure on the rear end of Tom cockerill. This was a little too much though, and the two cars made contact coming up to the banked corner. Tom ended up behind Bradders, but ever the sportsman Bradders went wide around the banked corner to allow the TomCock through. Bradders didn't hang back though and followed Tom nose-to-tail all the way down the straight as the pair continued the battle to the line - another tap from Bradders was all he could muster as the pair crossed the line with Tom in front for the win in the 2WD class.

| | |
| --- | --- |
| | |
| Craig Collinson with the FAB mid-Kyosho car | Tom Cockerill |
| | |
| --- | --- |
| | |
| Bradby put on a late charge - last lap | Bradders shuts Tom over - but waits and Tom holds him off until the finish line. |
Tom Cockerill clearly rules at Robin Hood Raceway in the 2WD class. Winning the 2009 National with the XFactory car before doing it again in 2010 with his new Schumacher Cougar SV ride.

Tom's Cougar dominated the finals - winning the first two legs for a quick victory before sitting out the third to keep things nice and dry.

Tom's car is fairly standard but has one or two mods he's trying out including GHEA pistons - 5 hole front and 6 hole rear. Tom also used the new Schumacher rounded-pistons during qualifying.

Tom ran both stick and saddle pack cell arrangements during 2WD but settled on the stick arrangement in the end.

Sponsors - Schumacher, Speed Passion, KifoPaint, Trishbits, JESpares
Speed Passion GT 2.0 Pro Speedo - Speed Passion 6.5 V3 Motor (23/80 Gearing) - Speed Passion 5300 Stick/4200 Saddle Lipo's

| | |
| --- | --- |
| | |
| Tom Cockerill | Interesting |

Purple turnbuckles

Speed and Passion

A final 4wd leg 2.

Lee Martin, Nathan Waters and Craig Collinson were all queued up again on the grid, with a bunch of other dudes waiting in line behind them, Richard Lowe was a little further back and he had an accident early on. Lee was looking fast in this one, and pulling a lead on 2nd place Waters. The top two were soon about a mile ahead of the rest of the drivers, who could be seen all colliding on the approach to the double jump.
Waters kept a small distance back from Lee for a while, but with three minutes left to race he started to come down hard on Lee. Under pressure, Lee mounted the track marker coming through over the loop, and ventured off the racing line. Nathan waters was through into the top spot, but Lee kept very close to his gearbox and was pushing eagerly for Nathan to make an error. Nathan mounted the double jumps ever cautiously and Lee was through back into 1st place. Lee was driving like a warrior to stay ahead, the two cars both very fast and capable. A slight altercation approaching the double jump saw Lee on his back with Nathan nuzzling his side. The gentle sportsman waited patiently for Lee to be marshalled and proceeded behind him, again down to 2nd place. On the last minute Lee and Nathan were navigating through traffic as they passed the backmarkers. Lee drove nice and smoothly around the track, almost on the home run now, however he landed badly coming off the stepped tabletop, and ended on his lid: Waters was through into the lead, and this time he didn't look back. The crowd were going wild as Nathan won the second leg, and with it took the 4wd oOpleship title for the first oOple invernational. Warrior. Both titles were secured after just two legs - amazing stuff.
| | |
| --- | --- |
| | |
| Lee Martin qualified in style but couldn't hold off the charge of Nathan Waters. | Nathan hammer dances into Lee - but waits. |
| | |
| --- | --- |
| | |
| A mistake from Lee allows Nathan past | |
| | |
| --- | --- |
| | |
| Nathan-fans celebrate | Lee congratulates Nathan on his awesome win |
Nathan Waters pulled off an amazing and quick victory in 4WD after Lee Martin (winner of the National here only weeks before) dominated qualifying. Nathan clearly got things together in the finals and piloted his Durango DEX410 to a really impressive victory - much to the enjoyment of his many fans who screamed like nutters.

Nathan is sponsored by Team Durango, LRP, SMD, PBM Models, Custom Blitz, MR 'o' Foams, KO Propo and RC Disco.

Nathans car uses KO servo, KO Esprit 3 2.4ghz stick transmitter, LRP SXX TC Spec esc, LRP X12 5.5 octa wind motor. Batteries are LRP 4800 lipo.

Tom Cockerill

Thanks to Nathan for supplying the photos of his car - I didn't get chance! oops.

The rain came down a couple of times during the opening round of finals - leg one of three for everyone. It wasn't too bad however and didn't soak things too badly. By the time the 2WD leg-3's were under way the rain was coming down ever more vigorously and things weren't looking good.
| | | |
| --- | --- | --- |
| | | |
| | You know it's bad when Northy looks this misserable. | Jim Dixon sucks |
Several times Jimmy oOple apologised to the Spanish racers for our poor English weather but they seemed to enjoy the insanity of it - so all was good. The final 2WD A leg was held in terrible conditions and it was decided to halt proceedings before the last batch of 4WD finals - with a possible view to abandoning the 4WD event and deciding on a fair way to count the two raced finals that the guys had done. Stu Evans jumped the gun a little and attempted to hold a vote in the marquee so the drivers could decide themselves what to do. In the end it was decided that because we were running ahead of schedule it'd be a good idea to wait 30 minutes and decide then wheter to go ahead or call it quits.
Lots of guys tried different things to clear the track of standing water but the downpour which had stopped wasn't going to be shifted that easily. Jim Dixon of the oOple team brought out a wet-vac and began vaccuming the entire track. The layout was changed slightly to avoid the bomb hole which was filled with water and it was back on.

B final 4WD leg 3.
Before this even kicked off the weather - read RAIN - was making things almost laughable. Conditions were terrible and getting worse but with just 2 finals left to run no one was giving up just yet. Someone shouted to 'open up the concrete banking' - a never-used part of the track, mainly because it's as slippery as hell even when dry - in the wet it's ludicrous. A sweeping concrete banked corner painted grey - no, surely not.
| | |
| --- | --- |
| | |
| Sideways down the straight - WET | ooooooF |
| | |
| --- | --- |
| | |
| Sweeping the track DURING THE FINALS!! | Gibson and Griffiths loved it |

Griff followed by Gibson round the concrete banked corner - the long way round as they rejoin the track with Northy who'd been racing properly all along.
The evil Tamiya twins of Dave Gibson and Andy Griffiths were well up for just 'mucking about' in their last final and wanted to use the banking instead of the 'proper line' over the step-up jump. It was clearly no faster to do this and we appreciate a laugh so their call was heeded. Griff was the main offender and was sliding sideways on full power every lap, which made for a great spectacle. Dave Gibson soon joined in and to cap things off the pair requested to bypass most of the track to go flat-out at the double in front of the rostrum for massive air time. All good fun and that's what it's about.



Interview with 2WD winner and student bum, Tom Cockerill.

Tom, can you sum up your feelings of the event and how your weekend went?
I thought it was a brilliant weekend. It had the feel of a 'big' event whilst still being fun and not too serious. The after race extra's put on by the oOple crew all went down very well and added to the atmosphere and fun feeling of the event.
My racing went well, especially in 2wd. Qualifying was a tight affair with me and Bradder's both taking 2 round wins, on the Saturday, but a poor final round from both of us saw him take TQ with me lining up 3rd behind craig Collinson. The finals went perfectly to plan for me, leading after lap 1 in the first leg and pulling out a good lead. Leg 2 was a much closer race between me & Paul which was good fun to race in.
So overall a good result and a great event, definitely one to come back for next year!

Do you like your trophy and where will you keep it?
yeh, it's ace and it's on my shelf next to my 2wd

Is it a posh shelf of a typical student bum "white wood" shelf?
it's a brown wood shelf, or like chip board with a fancy cover, so you could call it a student bum type shelf

what else is on your shelf?
tv, wii, some cougar bits, loose change, paper & pasta

Is there enough change to buy me a beer next time I see you?
depends where we're drinking, darn sarf, no - oop norf, maybe

What is your favourite 'tipple'?
'tipple?
Drink?
depends on the occasion, but normally some kind of cider or whatever's cheapest, depending how long ago my student loan was.

How did you celebrate this win?
i've not had chance to celebrate yet, i've been a busy boy

You seemed to have a lady with you at the event, did this help you win do you think?
definitely, she's the best

Is this one "a keeper?"
Seems to be, she's a good'un

Is it true you can walk on water? And if so di that help you marshal in the damp conditions late on Sunday?
unfortunately I can't confirm or deny these rumours, but I my god like powers do help me to marshall on some occasions

What is your favourite Jonny Cash song?
ring of fire

How many miles do your tyres last on your road car?
About 15,000, they only cos ~£30 a pair tho, cheapy student tires

You're currently at Uni studying Motorsport Dancing or something like that, what would you like to do when you actually have to get a proper job and start paying tax and stuff to help us keep all the work shy ninjas?
I wanna be a lifelong student bum, it's the best job in the world!

Not crab fishing in the Bearing Sea then?
no, i wouldn't mind standard fishing tho, i've heard that is fun

Do you like things "standard" then?
some times standard is good, other times not so good

What is your favourite advert on tv at the moment? Or can you not afford a tv licence?
I can't afford a tv licence - donations are welcome though


Have you got a funny joke you can tell us?
if only john terry had been with robert green's mrs instead.
A final 4wd leg 3.
The final-final of the day eventually came around, after much debate in the hours prior about whether the weather would allow racing to continue as scheduled. The racers persevered and bravely mounted their cars upon the track, and even more bravely went out to marshal.
There was a short delay to the start of the final as a team of dedicated track crew worked hard to sweep the standing water off the track, Vermin put in a good time sweeping the water uphill, but it was Stuart and Graham who TQ'd in the centre of the track.
As the start tone sounded the drivers took off from the grid to jeers of 'do the banking', Collinson Lowe, Bradders and Helliwell took the first corner together, and with a quick clip of the track marker, Bradders was up into 2nd place. Hero farmer Helliwell waterplaned through a puddle and was past lowe to move into 3rd place, but Lowe came right back through to snatch it back. Lowe came over the tabletop jump at a slightly bad angle (upside-down) and landed back-to-back with Helliwells pink warrior, Helliwell kindly nudged Lowe back onto his wheels, but swiftly took 3rd place away from him in the process.
Collinson was still up front, and taking some rear-end pressure from Bradders, but keeping his cool across the slippery surface. Bradders slipped in something moist and collinson started pulling off in front of him. The cars raced fairly spread out for a few laps, Collinson - Bradders - Helliwell - Lowe. Further back Wouter and Craig 'I paint bodies' Harris were battling it out for last place. Meanwhile off-camera Lowe pulled a fast one on Helliwell and was back in the 3rd position. Helliwell came hammering down HARD on Lowe, whilst up at the front Bradders went for an over-jumping attempt on Collinson, landing on his rear with wheels interlocked.
He waited for Collinson to dislodge himself and the pair danced off together, whilst the error had given a chasing Heliwell chance to gain some distance, with Lowe close behind. Helliwell hit a kerb and suffered a blow-out at the end of the straight, Lowe was straight through into 3rd place, whilst up at the front Collinson and Bradders slid around Torville-and-dean like across the slick surface, the dance was going well until Collinson tripped over the loop, and landed on his lid. The marshalls were starting to wimp out a bit now, so it was down to land-warrior Helliwell senior to step in and save the day, flipping Collinson onto his wheels just a nano-second ahead of his son-in-pink.
Bradders went for a sausage-roll and Lowe took up the first place. Braddders was on a roll now, or a number of rolls, and the chasing Helliwell was soon through into second place as Bradders went for a cartwheel towards the loop... from the wrong part of the track.
Bradders by now was slightly disoriented from the spinning and rolling, and on his return to the track he skidded onto the concrete banking, which hadn't actually been used as part of the track all weekend, and had become particularly greasy in the heavy rainfall. Richard Lowe took the win, with James Helliwell in 2nd place. The surviving cars performed some dancing and trickery across the well-oiled concrete corner and entertained the onlooking crowd until their on-board electrics could handle no more. Crunch.
| | |
| --- | --- |
| | |
| Last miniute track work before the last final | Some of the hard-core elite drivers |
| | |
| --- | --- |
| | |
| Damo almost went over whilst marshalling | Craig Collinson |
| | |
| --- | --- |
| | |
| | Wouter Wynen |
Overall A final Results - 2WD class

| | | | |
| --- | --- | --- | --- |
| position | name | score | chassis |

| | | | |
| --- | --- | --- | --- |
| 1 | Tom "God" Cockerill | 2 [ 1 1 11] | Schumacher Cougar SV |
| 2 | Craig Collinson | 4 [ 2 3 2] | Kyosho RB5 Mid Custon - FAB |
| 3 | Lee Martin | 5 [ 5 4 1] | Tamiya TRF201X |
| 4 | Wouter Wynen | 8 [ 3 5 6] | Losi XXX CR2 Atomic Carbon |
| 5 | Dan Greenwood | 9 [ 11 6 3] | XFactory X6 |
| 6 | James Helliwell | 9 [ 4 11 5] | XFactory X6 |
| 7 | Paul Bradby | 10 [ 8 2 11] | Associated B4 |
| 8 | Grant Williams | 10 [ 6 7 4] | Schumacher Cougar SV |
| 9 | Ben "Smirnoff" Jemisson | 14 [ 7 9 7] | Associated B4 |
| 10 | Colin May | 17 [ 9 8 11] | Schumacher Cougar SV |
| 11 | Richard Coates | 18 [ 10 10 8] | XFactory X6 |




| | |
| --- | --- |
| B Final winner | Greg Williams |
| C Final winner | Fabien Simonini |
| D Final winner | David Gibson |
| E Final winner | Kevin Kitchen |
| F Final winner | Matthew Bateson |
| G Final winner | James Sykes |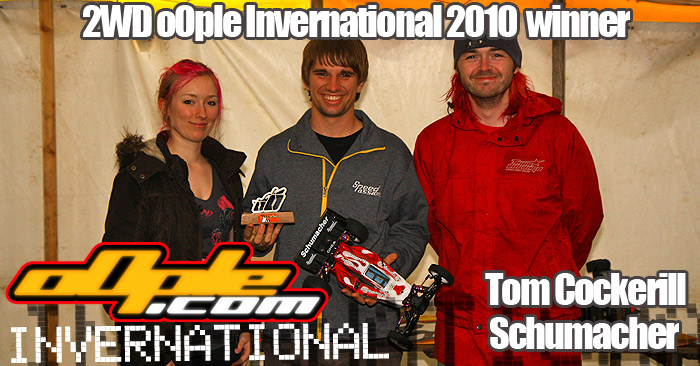 2010 oOple invernational 2WD Winner - Tom Cockerill - Schumacher Racing.

Overall A final Results - 4WD class

| | | | |
| --- | --- | --- | --- |
| position | name | score | chassis |

| | | | |
| --- | --- | --- | --- |
| 1 | Nathan Waters | 2 [ 1 1 11] | Team Durango DEX410 |
| 2 | Lee Martin | 4 [ 2 2 11] | Tamiya TRF511 |
| 3 | Richard Lowe | 5 [ 4 8 1] | JConcepts BJ4 Worlds |
| 4 | James Helliwell | 6 [ 6 4 2] | Team Durango DEX410 |
| 5 | Craig Collinson | 6 [ 3 3 6] | Team Durango DEX410 |
| 6 | Paul Bradby | 8 [ 5 6 3] | Associated B44 |
| 7 | Colin May | 12 [ 7 5 11] | Schumacher CAT SX2 |
| 8 | Adam Skelding | 12 [ 10 7 5] | Team Durango DEX410 |
| 9 | Wouter Wynen | 13 [ 11 9 4] | Yokomo Bmax |
| 10 | Craig Harris | 16 [ 9 10 7] | Atomic Carbon S4 |
| 11 | Ben "Smirnoff" Jemisson | 19 [ 8 11 11] | Associated B44 |




| | |
| --- | --- |
| B Final winner | Gareth Stanton |
| C Final winner | Bart Van Echelpoel |
| D Final winner | Rob Fox |
| E Final winner | Jon Dell |
| F Final winner | James Wilkinson |
| G Final winner | Nick Gordon |
| H Final winner | Steve Thurlbourne |

2010 oOple invernational 4WD Winner - Nathan Waters - Team Durango.
Random words from the organisers:

Stu Evans (organiser of stuff):
Errr, considering it was our first attempt at an international meeting it went very, very well. Thanks to John for running Race Control and booking in, Rob for the marquee, James & YORCC for the track, Jimmy for the 'Artistic' stuff like trophies and banners, and all the oOple lads for pitching in.

Vicky oOple (mad girl):
It was fokken zef

Jimmy (oople man):
Highlight of the weekend? dunno... people actually turning up!

Ralph Helliwell (track owner):
Team RHR - Serious About Dancing

Richard Coates (track man):
Thank you to Jimmy for wanting to run his own event at RHR. An ace event at an ace track great combo it's how a race meeting should be.

John Price (race controller):
The event had no scrutineering, no Referees, nothing except basic rules, and everyone was respectful and still had FUN.
Isn't that the whole ethos of why we race these little toy cars?

Damian Whittle (general organisation):
It just goes to show that with a bit of knowledge, a lot of hard work and enthusiasm, the right people and a relaxed atmosphere, great things can be achieved!

Jim Dixon (mechanic):
I MISSED ALL THE FOKKEN FUN!!!

Shane Foot (mascot):
Im staying off the JD from now on!

Northy (inspiration / organisation):
What a great weekend, thanks to everyone who turned up and everyone who helped, oh, and DOGGA, DOGGA, DOGGA!


The moist end to the weekends racing didn't really dampen the spirits too much and plenty of drivers stayed behind for us to get a list of the top ten for the trophy presentations. Trophies for all the finals would have been nice but as with a lot of things during the weekend - we'll learn for next years event and make it bigger and better.
A lot of people came up to us and said how much they'd enjoyed the weekend - and we firmly believe it'll be better next time from the things we've learnt this year.
Thanks to the following (and more) that helped out the event in some way:
YORK Model Car Club
Robin Hood Raceway
Schumacher Racing
Team Durango
DMS Racing
Nick Gurnell
Mike Cockerill
RossMods
Broxtowe
Sandys Griddle
Nick Caro
Thanks to everyone else who helped in any way and ofcourse to the rest of the oOple Invernational organisers.
With the success of the 2010 event we've already started talking about what we'll do in 2011 and whilst nothing is decided at this early stage we've got plenty of ideas being thrown around already. Make sure you've got your entry in early and the more keen you are the more likely you'll get a place to race. We had over 250 drivers apply for the 160 positions we decided on in the end for the 2010 race.