The A-Tech BX-1 is a 1/10th scale four wheel drive buggy from a name (A-Tech) that you may not have heard of. A-Tech, based in South Korea, is a former OEM manufacturer for Kyosho - so you know these guys have some experience in this field. A-Tech have a range of budget vehicles all with very, very reasonable prices. Being ready to run, this buggy is clearly designed as a first step into the hobby and a candidate for the young club racer or someone just looking for some electric fun.
The BX-1 comes in a large windowed box, which shows the buggy harnessed within and has brief photographs and descriptions.

The box is a little on the plain side, and really doesn't do the buggy any favours when stacked up along side more colourful and imaginative designs on the shop floor.
For the intended audience, this could be a little more excitingly packaged - but it is by no means bad.
With a couple of swift cuts to free the BX-1 from it's cardboard cocoon, the buggy can be fully appreciated. Drop it on the table and you notice the suspension is soft and fairly bouncy. Bouncy suspension isn't always such a bad thing. Remembering this buggy isn't going out to win a National title – given the more 'fun based' nature of this buggy, a little springiness can make things more entertaining, particularly when speeds are really not that high, but that remains to be seen. That said, the shock absorbers are proper oil shocks - so should be tunable.
The suspension is of a "double wishbone" type, with lower H-arm and upper camber link. The camber link consists of a fixed-length plastic rod, rather than threaded rod or turnbuckle. Holes for adjusting the camber / roll centres are provided.
The body shell in this Ready-To-Run (RTR) kit, comes pre-painted and 'stickered' from the factory. The body shell is attached with two black body pins, one at either end. With these removed the body shell can be lifted off to show the included electrics all ready-installed, and ready to go.

With the exception of the battery pack which is stored safely away in another box under the cardboard insert, the car is fully wired up and almost ready to go. Electronic speed controller, steering servo, motor and 27mhz receiver are all included and can, if desired, all be individually swapped out later on if need be.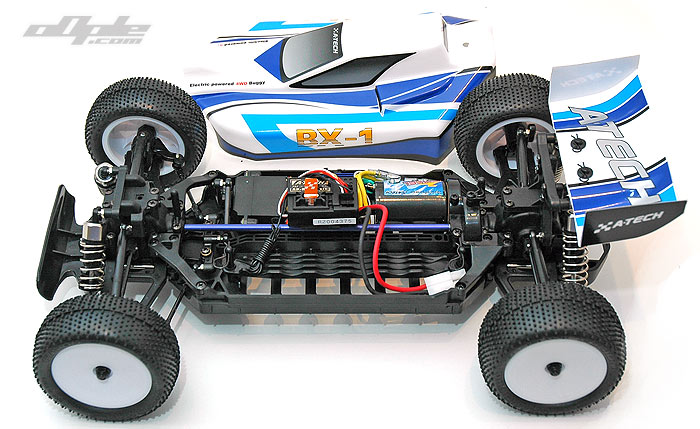 The car as it comes, all electrics installed.