All photos are mine, all mine, and not to be used in commercial purposes without prior permission. copyright ©2007 Jimmy Storey. rc(at)oople(dot)com.
| | |
| --- | --- |
| | |
| 2WD Photos | 4WD Photos |

Video by BATHY - bigger embedded version at the bottom of this report.
UK National Series - Round One - TIVERTON
Tiverton plays host to the first of six rounds in the 2007 BRCA 1/10th Off Road National series. Tivertons indoor dirt venue, Heazel Arena, is a horse riding arena - converted just for this event into the 2007 National Series only dirt track. We like to call this track a 'dirt track' but in reality it has little in common with most other 'real' dirt tracks. The surface is rolled before the National every year, but the loose sandy dirt, mixed with horse-poo, doesn't generally last long before it starts to break up and holes develop.
Unlike the USA or other countries where dirt tracks are common, the UK national series rules mean that any track repairs or maintenance have to happen between rounds - not during. The sort of track sweeping you might see between every heat at some tracks in the USA simply isn't allowed.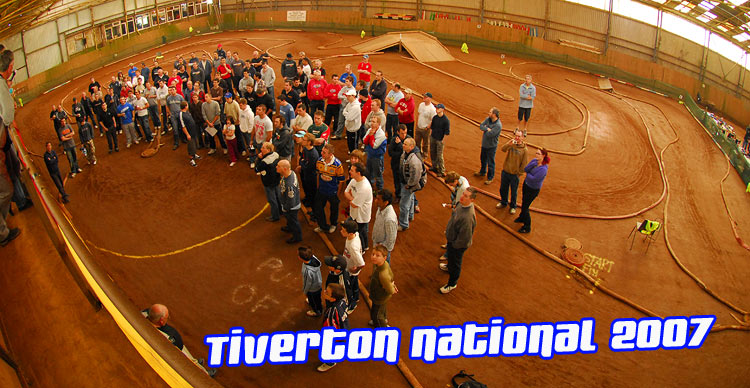 Getting to Tiverton for most people is a long slog. Placed as it is, in the far South West of England, in Devon. Beautiful countryside and quaint villages surround the farm upon which Heazel Arena is located.
Rumor has it that this will be the last National to be held in Heazel Arena, as they prepare to change the surface from sandy dirt to shredded rubber. There is a second buggy track at the venue, an outdoor multi-surface permenant buggy track, which held the F345 Finals in 2006.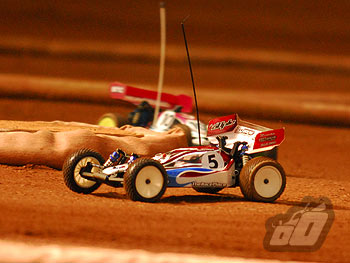 Leading up to this years National Championship there have been several new cars released or nearing production.

Tamiya 501X - a belt driven 4WD buggy - unfortunately with very little support and no official team drivers looks unlikely to have a large impact. This car will be campaigned by Stu Wood for Team oOple.


Hot Bodies D4

- 4WD shaft driven buggy and HPIs first real push into tenth off road. Adam Skelding and Tony Truman will be the main drivers at Nationals, with guys like Andy Moore racing the occasional Regional race.
XFactory X-6 - The X-6 is XFactorys 2WD companion to their X-5 4WD racer. With Ellis Stafford now on board, the car is slowly gathering pace and getting great results.
Atomic Carbon S4 & S2 - Atomic Carbon finally have a car you can buy, sort of. The S4 is the ultimate luxury racer and is based upon the successful JConcepts BJ4worlds - currently only available as a conversion kit. Their top driver is former European champion, Chris Doughty. Craig Harris is another of their drivers and was winner of the British Regional Finals last year. Another car worthy of a mention is the early prototype S2, two wheel drive buggy. The S2 is only currently piloted by Craig Harris and Mr.Atomic Carbon himself.
Academy SBv2 PRO - A car that virtually disappeared after a promising start, the latest Academy 4WD buggy looks good enough to compete but will suffer a lack of support and credibility.
Kyosho Ultima RB5 - The latest Kyosho buggy, the exciting new Ultima RB5, was released only days before the first National but much like its four wheel drive sibling the ZX5 last year - the car is likely to be popular at club level but suffer from a lack of support at the highest levels, with no official team drivers to push the car. Stu Wood / teamOOPLE will be campaigning the oOple review RB5 starting at Tiverton. Expect a long term review on the car and regular updates.
TTech X11 - Tom Yardy got off to a great start last year with the X10, but this year will move to the X11 when available. The new car has yet to be seen in public, with Tom only using some development parts on his X10 so far. With new ownership, TTech will be hungry for some wins this year and the new car sounds like it should solve any issues the older car could have been accused of having.
AERO 'A-One' - A new car from a small company in Belgium, but already familiar to many. Read later in the report for more about this car that will be piloted by Lee Martin in this years UK National series.
The new cars also partly contributed to some 'big name' drivers switching teams during the winter. Ellis Stafford moved from Losi to XFactory. Chris Doughty ended many years at Losi to join AE for 2WD and Atomic Carbon for 4wd. Lee Martin moved from Yokomo to AERO and Tony Truman Moved from Losi to Hot Bodies.
2WD:
Stu Wood recently joined Team oOple to drive the review 501X, fully supported. This weekend will be the first BIG outing with the car since the announcement and the car is looking very good in testing. TheRacePlace.co.uk went all out to get the latest Kyosho RB5 to oOple.com in time for Tiverton - and after a one-night build and review, followed by brief testing at Stus local track, we are happy to announce Stu will take on the Kyosho RB5 for his 2WD buggy. This leaves Stu as the highest profile driver in both Tamiya & Kyosho camps - and something that will surely help get these car some badly needed exposure and credibility.

Stu is the top Tamiya and Kyosho driver in the UK - for Team oOple. TRF 501X and Ultima RB5
Stu used all his racing expertise to get the Ultima RB5 to a point he could compete, and it paid off with Stu getting faster and faster with the RB5. Stu eventually qualified 3rd in the C final, ahead of some very good drivers - and won.
RD1 Electrical problems on the line prevented Stu running.
RD2 Lowered the car
RD3 longer wheelbase - moved rear shock tops out - took washer out of inner ball stud rear - shortened front camber link
RD4 move front shocks to outside on tower and wishbone.
This is a brief run down of what Stu did to the Ultima RB5. There was of course non-stop work going on to make the car faster and understand the settings. After the final, Stu was very happy with the performance - especially considering it was the first time out. You can read more about the new Ultima RB5 in the review right here on oOple.com soon.
All through qualifying the track held up really well - apart from a few small holes after the small jump, caused by cars nose diving. Off the racing line quickly became a no-go area if you wanted to be fast, as it was covered by a dense layer of loose dirt, but the track was unusually consistent for Tiverton.
Darren Bloomfield took the pole position with Tom Yardy on great form lying in second - Neil Cragg placed third on the grid.
In leg one of the A final - Pole sitter Darren Bloomfield led from the first corner and didn't look back. Tom Yardy kept close but wasn't able to make a move. In leg two, it was these two again that got away from the field, this time joined by Neil Cragg. Neil closed the gap between these two but wasn't able to pass. Darren won the second leg by less than half a second from Tom Yardy, with Neil another half second back.
Darren took the first 2WD National with his Losi XXXCR from the first two leg wins - but with the third leg to go there was still a scrap for second. Tom had two 2nd's already and in the third leg it was Tom who romped home to victory to secure the second place with Neil Cragg 5 seconds further back. Richard Cree another second further back, in third.
The final results from the A final 2WD were as follows:
| | | |
| --- | --- | --- |
| 1 | Darren Bloomfield | XXXCR |
| 2 | Tom Yardy | B4 |
| 3 | Neil Cragg | B4 |
| 4 | Lee Martin | B4 |
| 5 | Chris Doughty | B4 |
| 6 | Richard Cree | B4 |
| 7 | Simon Moss | B4 |
| 8 | Richard Taylor | XXXCR |
| 9 | Richard Barton | B4 |
| 10 | Ellis Stafford | X-6 |
4WD:
Excitement at the very start of the day as Lee Martin pulled out a huge surprise - having moved from Yokomo to an entirely new and unknown team! The team is called AERO, and the car is what once was known as the 'Durango'. Team AERO is formed by a group of Belgian race fans, sponsored by the local University they are working hard to make this amazing car available to the public at a very reasonable price. Lee Martin is currently their one and only driver - driving the one prototype fully-machined car in the most competitive and high-profile series in Europe - the UK Nationals.
Four members of team AERO came along to support Lee and make sure he had the best chance possible to do well at his first meeting with the new car. And do well he certainly did, taking two rounds of qualifying to put him on pole for the A main. The AERO team went crazy and could be seen embracing. The car will eventually change to a fully carbon composite moulded construction and with results like this - it's sure to be a hit with racers.
Team Atomic Carbon were also out in force with around ten S4 buggies in attendance. Craig Harris did well to place mid-B final. But it was Chris Doughty, who won the European Championships at this very track in 2002, that was the top driver for Atomic Carbon this weekend. Qualifying third in the A final, an awesome effort.
Stuart Wood was getting to grips with his Tamiya 501X, racing for teamOOPLE. Early on Stu wasn't happy with the car and it took a couple of rounds to get into the swing of things. Changing wheelbase, pistons, oils, links, etc.. Stu got two 9ths in round which was one point off making the A Main, and equal points to Neil Cragg who sat on pole in the B. Stu qualifying second in the B final. A really great result on a distinctly 'different' type of track to anything he has tried the car on up until now.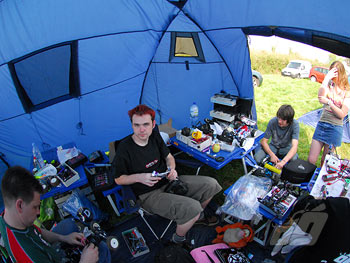 Leg one of the A final and Lee Martin set off with his 'A One' to prove there's a reason behind the name. Lee kept his head and drove away with Ellis and Chis Doughty in hot pursuit. Ellis and Chris Doughty were on par with Lee but had to push hard to keep with him. Chris and Ellis tangled slightly and swapped position a couple of times, finally both finishing three seconds behind Lee. Both Chris and Ellis had faster single laps than Lee, trying to catch the pole sitter.
In Leg two Lee once again got away - Ellis and Chris again both trailed not far behind. Ellis got tangled up on a corner and Chris Doughty got away cleanly, gradually closing the gap on Lee. Coming up to the small ramp before race control Lee took the corner too tightly and Chris went past. At the same moment the rear centre CVD pin came loose on Lees car and locked up the drivetrain - putting him out of the running.
Chris Doughty took an easy victory, 4 seconds ahead of Phil Sleighs XX4, with Richard cree a tenth of a second further back driving the JConcepts BJ4we.
With one win a piece, Lee Martin and Chris Doughty both were looking good for the win coming into the third and final leg of the A main. Chris had the least pressure, with a win and second already he was guarenteed a podium spot. Lee once more got away but this time kept his head and took another win - and with it his first National win. Ellis Stafford managed to bring his XFactory X5 home only a second further back.
| | | |
| --- | --- | --- |
| 1 | Lee Martin | AERO - AONE |
| 2 | Chris Doughty | Atomic S4 |
| 3 | Ellis Stafford | X-5 |
| 4 | Phil Sleigh | XX4 |
| 5 | Richard Batron | BJ4we |
| 6 | Richard Cree | BJ4we |
| 7 | Richard Taylor | XX4 |
| 8 | Tom Yardy | Pred X11 |
| 9 | Darren Bloomfield | XX4 |
| 10 | Kev Lee | XX4 |
Tiverton National Interviews.
Aero Racing: Bob, Kim, Danny, Cindy, Siri.

What is the relation of this car to the Durango, and why isn't the original name used?
We bought the stuff off Gerd Strenge in January this year, although we have been developing the product for a year now. The name Durango cannot be used due to Chrylser registering this name for one of their products.

Have any changes been made to the car since you took over?
Yes, the steering, diffs, geometry. It will have a graphite moulded chassis instead of aluminium, due to the cost of machining an aluminium chassis.

Do you plan to sell the car, when will it be available and at what cost?
Yes, hopefully it will be available in about four to six weeks. The website will be online in two weeks time: www.aeroracing.eu, this will have press updates on it. The car will retail about 500euros (around 330pounds).

Are you happy with Lees performance today?
Of course, I think that is obvious, although he shouldn't have waited until round4 to TQ.

Who made this car?
Kim.

How many team drivers do you have and who are they?
Just Lee at the moment, although we hope to have a few more team drivers in the UK to support Lee.

How long have you been involved in radio controlled cars?
Aero have been established for one year.

When can Lee have 1000pounds?
When he gets a job and earns it.

Is Lee any good at glueing tyres?
Lee: "Better than Roundy".

What do you expect team drivers to achieve with the car this year?
We didn't expect to TQ today, but after todays performance we hope for top three overall in the UK national championship series, A final at the European Championships, and don't have any expectations for the Worlds. Would like to win the Belgium GP.

Are you going to make a 2wd car?
When we have this one on the road, we hope to make a 2wd.

Is the body shell the original from Durango?
Lee is running a prototype today, it is modified from the original shell. The final version will be similar to this one.

Who are Aero Racing?
Five people are involved in the production of the A-one.
Danny (Bob-Dad) is the Supervisor, chauffer and senior management.
Bob covers the commercial side, working on the project to set up an RC company, which he started at Hasselt University. After successful completion of this project Bob will graduate as an Economist. Kim covers the technical side of things, makes moulds.
Cindy keeps the men in order 'without her we would be a mess'.
Siri keeps Bob in order!
Professor HouBen at Hasselt University is overseeing the project and provides sponsorship.

How can orders be placed for the A-one?
When the website goes live it will have a form to place yourself on the reserve list, and once the car is released it can be purchased through the website.
Thanks to the organisers for a great event - thanks also to everyone that helped us make a little report.