Schumacher Indoor Off Road Masters - Round Two - Sunday 19th October 2008
The second round of the Schumacher indoor off road masters was oversubscribed a week before the event – with 208 entries and long-long reserve lists there were bound to be plenty of people disappointed. The organisers decided to expand the already massive entry from 140 to 150 drivers – 15 heats of electric off road goodness, reaffirming this as the premiere indoor off road series. With all these drivers combined with wives & girlfriends (including Chris Long's new schumacher clad girl Claire) there are alot of hot bodies in the hall - nice.

Things got underway early and one round of heat-order practice was held starting around 7:30am. Due to an error at race control there were actually 151 drivers booked in so one heat had 11 - oops.
| | |
| --- | --- |
| | |
| If this sandwich was HOT it would be ILLEGAL at worksop! | Some people like to look after their cars - not me! |
Round one of qualifying saw Danny McGee make a quick comeback to the top of the order in 2WD - taking the round by two seconds over Tom Yardy. Neil Cragg came in third a second further back. A mention has to go to the North East superstar Kash Khan who managed an excellent 5th in round.
In the 4WD class it was Simon Moss who took round one driving the Schumacher car. Tom Cockerill was 1.5 seconds back with the XFactory X5 (Tom's hair contunues to grow - it is currently moppier that has been seen at any previous meeting) and Grant Williams third with another Schumacher.
Round two of qualifying saw Neil Cragg 'go off' with a great run - almost a full lap faster than the previous TQ time from Simon Moss. Neil ended on 15 laps in 311.93. Tom Yardy was the only other driver to make it through for 15 laps with a time of 15 / 319.57.
Neil Cragg missed his chance to TQ the 2WD event in round four - coming over the large tabletop in front of the rostrum he went a little too off line and broke a front axle. Danny McGee took the round to go overall TQ - with Matt Dodd second and James Helliwell third all on 15 laps.
In 4WD Danny McGee put in a great run and just missed out on 16 laps to take the round - Richard Lowe was barely half a second back with a 2nd in round - enough for Richard to take overall TQ.
Simon Moss failed to capitalise on his first round win with the CAT SX - with nothing to back it up he ended qualifying down in the C final and went home early. Not quite what he'd expected after TQing and winning the first meeting in style.
Some funny photos
| | |
| --- | --- |
| | |
| | |
| --- | --- |
| | |
Interview with Stu Evans.
Stu runs the northernracer.com website and has done a lot to help out at oople too - he's just an all round hero really.
Stu, you finished 10th overall in round 3 of qualifying, you beat Dan Greenwood, Tom Yardy, Danny Mcgee, Ben Jemison, and Matt Latham. Do you like pie?
Yeah - I like pie, I like all sorts of pie, but mostly savoury pie like meat pie. I also like cheese and onion pie served with chips and beans (Heinz).
Would you prefer to be playing on the indoor bowling green next door - it looks to be a grippy surface.
No, the worksop hall surface is awesome, it's the closest thing to the feel of racing on clay - I'm really looking forward to the up and coming meetinng at Bury Metro clubs new indoor venue, as it is a similar rubberised surface.
Do you think you could make the A-final?
No, 10th in round is good, but in order to make the a-final I'll probably need to pair that up with a 1 or a 2, and I think that is somewhat beyond me!
Do you think that Chris Doughty is a traitor to electric?
No, because I've been racing some 8th offroad. Now if he went to do touring cars that'd be a different matter.
What special car were you using when you qualified 10th in round?
A Losi XX - 1992 edition, and still going strong.
Do you class this as a vintage car? Will you be racing it at york indoors?
No, not really old enough. If anything I'll be racing a Schumacher Cat XLS, or gold tub RC10.
What was your favourite race ever, and why?
Neo08, Awesome track time.
Some people say that you don't take racing seriously, what do you think to that having qualified 10th in round - do you feel like a somebody now?
Yeah! - I don't race seriously at all, in fact I take it highly un seriously, I make a mockery of myself, like Jimmy does.
What do you think about ****** not paying jimmy for the logo he made them?
I think they are a bunch of greasy snakes and should cough up the dosh. Jimmy made me a
logo and I had to pay the one-thousand pound price tag. i didnt eat for weeks after that,
and it was rubbish.
Adam Skelding from EDIT showed us a couple of his latest parts for the Hot Bodies D4, new super strong front brace and lightweight worlds slipper parts.
| | |
| --- | --- |
| | |
| Cragg had some nice skinZ on his gear | Little and large - Ian Barnards rides. |

Interview with Schumacher driver Chris Long and his girlfriend Claire.

Have you both enjoyed this weekend?
Both - yes. The toasties here are really good, the track's good as well.

What's your favourite brand of make up?
Chris - nivea for men
Claire - Chanel.

Did you stay in a hotel last night?
Travelodge in Blyth, it was very classy, top notch - better than the Hilton, you can't hear the motorway.
We wanted to stay in the cow shed at James' house but the thing is, there are too many
carrots.

Claire do you think Chris' thumbs have been really skilled this weekend with how well he's performed on the track?
Yes, he's done much better this time since the last event.

(Stu Evans:) What do you really think of Chris, because we all think he's a bit of a legend, but he's just a little bit odd.
Yes I'd go with that, I'll stick to that.

Do you like Chris' cat?
I do like Chris' cat, it's got a new shell coming which is really nice.
Chris - the cat's great, it's really good.Claires cat is great too.

Favourite pie?
Claire - chicken and mushroom.
Chris - steak and kidney.
Both with gravy.

What did you drink last night?
Claire - a glass of wine or two.
Chris - Stuck with the coca-cola last night, I was driving.

Are you racing anywhere else over winter?
Micro nationals and Worksop. Going to go to some of the bury club meetings when they don't clash with micro.
Claire is very impressed with chris' performance in micro scale.

Claire and Chris

Claire, what have been your first impressions or the racing scene?
I was very impressed really, it's not what I thought it would be. The food is better than I expected it would be
Chris - it's a shame you can't bring mcdonalds in here.

Any holidays planned?
We would like to go to the maldives, bermuda, los angeles (as long as it doesn't clash with micro nationals).

Have you won any micro yet?
No, although I qualified 3rd in the last one.

What are your ambitions for the next 12 months?
Chris - Lose half a stone.
Claire - my ambition is for Chris to win.
2WD A Final
| | | |
| --- | --- | --- |
| Pos | Name | Score |
| 1 | Danny McGee | 2 [1 (14) (61) 1] |
| 2 | Neil Cragg | 4 [(3) 1 3 (44)] |
| 3 | Tom Yardy | 4 [2 2 (54) (9)] |
| 4 | Mat Dodd | 4 [(15) (4) 2 2] |
| 5 | Phil Sleigh | 7 [(63) 6 1 (64)] |
| 6 | James Helliwell | 7 [(11) (8) 4 3] |
| 7 | Tom Cockerill | 7 [(9) 3 (5) 4] |
| 8 | Stu Wood | 10 [(14) 5 (6) 5] |
| 9 | Nathan Ralls | 11 [4 (9) (8) 7] |
| 10 | James Pritchard | 13 [(25) 7 (31) 6] |

Danny McGee had been blisteringly quick in qualifying and took the early lead from pole - with number two qualifier Neil Cragg tucking in behind. Things stayed that way for a couple of laps as the pair pulled a small gap on the rest - Tom Yardy leading the charge in third.

Coming up to complete lap three Danny clipped the track markings and lost his composure - allowing Neil alongside and past as they came over the loop to start another lap. Neil kept the lead for just over a lap until he rammed into the upturned car of Tom Cockerill, who wasn't having the best of races. Neil losi valuable time and Danny got the position back but the two were now closer than ever.
Danny lead but Neil was on him like a mad rash - danny again made an error, clipping a pipe and Neil was back alongside looking to pass on the inside - Danny closed the door and Neil was into the track makings and on his roof. Danny had a good lead With only 5 laps to go, Cragg was chasing with Yardy third. Danny again squandered his chances as he clipped the track coming over the loop - landing on his roof and needing marshalling. Cragg took up the lead with Yardy chasing Danny for second.
It wasn't to be Dannys day and another mistake saw Yardy past for second - Danny held onto third until the final lap but local hero James Helliwell squeezed through for third.

| | | | | |
| --- | --- | --- | --- | --- |
| Pos | Car | Name | results | Car |
| 1 | 2 | Neil Cragg | 15/ 5m 3.50 | AE B4 |
| 2 | 3 | Tom Yardy | 15/ 5m 8.87 | AE B4 |
| 3 | 6 | James Helliwell | 15/ 5m 13.69 | XFactory X6 |
| 4 | 1 | Danny McGee | 15/ 5m 17.89 | XXXCR |
| 5 | 4 | Mat Dodd | 15/ 5m 18.99 | XFactory X6 |
| 6 | 5 | Phil Sleigh | 14/ 5m 3.92 | XFactory X6 |
| 7 | 8 | Stu Wood | 14/ 5m 4.75 | Kyosho RB5 |
| 8 | 10 | James Pritchard | 14/ 5m 11.58 | AE B4 |
| 9 | 7 | Tom Cockerill | 13/ 5m 6.23 | XFactory X6 |
| 10 | 9 | Nathan Ralls | 5/ 1m 52.03 | Kyosho RB5 |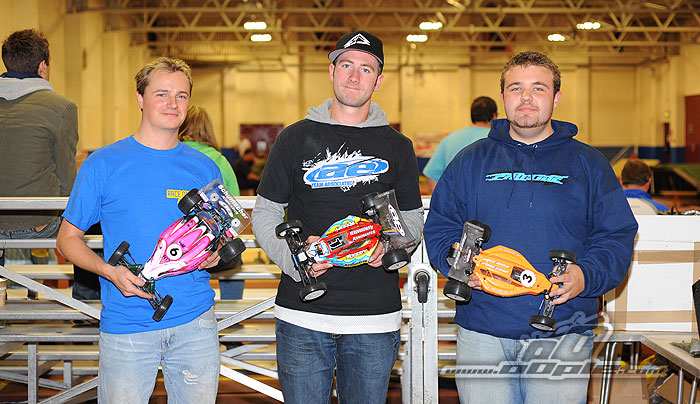 James Helliwell, 3rd - Neil Cragg, 1st - Tom Yardy, 2nd
Name

Sponsors

Car

Speedo

Motor / Gearing

Servo

Radio

Cells

Danny Mcgee

Losi, Horizon, Racer, Spektrum

XXXcr

Losi Xceleron

Losi 6.5

KO

KO

Corally

Neil Cragg

Associated, Yokomo, Reedy, Nosram, CML, Proline, Upgrade, Edit, TS-Design.

B4

Nosram

6.5 23/81

AE

Futaba

Reedy LiPo

Tom Yardy

AE, Yokomo, Reedy, Novak, CML

AE B4

Novak GTB

Novak 6.5L 22/81

AE1313

KO

FTX 5000 LiPo

Mat Dodd

X-Factory, DMS, Trakpower, LRP, Atomic Carbon

X6

LRP Sphere

6.5, 12.5mm
22/81

9302

3VC's

Trakpower 3600

Phil Sleigh

Trakpower, LRP, DMS, SMD

X6

SphereTC

6.5 12.5mm

KO

KOIII

LRP 4600 fatcobra

James Helliwell

Schumacher, oOple, Trakpower, SMD, Mirage

X6

Nosram Matrix

LRP 6.5 12.5mm
78x24

KO

KO Universe

Trakpower 4900

Tom Cockerill

X-Factory, Trakpower, Novak, Nor-Tech Racing.

X6

GTB

7.5R

KO

KO

Trakpower 3600

Stu Wood

Didn't fill sheet in

RB5

M8

Nathan Ralls

XtremeRC Tekin

Ultima

Tekin RS pro

21/78

KO

3VC's

LiPo

James Pritchard

Mirage, Nosram, Orion, Edit.

AE B4

Nosram Matrix

Nosram 7.5 23/81

KO

KO 3

Nosram 4600 Big Mama

Mark 'Muzzy' Musgrove - Race organiser / Schumacher Team Dude
How long have you been involved with Schumacher, and what is your role there?
Four years now - I'm sales representative and I help to run the team as well with Chris Ashton and Phil Booth. We meet
between us to decide who to take on as team drivers.
When did you first start running race meetings here at Worksop?
This is the second full season of race meetings, although we did half a season in 2005. Me and Leon decided to
investigate whether the venue was still available, and Schumacher support the series.
How many people are involved in organising the Worksop Indoor Masters series?
Three men and a Shed. Me, Leon and James. I do all the late night booking in etc, until about 1am after I get home from
travelling the country selling Schumacher products. Leon and James organise the track building and hands on work.
When does planning start for a series of this size?
The series starts in september, we start planning about 5 months ahead. Plans are being made already for a large
international weekend event to be held here in the near future. Watch oOple and the Schumacher website for further
information.
Did you expect this series to be as popular as it has been so far?
No, not quite. We were hoping that it would be popular, but it is the biggest series in the UK and possibly in Europe
right now.
When stuck in a traffic jam what do you think is the best lane, inside, middle or outside?
I generally go in the middle so I can duck and dive between the other lanes.
Do you like Jam?
Yes, Strawberry.
When you spend all day running the race meeting and see other drivers have a right laugh,
do you wish you had time to race too? Why do you bring the Cat SX but not race it?
The cat that we bring is the sample for people to have a look at - it's the one that I take around the model shops. I like having a bit of a rest from racing, I race all through the summer and also work Mon-Fri in the trade.

What do you think makes these events so popular, when many clubs are struggling to attract more than a handful of racers to club meetings?
The venue is the main thing, being able to run a good slick meeting with no delays. With the venue you have indoor racing which gaurantees the weather, the track surface is a big attraction due to its unique properties.
You know many of the racers here, who have you known the longest?
That could be anyone!
Rob Jaques, he's from my local club, I must have known him for 14 years, since I started racing.
When did you first hear about the oOple website, and what were your first impressions?
I first heard about oOple about 3 years ago. First impressions were that it's very good, very informative.
What is the way forward for 1/10th electric off-road racing, how can clubs attract new racers to the hobby?
By running schumacher buggies only. No we can't put that... By clubs making it fun and trendy for the youngsters. And
keeping up to date with the latest developments, within the industry. such as live access to the bbk drivernet.
Where do you prefer to eat - McDonalds or the Worksop indoor venue? And have you ever eaten McDonalds inside the venue?
I don't like mcdonalds much, so worksop indoor venue catering.
What do you think of Pizza hut becoming pasta hut, where is the best place for pizzas now?
Best place for pizza is going to be Dominos. The idea behind the pizza hut name change is probably to make people
think it's all healthy - but we know the truth.
Any further comments?
Big thanks to oOple for all the race reports and hard work put in, it helps to advertise and promote the series for us.
People need to get booked in very early to get into the event, due to the success of this series.
Thanks to trhe sponsors of the series as well, Schumacher Racing, oOple, Trakpower, Radioracecar International, and Team
Dremel.
4WD A Final


Richard Lowe on pole got away nicely with his JConcepts BJ4we - 3-time Euros A finalist Tom Cockerill second. Tom stuffed it up and allowed Richard to pull a lead with the surprisingly quick Dan Greenwood driving another X5 picking up the second spot for a few laps - Paul Bradby, now a fully paid up member of the B44 club was hot on his heels and looking for a way past but it stayed this way until lap 6.
| | |
| --- | --- |
| | |
| Lowe leads them round | *Bradby takes a nudge from Nathan |
The pressure of the Bradby-machine behind saw Greenwood 'stuff it' into the floor on the jump before the main straight. Bradby got collected in the mayhem and allowed Nathan Waters to close in. Bradby got out of the mess in second place but poor Greenwood dropped down to 7th. Richard Lowe was extending his lead out front all this time and wasn't looking worried with this mess in his wake.
Nathan had already piled into the back of Bradby on the first corner of the race (*insert photographic evidence here) and maybe it was the thought of that running through the mind of Bradby that made him clip every corner in sight for the next few laps - or not - but either way Nathan slowly closed up to the rear of Bradby and the pressure told. Bradby got out of shape coming over the rutted mats and rolled right onto the main straight infront of oncoming traffic, oops. Nathan was up to second with another CAT SX now up to third in the hands of Grant Williams.
| | |
| --- | --- |
| | |
| Tom Cockerill abuses his car on the wall | Inside he's laughing |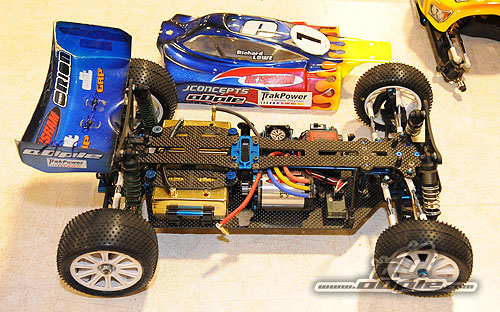 Nathan Waters was doing a good job of keeping his composure with Grant Williams starting to press for the pass. Coming over the same jump that saw Greenwood bow out of contention earlier - Nathan made the same mistake and planted his car nose first into the floor, collecting Grant Williams in the process. Grant briefly passed - but he was upside down at the time - and the race was back on, positions unchanged.

Grant was clearly livid, standing atop the drivers rostrum his bright red face was like a warning beacon - move aside or suffer it said.. As much as it's possible for two cars to race side by side for an entire lap - that's what happened. Coming over the jump to start back down the main straight for the final lap, Grant was inside but Nathan quickly slammed the door shut and the two ended in a tangled cat-sandwich. Nathan was again the luckier of the two and positions were again unchanged as the pair blasted down the straight for the final time. Nathan was now in full panic as he heard Grant grind his teeth to the rythm of 'dualing banjos' - fearing he'd have to 'squeal like a pig' nathan prompt clipped the hairpin at the end of the sweeper too closely and rolled out of Grants way.
| | |
| --- | --- |
| | |
| Northington Graystoke III did well to make the A | Bradby being persued by Nathan Waters |
Richard Lowe took a convincing victory with Grant Williams second and Nathan Waters third.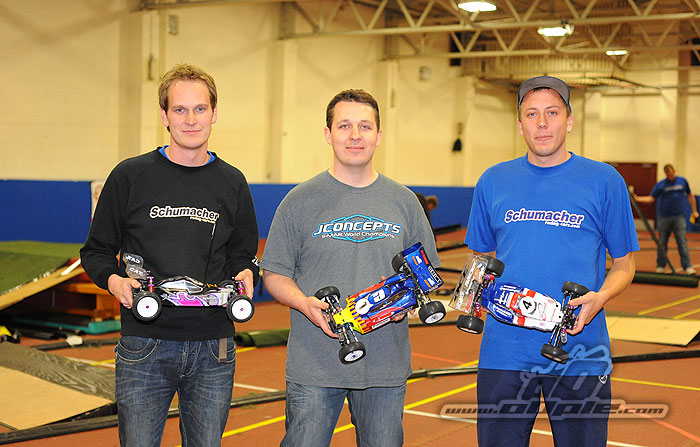 Nathan Waters, 3rd - Richard Lowe, 1st - Grant Williams, 2nd
| | | | | |
| --- | --- | --- | --- | --- |
| Pos | Car | Name | results | Car |
| 1 | 1 | Richard Lowe | 16/ 5m 8.56 | JConcepts BJ4 Worlds |
| 2 | 4 | Grant Williams | 15/ 5m 3.99 | CAT SX |
| 3 | 6 | Nathan Waters | 15/ 5m 5.12 | CAT SX |
| 4 | 5 | Paul Bradby | 15/ 5m 5.24 | B44 |
| 5 | 9 | Adam Skelding | 15/ 5m 11.50 | HB D4 WCE |
| 6 | 8 | Dan Greenwood | 15/ 5m 14.94 | X5 Squared |
| 7 | 10 | Graham North | 14/ 5m 7.10 | CAT SX |
| 8 | 3 | Tom Cockerill | 7/ 2m 20.77 | X5 Squared |
| 9 | 2 | Danny McGee | DNS | LOSI XX4 |
| 9 | 7 | James Helliwell | DNS | CAT SX |
Name

Sponsors

Car

Speedo

Motor / Gearing

Servo

Radio

Cells

Richard Lowe

JConcepts, Trakpower, Mirage, Nosram, GRP, Edit, NorTech Racing, Body Paint.

BJ4WE

Nosram Matrix ISTC

Nosram 6.5 (13mm rotor)

KO

KO

Trakpower 4800

Danny Mcgee

Losi, Horizon, Racer, Spektrum

XX4

Losi Xceleron

Losi 6.5

KO

KO

Losi Lipo

Tom Cockerill

X-Factory, Trakpower, Novak, Nor-Tech Racing.

X5 sq

GTB

5.5R

KO

KO

Trakpower 4900

Grant Williams

Schumacher, Nosram, Racer, Piespeed, Mr 'O' Foams.

SX

Speedpassion

5.5 23/83

Sanwa

KO

Stormforce 4600

Paul Bradby

Associated, Reedy, CML, Novak, Edit, JConcepts. Castle Models.

B44

Novak GTB

Novak 5.5L
20/84

AE XP

KO

Reedy

Nathan Waters

Schumacher, Speed Passion, Core RC.

Cat SX

Nosram Matrix

Speedpassion 5.5 - 21/83

Futaba

KO

Core RC 4800

James Helliwell

Schumacher, oOple, Trakpower, SMD, Mirage, farmers weekly

Cat SX

Nosram Matrix

LRP 5.5 83/22

KO

KO Universe

Trakpower 4900

Dan Greenwood

X-Factory, SMC, Novak, Velociti, Team Azarashi, Nor-tech. DMS racing.

X5sq

Novak GTB

6.5L 20x108

KO

KO

LiPo

Adam Skelding

HB, Nosram, Mirage, Edit

HB D4 WCE

Nosram

5.5T, 12.5rotor, 17/80

KO 2413

KO Esprit

Nosram

Graham North

Schumacher, Trakpower, oOple, Nosram, Edit, GRP, Nor-Tech, J.A.P, Piespeed. Horse and Pony, Sugar, Bliss.

Cat SX

Nobram

5.5 83/23

KO 2413

T3VCS

Trakpower 4900