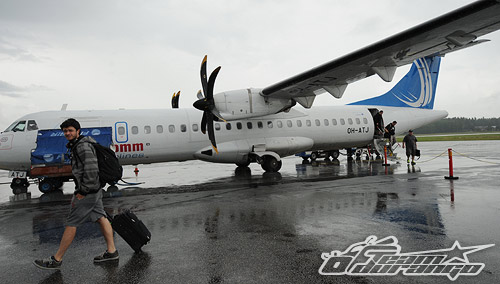 The pull-start plane from Helsinki to Vaasa.
After around an hour on the plane from Helsinki we arried at Vaasa where everyone picked up their baggage - well, actually not everyone since several racers and organisers had missing items. Along with a bunch of other racers and reporters the oOple team were on the coach provided by the organisers but there was quite a delay whilst people tried to sort out what was happening with their luggage that hadn't made it over from Helsinki.
Eventually we got going and with heavy rain and not much going on at the track, the bus went past the track slowly so we could all take a look, and then carried onto the hotel rather than allow us out to meander round in the rain feeling miserable. The journey into Vaasa didn't take long and we arried at the Radisson Blue that pretty much all the racers are staying at. The hotel is split into three buildings with 285 rooms.
Upon arrival in the centre of Vaasa, and following our hotel check-in by a very attentive young lady, the next step was of course to explore the shops, stock up on essential crisps and pop, and check out the hotel facilities.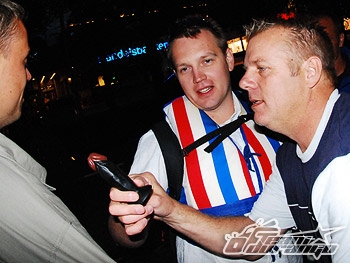 DC interviews random Finns with a rubber nob
A very handy Irish pub adorns the ground floor of one part of our hotel, which was conveniently located for accosting passing locals. A stag party stumbled past and asked us what advice we could offer for a long and happy marriage; as could easily be expected UK mad-mad DC was on standby to offer some very helpful advice.
In the midst of the excitement we borrowed our hotels very useful printing facilities to create a paper form of UK warrior and Worlds Warm Up Winner Darren Bloomfield, and brought him along to the pub to join in the pre-race celebrations. We'd like to take this opportunity to reassure Darren and his fan club that we absolutely meant no dis-respect by doing this, and we merely wanted to express our own disappointment that he was

unable to physically attend the event, and extend a gesture of sympathy towards Darren in what we believe to be a very disheartening situation - many people asked about Darren and his situation and not being able to participate. Paper-Darren lives however and was having a great time in downtown Vaasa........