If you have specific needs for these name decals - let us know - custom artwork may incur additional costs

If you want 1 line decal - like, JIMMY - just put the name in the upper OR lower field, depending which style you want
oOple Name decals are printed, laminated and contour cut out for long-lasting and speedy sticking!

Above - some example 'STUFF' you can have - Yes, you can have differemt colours, just ask.

design2 - A double-sided flag waving bold style. Have a single name or two, or let me know how you want it!

design3 - A single sided flag waver. Square flag.

Full sized car decals - bumper or sheer bling stickers to show off how fokken cool you are. Buy two for discount!

You can also buy our top quality screen printed A5 sized decal sheets - add some now!

Long time in development and raced to many world club race victories - FISTER wheel direction decals.
Why? You know at an instant which way you've previously run the wheels - for 8th scale this is even more critical since front and rear are the same size and so to differentiate we've also developed the new 8th wheel decals.
NEW - 8th Buggy wheel decals are now motocross laminated after feedback. MEGA TOUGH.
Point the fist forward to the future and punch your way to victory, like a psychotic lamb.
Click the image for a larger view.
Don't forget to add shipping! ;)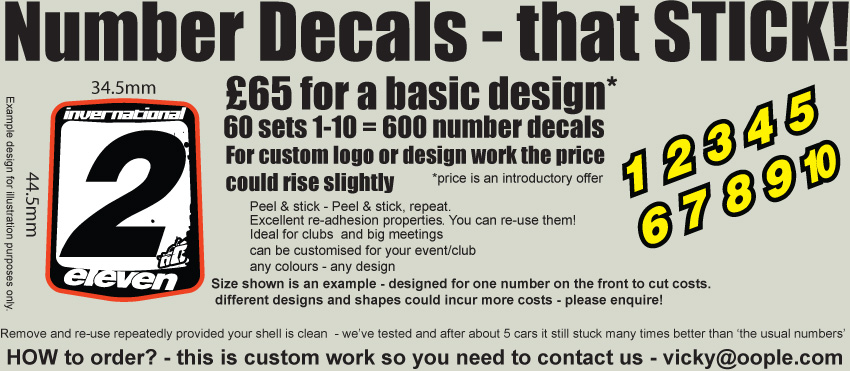 All our banners are top quality printed on heavy duty vinyl, fully seam welded and with brass eyelets for a long life.

YES - I can handle your graphical needs. Vextor logos or fully painted and 3D design.
My standard rate for 'A Logo' is £150 - but since it's a custom piece then it ultimately comes down to what you want and how long it will take, so costs could easily rise.
Here are a few logos - I've done them for 23 years so a few too many to list.
Please get in touch if you'd like some custom logo artwork or a refresh of a tired design.


Don't forget to 'add postage' - without it, I'll be sticking your name to my cars!