WBMCC is proud to announce a new endurance race to kick start the bank holiday weekend. Running only Tamiya m-chassis cars, teams of up to five people will battle it out to see who can take the Mini Mayhem crown!
Race details :
Date:
6th of April 2012
Race type:
Team endurance race
Location:
National Water sports Centre sports hall
Race Duration:
2 hours 24 Minutes
Rules:
One Chassis per team is to be used for the whole event.
Chassis: Any Tamiya M-chassis M-01 to M-06 Inc Pro & R variants
Width: Maximum 180mm
Body Shell: Any Wheels: Any Tyres: Any (foam or rubber)
Dampers: Any (including oil filled) Shock Springs: Any
Motor: Any Brushed or Brushless
Drive: 2wd only, either front or rear wheel drive
Gearbox: Any
Differential: Any
Upgrades: Any
Teams:
Teams should have a minimum of three drivers with a maximum of five drivers. All members of the team should drive at least once.
Race Fees:
Normal club race fees per team member. £5 members £7 Non members
Batteries:
Any batteries may be used. Maximum voltage of 7.4v. Lipos must be hard cased.
Lap counting:
Team must use a personal transponder
__________________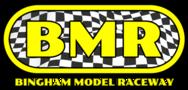 Website:
https://bmrrc.wordpress.com
Schumacher Cat Xls, Schumacher Laydown, Tekno eb410, Rc10 Team(retired), Mardave Cobra, SST 98 Rally Car and TT02 Rally car #71 #deaddogracing #tekno
Autocare, unit 5 candleby Court, Cotgrave NG123RT.