» News
British Winter Open Championship - WORKSOP 7/8 Feb 2015
Dec 13, 2014 - 4:56 PM - by jimmy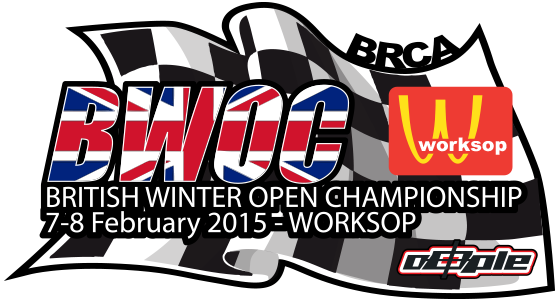 The entry form and information for the British Winter Open Championship to be held at Worksop on 7th Feb 2015 (2wd) and 8th Feb 2015 (4wd) was published by the BRCA on 26th November, please follow this link here to see the information, then you can download the entry form:

... [Read More]
Lowe wins at Chadderton - Photo Gallery
Dec 11, 2014 - 5:04 PM - by jimmy
Last Sunday 7th December saw another round of the popular Batley 'Chadderton' indoor offroad series. Richard Lowe dominated the meeting by taking both classes with his HotBodies D413 and Centro 2WD.




You can check out a gallery of photos from the meeting here:

... [Read More]
2015 oOple Series - Invernational dates!
Dec 08, 2014 - 2:55 PM - by jimmy
After a hard fought meeting yesterday evening where we attempted not to clash with any known events - we've not published out 2015 dates for the oOple Off Road Open series and 'Invernational' events.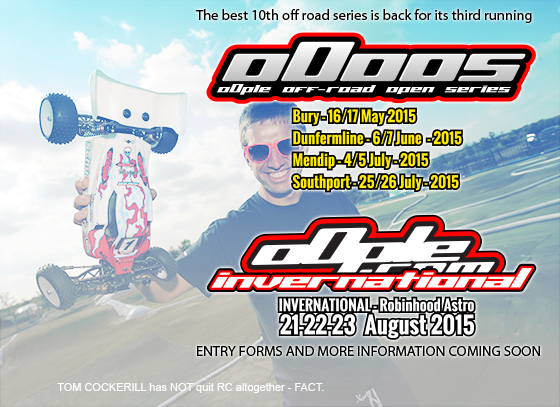 The series entry form will be announced soon!

Bury - 16/17 May 2015
Dunfermline - 6/7 June - 2015
Mendip - 4/5 July - 2015
Southport - 25/26... [Read More]
2014 oOple Tshirts - last few, hurry!
Dec 08, 2014 - 2:12 PM - by jimmy



2014 oOple Tshirts - Now £7 plus postage! Two for 12 plus post Limited sizes available. - No small left, but plenty M, L, and XL possibly XXL.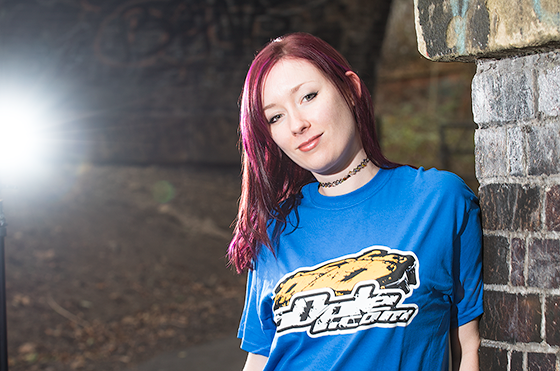 These shirts just have the 'destroyed' oople buggy logo front, and 2014 'tour dates' on the back. shipping is £2.50 in the UK for however many... [Read More]
oOple races 2014 video
Dec 05, 2014 - 4:58 PM - by jimmy


Some action and fun from the 2014 season of oople races.
Tom Cockerill leaves Schumacher - Schumacher Hiring!
Dec 02, 2014 - 7:58 PM - by jimmy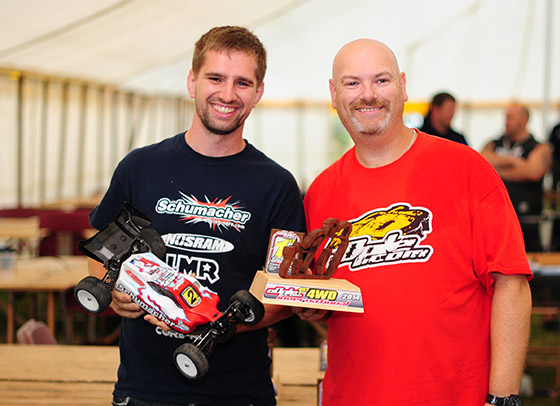 After 5 years at Schumacher Racing - a time in which the race brand has gone from strength to strength - designer Tom Cockerill has called it quits on his R/C design career to work in a different field altogether.
Speaking to Tom, he wanted to make it clear the timing is great for his career and with Schumacher being in such a strong position right now he's also leaving them in the best... [Read More]
16-18th Jan 2015 - Petit RC visits Barcelona
Nov 25, 2014 - 9:43 PM - by jimmy
The 2015 Petit RC race will take place in Barcelona from the 16th-18th January.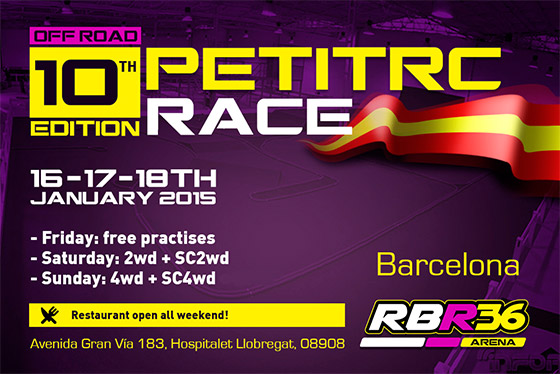 I'm proud to announce you after a real success in France, England, Norway, Germany and Portugal, the 10th ANNIVERSARY of the "PETITRC RACE" race will be celebrate at Barcelona, in the RBR36 arena of World champion Robert Battle in Spain.

Dates: 16-17-18 January 2015
Classes:... [Read More]
Team Durango new direction in the USA
Nov 21, 2014 - 7:56 PM - by jimmy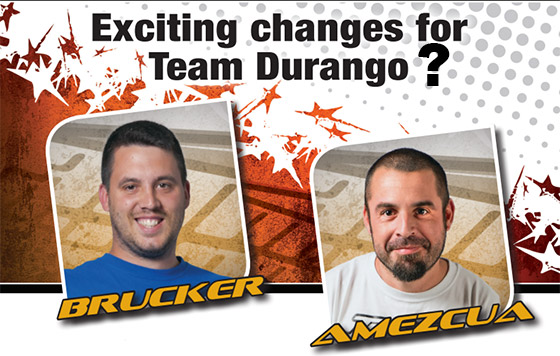 With Mr.Durango Gerd Strenge himself leaving along with likely the best prospect they've had in the uber talented Joern Neumann - Team Durango would look to be on a one way (TM) slide to sideshow status in the realm of model car racing. But with all the recent changes for the undeniable worse at least for their image - there's also been some apparent positives with changes in... [Read More]
2015 Euros, Dedicated Website & Confirmed Dates
Nov 18, 2014 - 8:48 AM - by James
Robin Hood Raceway have released their dedicated website for those attending or wishing to follow the EFRA 2015 1/10th Off-Road European Championships.

www.UK2015.com provides information on hotels, the venue and facilities, location and more, all information on the site will be finalised at the end of January 2015.

The confirmed dates are:

Warmup - 19,20,21 June

Championship - 3-8 August... [Read More]
Two new 'Name Decal' designs now online.
Nov 09, 2014 - 11:01 AM - by jimmy
A couple of new name decal designs added to the 'Custom Name Decals' page!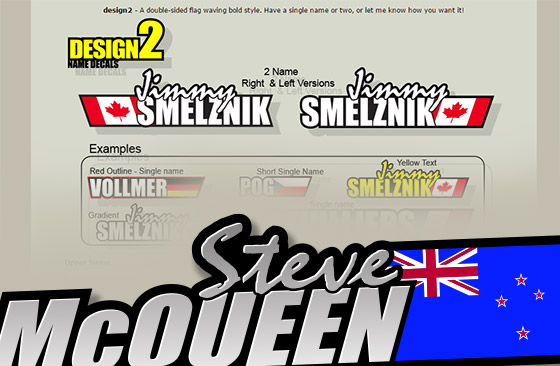 Go here:
http://www.oople.com/decals/



Ronnefalk joins HB
Nov 07, 2014 - 11:14 AM - by jimmy
David Ronnefalk has joined current 8th Buggy World Champion, Ty Tessmann, at HPI / Hot Bodies.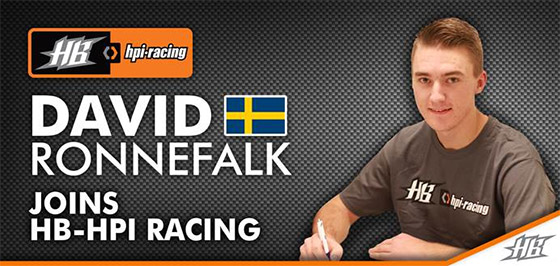 Team HB is thrilled and pleased to announce that multiple European Champion David Ronnefalk will be joining our off-road racing team!

"I would like to thank Tatsuro Watanabe and Team HB for giving me the opportunity to join the team. I'm very excited to get started with... [Read More]
EOS Poznan
Oct 25, 2014 - 6:56 AM - by Oscar
Well it might not be a full scale oOple attack on the world of Eurotrash reporting, but a couple of us guys are currently out in the bland open space known as foreign land. I am of course referring to the super well run Euro Off Road Series or EOS for short. Jimmy considered being here to take awesome photo's and write cool stuff, but he was sadly denied the option as the UK border agency refused to renew his recently expired passport because the application had the attached a photo of the PG... [Read More]