» Online Users: 121
42 members and 79 guests
5tone, buggy#0, Chequered Flag Racing, Chris Larner, ChrisW1610, cmgreen, Coastal, Crashbandit, Crazy L, crtpromachine, cutting42, discothesnake, dwp102, eldridge_racing, emtee, focusmad, Gibopel, Kevin Moss, mar7, mark christopher, mart3pop, Matt111, Monkeysmate, Newell, Npdp72,

Oscar

, Paul1, racer1, racingdwarf, Roscopeco, ruffryder, scott morton, spennyy2k, steve white, Stu Dixon, the dug, thebuttyman, till, V6Jim,

WHITTLER555

, Zippy G
Most users ever online was 1,309, 11-11-2013 at 12:38 AM.
» News
Batley Summer Series
Apr 11, 2016 - 1:03 PM - by Oscar
Next Sunday sees the start of the Batley Buggy Club summer series at their Spenborough venue. All are welcome with entries accepted on the day. All other details are as per the poster

Invernational 6ixteen - Entries now LIVE!
Mar 26, 2016 - 12:23 PM - by Stu


Entries for Invernational 6ixteen are now open!

Just like previous years the 2016 event will see a whole load of RHR Astro track action and of course all the normal 'extras' laid on for the racers and families.

We try to have a mix between national and international winners, serious racers, overseas racers, and total muppets... [Read More]
Sponsors for oOoo's 2016
Mar 09, 2016 - 8:39 PM - by Stu
We are pleased to announce that sponsorship support for then 2016 oOople Offroad Open Series has been greatfully recived from the following......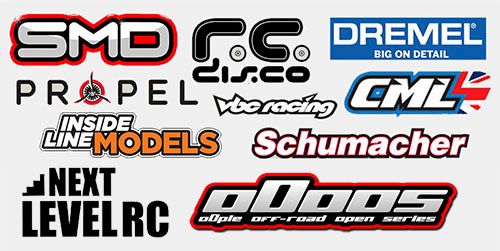 Ongoing thanks to our established and new supporters alike.

2016 SERIES
23/24 April - Bury
21/22 May - Broxtowe
4/5 June - Dunfermline
... [Read More]
Invernational 6ixteen
Jan 19, 2016 - 6:42 PM - by Stu
August 5th to 7th 2016.

Robin Hood Raceway on the Astroturf track.



We will run the meeting to the same poular format that we have since 2010, with all the 'add-ons' that our regulars have come to expect.

Entries will open in the coming weeks, so watch this space!
IconicRc Revival 2016!!!
Jan 15, 2016 - 7:20 PM - by Peakey



The Iconic RC and A1 Racing Club Revival 2016 is a vintage racing festival for charity and will take place across the weekend of Saturday 30th and Sunday 31st of July at A1 Racing Club in Grantham, South Lincolnshire.
... [Read More]
oOoo's 2016 - Entries now live
Dec 31, 2015 - 2:46 PM - by Stu
We are now taking entries for the 2016 summer oOoo's.
The meetings will run to the same format as previous years.


6 Heats - 2WD
5 Heats - 4WD
1 Heat - RC10 Classics

ENTRY INFORMATION

You must email the following information to 2016@ooplerace.com, after which you... [Read More]
oOoo's Summer Series 2016
Nov 28, 2015 - 7:20 PM - by Stu
Following on from the successful 2015 Summer and Winter Series we are now able to announce the dates for next years oOple Open Off Road Series Invitational!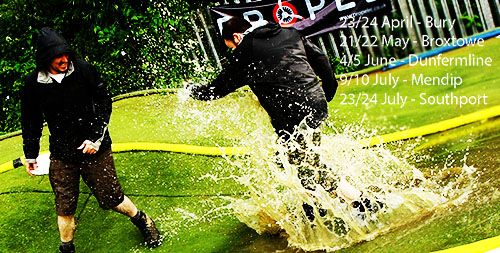 We have decided to expand the Series to FIVE Rounds!! - 4 from 5 rounds to count!

2016 SERIES
23/24 April - Bury
21/22 May - Broxtowe
4/5 June -... [Read More]
The Jimmy oOple Auction
Oct 31, 2015 - 11:18 AM - by Stu
An auction of the late Jimmy 'oOple' Storey's collection of R/C cars and parts will take place during the Winter oOoo's 'Christmas Weekender' which is to be held on the 5/6 December 2015 at Chadderton Raceway.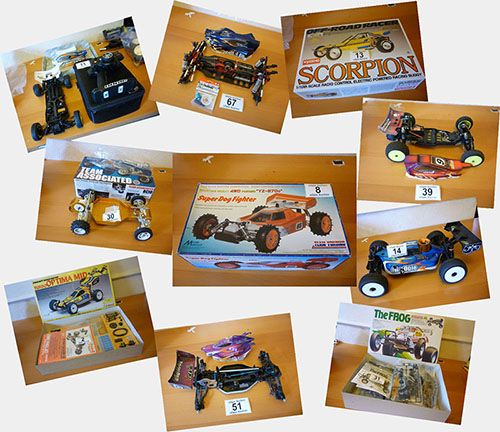 We would like interested people to attend the auction; it will take place after racing finishes on Saturday... [Read More]
Schumacher - Winter oOoo's title sponsor.
Sep 04, 2015 - 6:45 PM - by Stu
For several years Schumacher racing have sponsored the oOple website. We are very thankful for their ongoing support and are delighted to announce their title sponsorship of the 2015/2016 winter series.


You can use any Schumacher tyre at the series events (even Full-Spike in red compound (if they exist anymore)), no others allowed!
WoOoo's - Winter oOple Off-road Open Series
Aug 27, 2015 - 6:22 PM - by Stu

INFORMATION FOR THE WoOoo's

The meetings will be held at:
Radclyffe Athletics Centre, Hunt Lane, Chadderton, 0L9 0LS.

Dates are as follows:
Round 1 – 11th October 2015
Round 2 – 08th November 2015
Round 3 – 17th January 2016
Round 4 – 07th February 2016

oOple 'Winter Weekender' –... [Read More]
Chris Doughty, Ben Jemison and Adam Skelding take home the oOple Trophies
Aug 24, 2015 - 12:00 AM - by Mrs oOple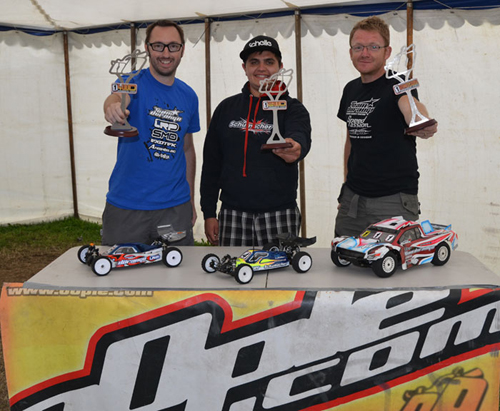 This weekend welcomed the most anticipated event on anyones race calendar - the oOple Invernational 2015. Known mostly as a fun, family weekend away, with plenty of racing thrown in, the event was booked out with almost 200 entries.

Lee Martin took the TQ position in 2wd, but it was Ben Jemison who claimed the winning spot. Neil Cragg TQ'd 4wd but lost out... [Read More]
Lee Martin and Michal Orlowski take European Championship wins
Aug 09, 2015 - 3:24 PM - by Mrs oOple
This week saw the 1/10th electric off-road European Championships held on our own turf here in England at the fantastic dirt track at Robinhood Raceway in Blyth, Nottinghamshire.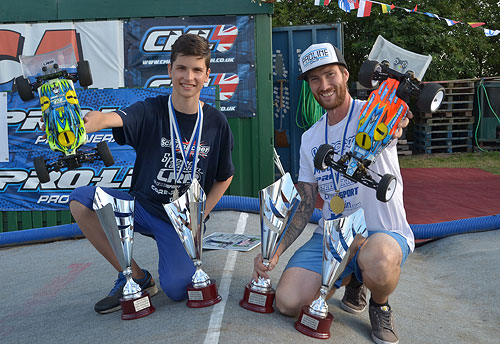 Lee Martin from Great Britain won the 2wd championship on Wednesday, whilst Michal Orlowski from Poland took home the 4wd title in yesterdays finals.

Follow the link ... [Read More]
» Advertiser