The 1/10th off-road European Championship race returned to England this week for the first time since 2002 when it was held in Tiverton and the 4wd event was won by the mighty Chris Doughty.
Chris TQ'd practice in 4wd but his week went downhill during qualifying and he was sitting 25th overall after Fridays racing.

The event officially started on Monday August 3th 2015 following a period of intense planning and preparation for the organising team, James Helliwell & co. The 2wd event ran from Monday - Wednesday and culminated with Lee Martin taking the European Championship title.
4wd kicked off on Thursday with a day of practice, followed by qualifying on Friday. The oOple team had been on site all week helping with track maintenance, car parking, site security, photo updates, refuse management, volunteer marshalling, and moderating alcohol stock levels. In the untimely absence of chief photographer and reporter Jimmy oOple, sidekick Mrs oOple rocked up at the end of day 5 to catch up on the racing action and throw together some amateur reportage.

*Disclaimer. This report cannot and will not match the quality that Jimmy would produce, however will aim to maintain the inappropriate humour and factual incorrectness that can be expected of any oOple coverage.
| | |
| --- | --- |
| | |
| Coatsey walks the track prior to qualifying commencing on Saturday, surveying for any surface damage. | Steve Pierce seals the blue-groove with his mega hair dryer. |
| | |
| --- | --- |
| | |
| T-Cock | James hasn't been chilling in the VIP suite all week. |
Martin Wollanka from Austria was disqualified at the start of day 6 after he was found to be using a tyre additive, which was in breach of rule 8.10.9. Initially his qualifying results were removed, however three team managers disagreed with the decision and a jury was held which voted he should be disqualified from the meeting.
This indiscretion was identified thanks to the hard work of the scrutineering team, who have been taste testing every car for use of illicit substances.

In addition to the regular racing, the RHR crew have organised extracurricular activities to entertain racers and their families in between heats. A SegaRally championship has been running from the LMR tent, with top prizes of a Shin Adachi signed and built Yokomo and some other goods signed by Masami Hirosaka.

The team have also provided a table tennis table - complete with 36 bright orange ping-pong balls which all disappeared in the first 24 hours of the event. The trophy girls can't be blamed as they didn't turn up until Wednesday.
The hardcore track preparation paid off for the team, as a combination of tropical temperatures throughout the week and excessive track-traffic saw the surface groove-up very nicely, and other than adding some calcium and water each evening it required minimal maintenance or repair. The team calculated that during the course of the week there would be somewhere in the region of 54,000 laps (or 11,000km distance) completed by the competing cars.
A Final Leg 1.

My A-Final grid shots didn't turn out very well, so above is a non-grid-shot.
| | |
| --- | --- |
| | |
| Tyre scrubbing before the start of a-final practice. | Michal Orlowski from Poland secured the top qualifying position in 4wd. |
Michal lead from the grid in A final leg 1, Neil Cragg dropped down the order on the first lap after electrical gremlins affected his steering. Michal made an error shortly afterwards, and Joern Neumann moved into the lead followed closely by Lee Martin. Lee made a couple of passes at Joern but couldn't make it through to the lead.
| | |
| --- | --- |
| | |
| Lining up the grid to pose for photos. | Orlowski leads.. |
| | |
| --- | --- |
| | |
| .. but rolls under pressure from the more experienced drivers. | Lee tries to make a pass at Joern but can't get through.. |
A Final Leg 2.
A Final Leg 3.
| | |
| --- | --- |
| | |
| Michal checks out early in the race, followed by Neil, Joern, Lee and David in start order. | Joern and Lee dropped back down the order whilst Neil and David start to close in on Polish-Pole-man Michal. |
| | |
| --- | --- |
| | |
| Neil pushes hard to find a way through, keeps it clean but can't get past the up and coming superstar. | Giving it everything he has, Neil pushes too hard and grip rolls into the arms of a waiting marshal. |
| | |
| --- | --- |
| | |
| Despite quick marshaling, Neil is off the racing line and Joern slips through into second place. | Neil now has Ronnefalk on his gearbox. |
| | |
| --- | --- |
| | |
| But an error from the chasing Swede afforded Neil some breathing space. | Giving it everything he has, Neil pushes too hard and grip rolls into the arms of a waiting marshal. |
| | |
| --- | --- |
| | |
| Neil pushes hard to catch the leader, sliding easily past Joern. | Moves back into 2nd place but Michal has the lead he needs to take the leg 3 win, and championship title. |
| | |
| --- | --- |
| | |
| Michal receives loving congratulations from his Dad | Whilst the top 10 cars are whisked off to scrutineering to be checked for any funny business. |

Orlowskis thumb has turned left approximately 2240 times throughout the 4wd event in his pursuit of the European championship title. Huge congratulations to Michal, his dad, and the Schumacher team.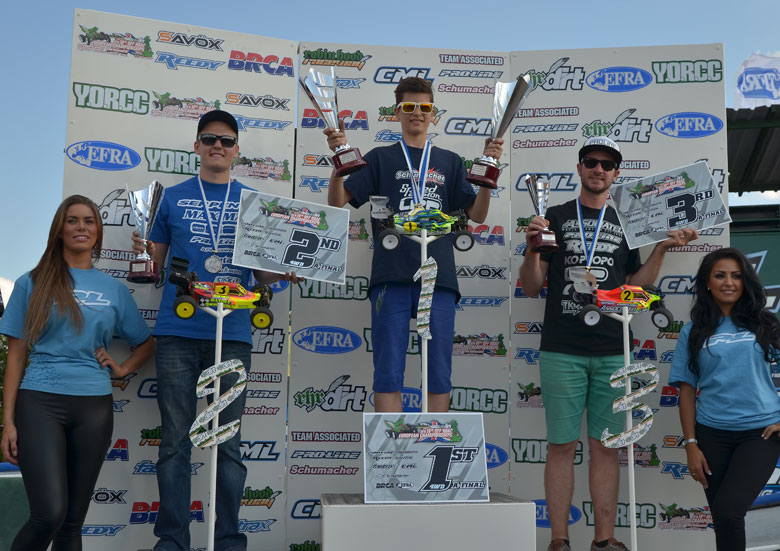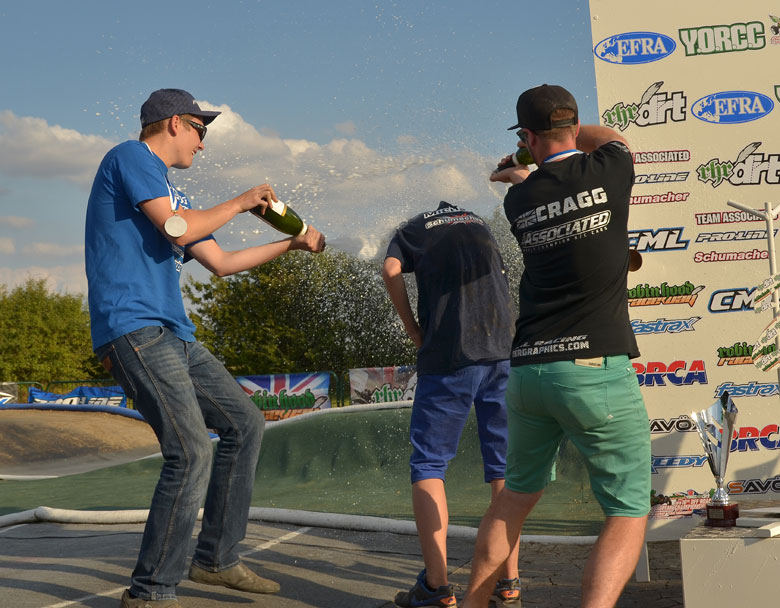 Massive well done to the organising team who have kept everything running smoothly throughout the week, this would not have happened was it not for the endless hours of hard work that have been invested by a very dedicated team.

| | |
| --- | --- |
| | |
| Neil was a tad disappointed not to take home the European championship title this week, but was well pleased with his Sega Rally win. | Girl Power! 10 year old Malin Karlsen from Sweden loves r/c cars, 4wd is her favourite class to race. The trucks just aren't fast enough for her. |
| | |
| --- | --- |
| | |
| These unsavoury visitors were caught rummaging through the refuse skip in search of top racers discarded underwear. | Whilst the grafters hide the track from view. |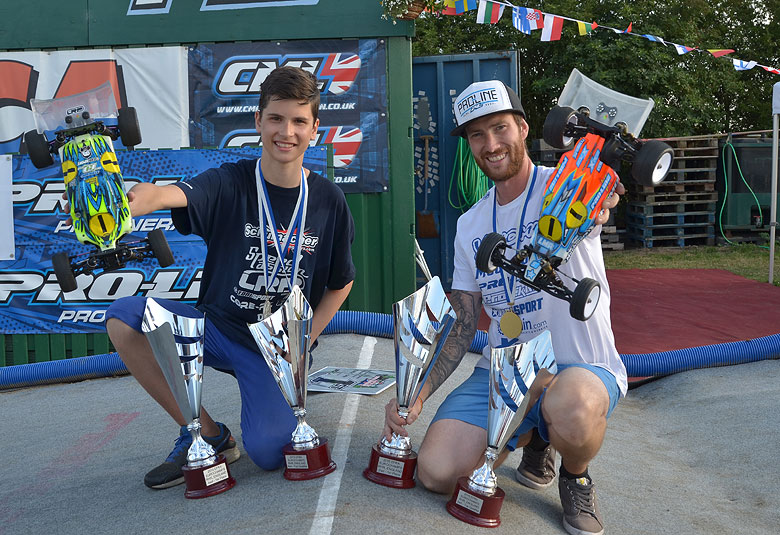 4WD European Champion Michal Orlowski from Poland and 2wd European Champion Lee Martin from Great Britain.
Congratulations to winners Michal and Lee, and a big thank you to all the team who prepared for the event and ensured its smooth running all week. Official reports are already suggesting that this has been the best Euros ever, and the team are being encouraged by fans to apply for future European and World championship events - good luck team RHR!