The final day of the 2008 European Championships in Italy was another early start - drivers wishing to practice before continuing with their qualifying rounds needed to be at the track by 08.00am. The Practice wasn't timed, and started with heat 10 - the same as the next round of qualifying, round 4. All competing drivers needed to be at the track before 09.00am which was the deadline for handing in transmitters.
The fourth and penultimate round of qualifying commenced at 09.15am, again starting with heat 10. Grant Williams was shouted at over the speakers to go and marshall immediately, as he leisurely walked through the pits with a cup of coffee.

In the early stages of qualifying I (Vicky) was browsing through previous days reports to check for accuracy, when I noticed that Jimmy had accidentally removed one of my celeb scoops. Anyway fortunately I have found it, so better late than never, here's some old news for you.

Spotted! Superstar Neil Cragg and girlfriend Kloe Fitzgerald playing a spot of basketball in the long break between rounds. Due to adjusting the heat order in each round, drivers can end up with a few hours to burn in between races. I reckon Kloe was winning this game, but won't say anything as they don't even know they've been caught on camera. (From Day 2).
Round 4
The day started with overcast skies and much cooler temperatures than we had become accustomed to, with some drivers even spotted wearing hooded sweatshirts. With the first qualifying round of the day being run from heat 10, heat 9 wouldn't be running until almost 2 hours later. With fast drivers in both of these heats, the track conditions were capable of changing dramatically in between races. As the lower heats started to race, light rain could be felt ('SPITTING...!')
Slight controversy greeted marshals on point 5 throughout the final day of this championship event, as contestants were informed that there would be no chair in the centre of the track, but due to the positioning of the point, marshals would be required to crouch so as to not block drivers view of the track. Of course for many fit and healthy people this poses no problem, but 5 minutes holding a crouching position and being required to move rapidly to assist struggling cars can be difficult for some of us who creak a bit. In fact some of the more chunky marshals were swapped to a different point.
Round 4 Qualifying Top 10
| | | | | |
| --- | --- | --- | --- | --- |
| Qualifying Position | Driver | Country | Times | Fastest Lap. |
| 1 | Neil Cragg | UK | 11/05.08.632 | 27.683 |
| 2 | Jorn Neumann | Germany | 11/05.09.416 | 27.596 |
| 3 | Lee Martin | UK | 11/05.09.533 | 27.595 |
| 4 | Hupo Honigl | Austria | 11/05.11.250 | 27.698 |
| 5 | Simon Moss | UK | 11/05.11.368 | 27.806 |
| 6 | Tom Cockerill | UK | 11/05.13.467 | 28.061 |
| 7 | Tom Yardy | UK | 11/05.14.041 | 27.889 |
| 8 | Tony Truman | UK | 11/05.14.465 | 27.968 |
| 9 | Kevin Lee | UK | 11/05.14.470 | 27.706 |
| 10 | Peter Pinisch | Austria | 11/05.14.584 | 27.614 |
Mistakes by Ellis resulted in a slower time and leaving him with an 11th in round, superstar piespeed driver Grant Williams finished 12 in round, placing him 17th overall after 4 qualifying rounds. A slower run by Matt Benfield left him 37th in round.
Round 5 Qualifying Top 10
| | | | | |
| --- | --- | --- | --- | --- |
| Qualifying Position | Driver | Country | Times | Fastest Lap. |
| 1 | Neil Cragg | UK | 11/05:03.878 | 27.313 |
| 2 | Simon Moss | UK | 11/05:06.633 | 27.238 |
| 3 | Paul Bradby | UK | 11/05:06.973 | 27.372 |
| 4 | Lee Martin | UK | 11/05:07.881 | 27.526 |
| 5 | Jorn Neumann | Germany | 11/05:09.051 | 27.465 |
| 6 | Tom Yardy | UK | 11/05:11.501 | 28.049 |
| 7 | Kevin Lee | UK | 11/05:12.874 | 27.867 |
| 8 | Tom Cockerill | UK | 11/05:13.649 | 27.459 |
| 9 | Roland Macho | Austria | 11/05:15.516 | 28.062 |
| 10 | Ellis Stafford | UK | 11/05:17.441 | 27.451 |
The five rounds of qualifying had seen a lot of drivers putting in top 10 times, battling on the track to make it into the big A. Neil Cragg had started out in qualifying giving Hupo, Lee and Ellis a bit of breathing space, enabling them to take a round each. On the final day of qualifying however he stopped teasing them and pushed his bad boy to the limits, taking both qualifying rounds of the day and placing him in pole position.
Following his thermalling issues in the first round, top piespeed lad Tom Cockerill returned with some very consistent 7ths and 8ths in round, placing him once again in a very well deserved A-Final.
Tom Yardy had struggled initially to achieve the right set up for his Hotbodies D4, but after following some advice and shortening the wheelbase he put in some great round times in rounds 3-5, sneaking him into the A final in 10th on the grid.
Unfortunately for Kevin Lee and Tony Truman, after having put in some great top 10 times throughout qualifying, they narrowly missed out on an A final spot, leaving Kevin Lee in BQ position with Tony Truman right behind starting in 2nd place.

Both Simon Moss and Grant Williams pushed their Schumacher Cat SX hard, with Simon making it to 5th on the grid in the A, but unfortunate electric problems left Grant lower down in qualifying, with a very impressive 17th overall after having not driven at the Italy track prior to this event, and Grant hadn't driven his Cat SX until this week either, so a big well done to him.
Nathan Ralls came to Italy with the Team Xtreme Predator X11 - Nathan is new to Team Xtreme and had only raced at the National with the car publicly a couple of weeks previous. Nathans car featured the new big-bore shock absorbers and some interesting development hubs on the rear. Nathan let loose with some inside scoops which we can't reveal but the team are hard at work developing new parts for the car.

Markus Heini had a new prototype car on show at this event. Whilst others were running the proven MKI-4, designed and manufactured by Markus - Markus himself was running an MKII-4 buggy. The motor and cells in this car are along the centre line of the chassis to keep the weight central. Markus wasn't that happy with the performance and it's not clear where this car will go, but it looked interesting.
Above: the original MKI-4 was also being used by other drivers at this event - including this one with specially machined alloy centre bulkheads.

| | |
| --- | --- |
| | |
| AERO Racing had these new toe-in hubs on some cars - the final items will be moulded and available in two guises, 2.5degree and 4 degree. | Olivier Langlet had his own designed conversion for the Associated B44 at the event. The conversion is called the MiD44 and includes main chassis and two top decks. The chassis is specially for 5 cells and changes the balance of the car. |

Cedric Devillers from France gave us a lot of entertainment over the week - Cedric has an amazing collection of vintage RC racing buggies from the likes of Associated (every single RC10 ever made - all new) Losi, Yokomo, Schumacher etc.. Did I also mention he is crazy!! Cedric is the best, je taime Cedric, onco....... nah!
| | |
| --- | --- |
| | |
| Hupo poses for a photo with his two biggest fans, me and cedric! | Cedric has raced the 501X since it was released |

Overall qualifying positions after 5 qualifying rounds.
| | | | | |
| --- | --- | --- | --- | --- |
| Qualifying Position. | Driver | Country | Chassis | Points |
| 1 | Neil Cragg | UK | Yokomo B-Max | 310 |
| 2 | Hupo Honigl | Austria | Tamiya 501X | 308 |
| 3 | Lee Martin | UK | Associated B44 | 308 |
| 4 | Ellis Stafford | UK | X-Factory X5 | 304 |
| 5 | Simon Moss | UK | Schumacher CAT SX | 303 |
| 6 | Jorn Neumann | Germany | Serpent S500 / Durango | 303 |
| 7 | Paul Bradby | UK | Associated B44 | 303 |
| 8 | Peter Pinisch | Austria | Associated B44 | 300 |
| 9 | Tom Cockerill | UK | X-Factory X5 | 298 |
| 10 | Tom Yardy | UK | Hotbodies D4 | 297 |
Neil Cragg takes TQ - the top 10 drivers were the same as in the 2WD event.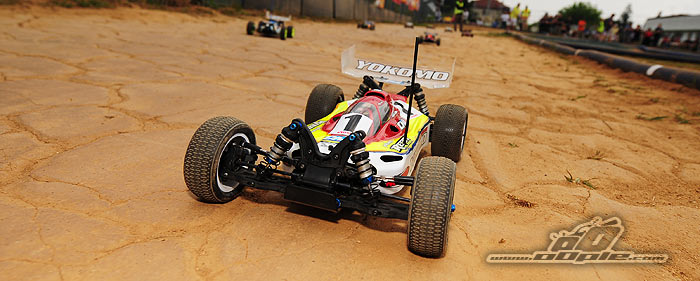 A final practice
The start of the A final practice wasn't given the 'proper' start procedure so the drivers were caught slightly unaware - meaning Hupo got the jump on Neil, getting his nose just in front by the first turn. Neil had the inside and kept his cool. Hupo drove like a manimal and it was him and Neil out front. The end came early for Neil when a faulty cell gave up in his car and he let Hupo past and cruised into the pits. There was plenty of chaos as some drivers used the practice to blow off a little steam - but Jorn Neumann wasn't messing about, getting the only 12 lap run and 'winning' the practice final. As always, it's just a bit of fun though. Fastest car on the track was Ellis Stafford with the Xfactory X5.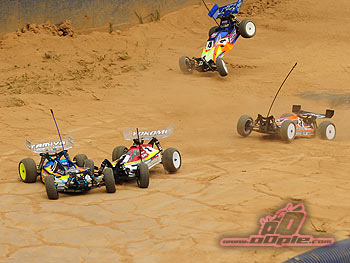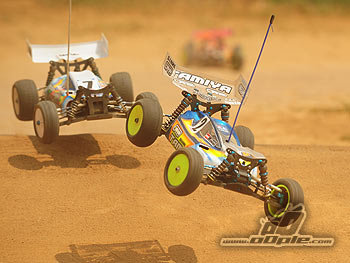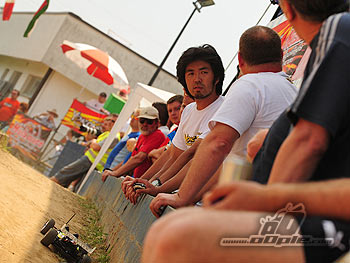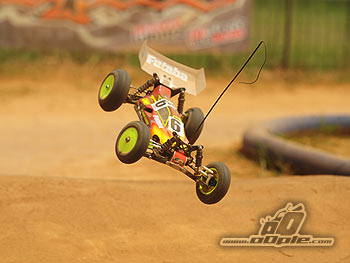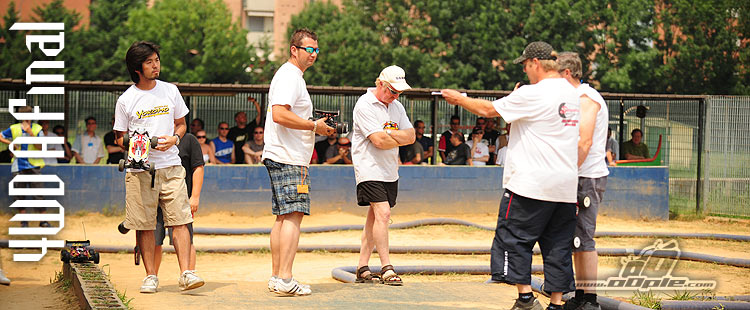 MCDC - Dave Church on the mic, announced the drivers and commentated on the racing all day - thanks Dave!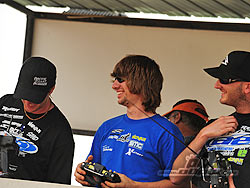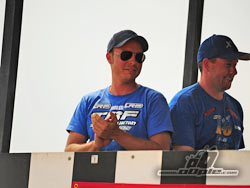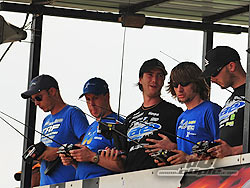 A final leg 1.
The cars set off and again Hupo got the jump on Cragg, getting alongside coming into the first turn - Hupo had some serious power. Cragg had the line and Hupo settled in behind. The first four cars, Cragg, Hupo, Lee Martin and Ellis Stafford pulled away from the rest.
Ellis Stafford was the fist one to drop back a little, then Cragg started to pull away from the chasing pair of Hupo and Lee. By the three minute mark, the top three were spread out when Lee fell back - then Hupo started to put the hammer down and close in on Cragg for first. Just as he got close, he clipped a pipe and gave Cragg some room to breath and cruise home to victory.
| | |
| --- | --- |
| | |
| | |
| --- | --- |
| | |
Lee Martin wasn't done however and was now back up with Hupo on the final lap and looking for a way past - trying everything he could to get on the inside of the Tamiya of Hupo and putting in the fastest lap of the race at the same time. Hupo stuck to his line and Lee had to wait for his chance - coming up to the loop to finish Lee made one last mad dash on the inside of Hupo and it looked like he'd done it right on the finish line as he shot past Hupo - Lee just missed out on second place by 3/1000ths of a second, incredibly close.
| | |
| --- | --- |
| | |
| Hupo kept tight lines and Lee chased hard | The two cross the line together - Hupo won out though |

Cragg lead from start to finish to win leg one.
Leg 1 results:
| | | |
| --- | --- | --- |
| Finishing Position | Driver | Time |
| 1 | Neil Cragg | 12/5:22.429 |
| 2 | Hupo Honigl | 12/5:24.403 |
| 3 | Lee Martin | 12/5:24.406 |
| 4 | Ellis Stafford | 11/5:02.544 |
| 5 | Peter Pinisch | 11/5:04.407 |
| 6 | Jorn Neumann | 11/5:04.493 |
| 7 | Simon Moss | 11/5:06.057 |
| 8 | Tom Cockerill | 11/5:10.402 |
| 9 | Paul Bradby | 11/5:12.899 |
| 10 | Tom Yardy | 11/5:17.299 |

A final Leg 2
Through the first few corners Hupo was right behind Neil and looking for a way past. After two laps it was Cragg, Hupo and Lee Martin leading the charge around the track, with a small gap back to Ellis and Simon Moss with the CAT SX. Lee Martin slid along the wall coming over the table top and dropped back a few lengths from Hupo as Cragg again stretched his lead a little.
| | |
| --- | --- |
| | |
| | Cragg and Hupo battle it out |
| | |
| --- | --- |
| | |
| Hupo chases Cragg over the tabletop | Tom Cockerill plants his X5 in the ground |
At the 2 minute mark Neil was out front and looking like he'd walk it. Lee was right behind Hupo for second and the pressure told as Hupo made a mistake, crashing after the straight and dropping to third. Lee was now just over 2 seconds behind Cragg and had him in his sights - Cragg was just too quick and didn't let up at all over the next few laps, taking the second leg and with it the 4WD European Championship title.

| | |
| --- | --- |
| | |
| | .....and Lee Martin makes his move to second place |
| | |
| --- | --- |
| | |
| Hupo gets it out of shape fending off a charge from Ellis Stafford. | No one could touch Cragg and he sailed through to take the second leg to a huge round of applause. |
Leg 2 results:
| | | |
| --- | --- | --- |
| Finishing Position | Driver | Time |
| 1 | Neil Cragg | 12/5:22.010 |
| 2 | Lee Martin | 12/5:25.243 |
| 3 | Hupo Honigl | 12/5:26.433 |
| 4 | Ellis Stafford | 11/5:01.970 |
| 5 | Simon Moss | 11/5:02.114 |
| 6 | Tom Yardy | 11/5:06.739 |
| 7 | Jorn Neumann | 11/5:08.302 |
| 8 | Peter Pinisch | 11/5:13.371 |
| 9 | Tom Cockerill | 11/5:20.046 |
| 10 | Paul Bradby | 8/3:38.518 |

The Schumacher team stood for a few photos after the racing was done. The team is new and only one of the drivers (Simon Moss) had ever driven the car before this meeting. Simon Moss finished 4th overall, whilst Ralf Missel finished 16th and Grant Williams 19th. Other drivers were present but didn't have the car yet.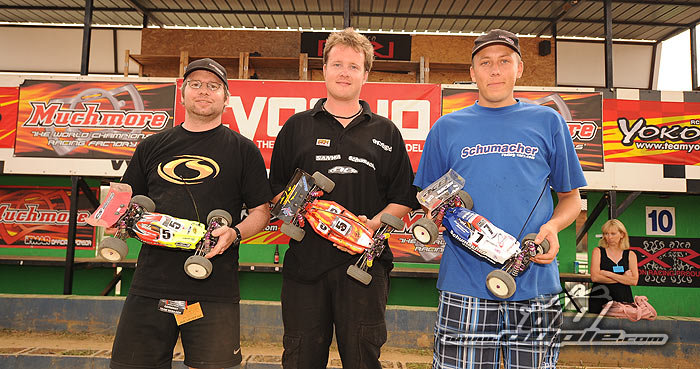 Above: Ralf 'cruise' Missel, Simon Moss, Grant Williams.
| | |
| --- | --- |
| | |
| Grant Willams' dad prepares his sons car for the finals. The guys had some electrical problems plague them through qualifying but things were sorted for the finals. | Schumacher driver Ian Barnard was running the Losi XX4 until his CAT arrives - finishing an impressive 33rd. |

The naked chassis of one of the CAT SX team cars, showing just how heavily machined the chassis plate is and the complex alloy housings.

A final Leg 3
Neil Cragg had already won the event, so it was a race for second. Neil chose to sit out the third leg - the safest option since there's always the remote chance of being given a penalty or being disqualified and losing the win, it also makes for a more entertaining race between the front runners for second. So Hupo now lined up first on the grid.

Hupo got away cleanly out front and Lee Martin immediately slotted in behind. It was Hupo, Lee, Ellis, Moss and Pinisch. Hupo started to stretch a little gap and Ellis was pushing Lee hard for second. Coming over the tabletop Ellis Stafford rolled and dropped several positions, giving Lee some room in the chaos.
| | |
| --- | --- |
| | |
| | Behind the leaders there is chaos |
| | |
| --- | --- |
| | |
| Simon moss with the CAT SX | Jorn got the fastest lap with his Serpent |
Hupo still had some breathing room out front but as he crossed the loop to start another lap he clipped the pipe on the corner and suddenly Lee was all over him. The next few laps were incredibly close racing, with Lee darting around looking for the line that would get him past the Austrian driver.
| | |
| --- | --- |
| | |
| Lee looks for a way to sneak through. | Taking the jump, Lee hot on Hupos rear. |
As the pair came up to the loop to start lap 10, Hupo went wide and Lee went for the inside. Hupo came back across and the pair collided - both spinning out and losing time. Hupo got away first but in all the excitement of watching the leading pair Schumacher driver Simon Moss had been clawing his way up the order and was now right in the mix in 3rd position and challenging Lee for 2nd place.
| | |
| --- | --- |
| | |
| Hupo goes wide and Lee sees his chance | The pair collide and lose time |
As the drivers came round to start the final lap there were now 4 drivers locked together - Hupo, Lee, Moss and Bradby. Hupo just made it through for another lap while the chasing three all finished in order. Hupo cruised to victory to the delight of his many 'Hupo fans'.
| | |
| --- | --- |
| | |
| Simon Moss and Bradby caught up and it was like a toy-car train. | Coming up to the loop, the chasing three would all miss their chance as Hupo was the only one to sneak through. |

With his leg win, Hupo took second overall, with Lee Martin third.
Leg 3 results:
| | | |
| --- | --- | --- |
| Finishing Position | Driver | Time |
| 1 | Hupo Honigl | 12/5:27.372 |
| 2 | Lee Martin | 11/5:00.313 |
| 3 | Simon Moss | 11/5:00.690 |
| 4 | Paul Bradby | 11/5:01.325 |
| 5 | Tom Yardy | 11/5:06.149 |
| 6 | Tom Cockerill | 11/5:09.675 |
| 7 | Peter Pinisch | 11/5:13.351 |
| 8 | Ellis Stafford | 11/5:14.450 |
| 9 | Jorn Neumann | 11/5:14.665 |
| 10 | Neil Cragg | 0 |
Scores after all three legs
| | | | | |
| --- | --- | --- | --- | --- |
| Overall Position | Qualified | Driver | Country | Best Scores |
| 1 | 1 | Neil Cragg | UK | 1st, 1st |
| 2 | 2 | Hupo Honigl | Austria | 1st, 2nd |
| 3 | 3 | Lee Martin | UK | 2nd, 2nd |
| 4 | 6 | Simon Moss | UK | 3rd, 5th |
| 5 | 4 | Ellis Stafford | UK | 4th, 4th |
| 6 | 9 | Tom Yardy | UK | 5th, 6th |
| 7 | 7 | Peter Pinisch | Austria | 5th, 7th |
| 8 | 5 | Paul Bradby | UK | 4th, 9th |
| 9 | 10 | Jorn Neumann | Germany | 6th, 7th |
| 10 | 8 | Tom Cockerill | UK | 6th, 8th |
B Final.
Tony Truman started 2nd on the grid in the B final, and on the first lap he managed to take the lead, leaving Kevin Lee caught up in some carnage over the centre section half way through the first lap. From there Truman kept it clean and pulled well away from the rest of the field, winning the final less than two seconds away from 12 lap pace, and seven seconds ahead of the rest of his final. Kevin Lee quickly moved back up the running order, and battled throughout the race for second place, but eventually having to settle for third behind France's Cyrille Baldini. Grant Williams also becaame caught up on the first lap, setting him back from 7th on the grid to finish in 9th place.
Freud Munoz shows off his custom Atomic Carbon pitting area - he love it. Freud also has a special one-off front shock tower on his Atomised B44.
Prize Giving.
Not long after the end of racing, the heavens opened and a heavy downpour forced the racers into the pitting hall for the trophy presentation. I think Dave 'MCDC' Church deserves a mention for announcing through the awards ceremony. My favourite part was where he was confused over what 'CH' meant for which country the driver was from, so he read it out as Czecoslovakia, and then corrected himself and said Czech republic, and finally recorrected himself and announced it as Swizerland. Well done though DC, you did an awesome job. Especially since the microphone caused too much echoing within the pitting hall, so DC MANually shouted to all of us.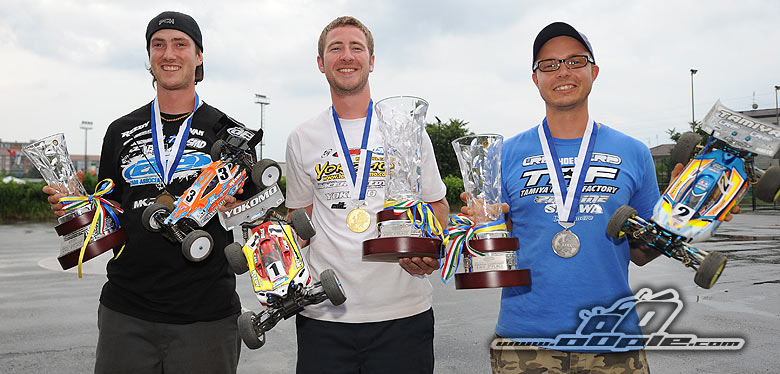 The usual champagne shower was naturally forced into the now very damp area outside the pitting hall - no one wanted to clean up the resulting mess I guess. The three set about opening their bottles in what can only be described as a monty pythonesque comedy farce - all three struggled and struggled on for a long time, dancing about in circles and drawing huge laughter from the assembled photographers and fellow racers.
| | |
| --- | --- |
| | |
| The three do a dance trying to open the bottles | Neil and Hupo drown Lee in bubbly goodness - it still takes Lee another 5 minutes and a dremel to open his bottle. |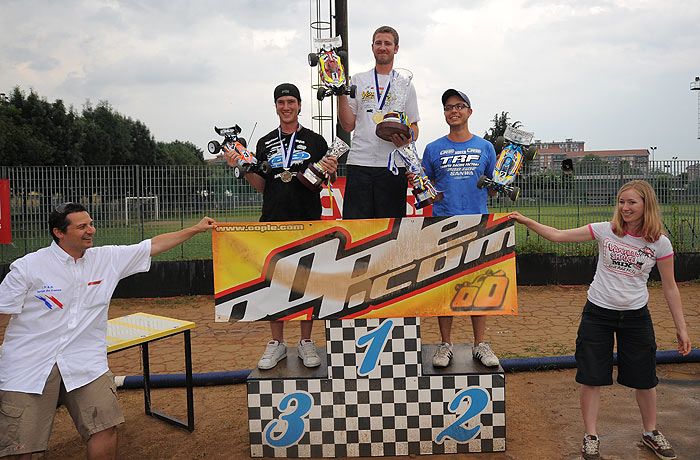 Team Yokomo took an impressive victory with an all new and never-before raced car - their commitment and support of Neil certainly went some way toward helping secure the 2008 4WD European Championship title. Well done guys!

MCDC Dave Church did a great job on the mic - making the finals much more entertaining for all drivers. Without him the racing would be quiet and somewhat subdued - good job Dave!

They say that behind every great man is a great woman, and indeed beside double-European Champion Neil Cragg stands the lovely Kloe Fitzgerald. Kloe was kind enough to spend a few minutes answering some questions to give some insight into the world of 'WAGs'.
Congratulations to both you and Neil on what has been a very successful week, we've seen some very nail-biting and close racing,have you enjoyed watching the racing?
Yeah, it was horrible watching the a-finals during 2wd when he was swapping and changing position with Bradders, I am so glad that he won the first 2 legs in 4wd.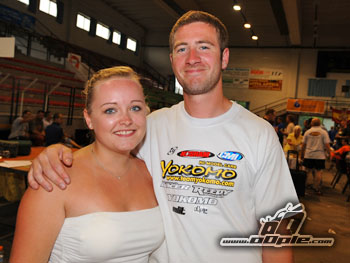 Kloe and Neil.
So when you were younger did you always dream of growing up and dating a famous racing superstar?
Maybe a formula 1 racing star! I didn't even know R/C existed until I met Neil, and he didn't tell me about it for the first three months when we met because he thought I would laugh at him (ahww...)

What is the most romantic thing that Neil has ever done for you?
The most romantic thing... He bought me a necklace from Tiffanys for Christmas, I never take it off. And he took me to Las Vegas for new year.

What was the first race meeting that you ever attended?
The first race, I think it might have been the Batley Supercup indoors, and he won.

How are you finding life as a 'WAG'? Is it all about shopping, makeovers and paparazzi?
I wish! It can be quite hard sometimes because Neil is away racing so much, so I spend a lot of time on my own. It's good when he wins though because he is in a good mood.

Are you concerned that if you have kids they'd grow up in the public eye?
Yes - there would be photos all over oOple!

What were your first thoughts when Neil told you that he 'races toy cars' for a living?
My first thought was that I'm not allowed to call it toy car racing, I got told off for that! I was interested more than anything because I had never heard of r/c car racing before.

What has been the most exciting race you've ever watched?
This one, the Euros - it's the biggest meeting that I've ever been to.

Other than watching radio controlled cars being raced, do you get time for any other hobbies?
Me, well drinking mostly - I don't do a lot else when he's away. That and reading, I read a lot and my favourite author is Jill Mansel.

Have you ever tried racing?
Just once, it was the day that Neil won the 2wd Euros, I drove Trumans car into a bush - well no-one told me how to use the brakes! That was right before Rachel broke the car, they said that me driving it into the bush weakened the car but at least my crash had a soft landing!

What role do you play in helping Neil to prepare for a big race?
I bring him sandwiches and drinks, play waitress.

What is your favourite holiday destination and where have you always wanted to travel to?
My favourite place is in Turkey - it's a place called Hisaronu, I love it there. I have always wanted to go to New York and San Francisco. (I'm sure you'll find some essential race meetings over there sometime.)
And now of course for the all important questions: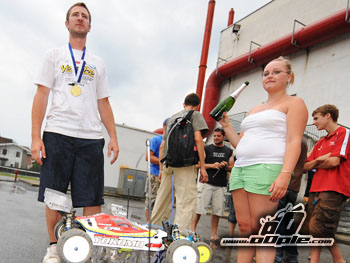 Kloe and Neil celebrate another European Championship win.
Essential Make up item:
Foundation, I never go anywhere without that, It's a foundation and powder in one.
Favourite make up brand:
Clinique, Urban Decay, Mac.
Favourite Colour:
I like Turqiose.
Perfume:
I like chance by Chanel.
Favourite physical feature - self:
Ooh, I don't really have one... I suppose my eyes.
Favourite physical feature - Opposite sex:
I always notice smiles first. Neil has a lovely smile, but he always keeps his mouth shut for photos, I like it when someone makes him laugh when he's having photos taken.
Favourite food:
Chicken fried rice and curry sauce from the chinese! I could eat that every day.
Favourite pie filling:
Meat and potato, with or without gravy, I don't mind.
Strangest interview question you have ever been asked:
Well this is my first interview, so pick one that you've just asked me.
Is there anything else that you would like to add to the interview?
Just that it has been nice to see Neil doing what he loves this week, and to be a part of it. It makes a change from being on the other end of the phone.

Thanks very much for your time Kloe, and congratulations again to you and Neil on the great performance this week.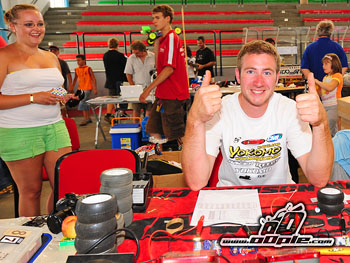 Kloe looks on in amazement at the winning thumbs.

Thanks to all those who helped with the oOple report in some way: Mike West for rewiring my 501X and other things, Mike & Grant Williams for lending me the Checkpoint motor to win my 2WD final, Matt Benfield for loaning some tyres, Glyn Ward and Lee Farrer for bringing & taking our stuff from the event, Reto from LRP for rewiring my ESC and fixing my brushless motor, Glyn Ward for sorting my 4wd motor out, Brian Preddy for the loan of his race cells and tyres for 4WD, Hupo for the Tamiya setup advice and help, the organisers and Paul Worsley for help with providing results and information, and everyone else who showed support for the oOple website.