2009 Euros PRE-PRE Report - The Journey.
The 1/10th off road European Championships is the annual event where some of the best drivers in Europe gather to do battle on the track. This year the event takes place in Bilbao in the north of Spain. We decided early on to make the event into a bit of a road trip - even though flying would be cheaper and a heck of a lot easier, we thought a road trip would be good fun and make for an entertaining read.
| | |
| --- | --- |
| | |
| Breakfast was quick, nutritious and tasty! | READY TO GO! |
Stu and Carrie came over around 8:30am in the 'wagon' – Jimmy had been up till 3am preparing things, mostly useless tat for generating comedy in the race report. We got the car all packed up and added the livery that our sponsors kindly sent over.

Stu measured the distance from Huddersfield to Dover as 9 whole pages in the map book – this is a long way we thought, hence the early start to catch our early evening ferry. Since Stu was going to drive the whole way from Calais, France to Bilbao, Spain - it was his lady wife and carer Carrie who after seeing the stickered up bus we were rollin' in decided to take up the role of driving to Dover.



People in the service station were staring at us and wispering secret things - we didn't know what their problem was.
| | |
| --- | --- |
| | |
| DJ Christmas - Spin us a tune Santa!!!! | Carolyn McRae - 5th gear all the way! (out of 6) |
| | |
| --- | --- |
| | |
| Dover | The queue for the 'boat' |
We arrived a 'bit' early for the cruise liner over to Calais - about an hour and a half early in fact. It wasn't a problem for the chummy P&O fellow however since he slotted us into the earlier boat, what a nice man - give that man a can of our favorite beverage!
| | | |
| --- | --- | --- |
| | | |
| | | |
| | | |
| Even kids can drink BEER on a boat! | Head doesn't match body - WTF | He really was orange! |

Road trip stuff:

Dover is one of the major ports accessing the English Channel – the busiest shipping lane in the world, and sees many feet pass through its docks every day – just yesterday alone 47,248 passengers travelled through the busy port, and over 11,000 cars, 8,000 lorries and 300 coaches.

At their closest points, France and England are seperated by a mere 21 miles - although cultural separation is about 13 million light years.

According to Paxman (Newsnight, not to be confused with PacMan, the popular 1980s arcade game) when the Eurotunnel first opened in 1992 the ferry companies were initially concerned about the competition, however despite trying to be competitive with prices the train companies have been unsuccessful in providing cheaper trans-channel travel.

The tunnel is an interesting formation, bored through porous clay beneath the sea bed, so it is 100% lined with pre-cast concrete that fits together like some sort of crazy lego (tomorrows world, 1990's)

Some girls' mothers are bigger than other girls' mothers. (Morrisey)

The English channel is actually very shallow (although not so shallow that our cruise liner bottomed out or grip rolled), and during the last ice age it was real land – well, peat bog mostly (don't know who he is, perhaps a friend of pete tong). Fishermen have been known to dredge up animal bone, such as mammoth tusk – not sure how nice that would taste with your chips and mushy peas though. (Time team, 2000+)

We didn't see any bluebirds or spitfire over the white cliffs of dover, although there was a low flying yellow aircraft of some description, it could have been someones toy though.

The cruise was a relatively uneventful affair, there were many a foreign folk present, and some rather annoying children going off their pups bashing coke bottles n stuff.

There wasn't a swimming pool on our ship, which was rather unfortunate. After spending a very hot couple of hours waiting in the queue to board, there was a very nice air conditioned social lounge though, where we spent the duration of our cruise and enjoyed the quite hazy views.

The boat was a roll-on, roll-off - you drive on the back and then drive off the front, but in the meantime there's the crossing over the mighty English channel to France. For the crossing we were herded into the upper levels along with an odd assortment of humanity.
| | |
| --- | --- |
| | |
| First sighting of france was beauty defined.... | Then we saw this.... |
| | |
| --- | --- |
| | |
| But then we saw this..... | ..and this cart load of new french cars - FRANCE is ace. |
After a long and perspiration-filled journey we finally bedded down in our 4-bed hotel room - it looked a LOT bigger on the photos but turned out in fact to be a pokey little sweatbox. Never mind, several cans of luke warm coca cola later (all we had to drink) we managed to get some rest in time for the real journey through France to Bordeaux.
| | |
| --- | --- |
| | |
| Our hotel - our room is the little nodule on top. | Yes there might be two floors to our room - but being not much bigger than a cupboard really isn't that good. |
A brief visit to the American embassy (McDonalds) showed that Europe, or at least France, is as expensive as chuff. A couple of meals cost us over 13 euros - which must be about 11ukp.
Bordeaux - isn't that a wine? Yes, I think you'd be correct - but in actual fact it's also a place in the south east of France. Originally we wanted to stop in La Rochelle because Stu had heard of the place in his school french lessons as a youngster - but sadly there were no vacancies so instead we chose Bordeaux as the final stop before Bilbao.
Day 2 - Calais-Bordeux. (800KM)
Calais to Bordeux would take us past Paris - sadly not close enough to see anything good.
| | |
| --- | --- |
| | |
| The Eiffel Tower wasn't quite what we had expected... perhaps we weren't quite close enough to appreciate its true magnificence. | Stu gets confused thinking in Frenchish. |

One of many road blocks where the French extract large ransoms from unsuspecting foreigners.
The first stretch toward Paris took us on a toll road through the countryside - a pleasent enough highway which allowed Stu to open up the the turbo on his Golf and push a little closer to the magic 70mph. The very pleasent French lady at the other end of the very long toll road wasn't up for any banter and pressed a magic button which displayed the sickening fee we'd have to pay. Over 20 Euros later we were back on our way - mumbling between ourselves that it was a very good thing we have our sponsors.

The Cafe De La Maire in the main square of Sainte-Maure-De-Touraine - most agreeable, oui.
We wanted to have a break from the journey and yet another rest stop filled with vacationers and screaming children wasn't on the menu - so we stopped at a little town just south of Tours called Sainte-Maure-De-Touraine. This was REAL France - full of bread sticks and chateaus. We had a rather pleasant coca cola beverage sat outside a local BAR and Stu retrieved some fancy cakes for later eating in the car.
| | |
| --- | --- |
| | |
| Boulongierre Warrior | The main road from Northern france toward Bordeaux in the south isn't very big. |
| | |
| --- | --- |
| | |
| Les Onignons pour le moi | Stu asked for a small beer because he was driving - but in france small means a thimble-sized gulp of liquid joy. |
Some things in France are the same as England but others are clearly not. These non-toilets (see below) seem to be popular.
| | |
| --- | --- |
| | |
| In France this is what is known as a toilet...!!? | .....Vicky preferred using the bin |
Between the four of us travelling in the golf we made a number of observations about French motorways. Fortunately for us we were travelling in daylight for most of our Calais-Bordaux leg, however we noticed a distinct lack of lights, or even 'cats eyes' which are a popular hop-up option in Les Englais.
We travelled over 500 miles on our first full day in France yet didn't see a single traffic police car waiting at the side to pounce - all the same, props to Stu who avidly stuck to the speed limit throughout the journey, even after two cans of redbull.
There are a lot of farms in France, in fact we've seen very little else so far, they're proper mad for the crunchyside stuff.
An interesting observation from Stu (and very eloquently phrased, although I've forgotten now what he said) was that the French motorways have very few junctions, so there isn't any local traffic, therefore meaning the road is fairly quiet and allows us a relatively free run down to Bilbao. This comes at a cost though (Thank you Schumacher and Ghea), as we found out at the extortionately priced Toll Booths.
There are also a lot of words written in French, for this reason it was very useful having the multi-lingual Carrie on board, who was apt at pointing out petrol stations, toilet stops, and trees.


| | |
| --- | --- |
| | |
| We actually drove underneath this plane - runways built over roads, genius :) | The French are still getting to grips with how to build pylons. |


We found one positive thing so far - diesel is cheaper in France than England - 1euro 9cents, which works out at about 90pence.

I asked the lady in the patisserie what filling the sandwiches had, and she said 'wee', so I replied I wasn't into that sort of madness and opted for the rather safe looking strawberry tart instead.
| | |
| --- | --- |
| | |
| Joffrey had his hair styled just like the homme in the window. | Boulangierrre |
| | |
| --- | --- |
| | |
| Not oui sandwiches. | Nice fields n stuff. |
Day 3 - Bordeux - Bilbao (300km)
The final leg of our road trip to Spain was to be a shorter journey, hopefully allowing us more time to explore some Frenchisms and enjoy touring this strange country. We planned the day perfectly - Stu would drive two thirds of the journey where the main road ventures closer to the coast, whereupon we would stop for some lunch and explorations, before continuing to our main destination. Our chosen pit stop was to be Biarritz or Bidart, both coastal towns and within close vicinity of an airport - lunch AND planes, awesome :)
After a brief drive through Biarritz it became apparent that parking was at something of a premium, and the town was very bustling and busy, we agreed to continue on to the smaller looking ville of Bidart, a rather Spanishy town in appearance, with an abundance of street cafes and brasseries. We chose a quaint looking paellarie for our lunch, which was rather a tasty experience until we saw the bill - 7 Euros for less than a pint of beer! We paid up and left quickly before they noticed that we hadn't left a tip. Once again the Frenchish had ripped us off with taxes and hidden charges; still, at least we were refuelled for the remaining journey to Bilbao.


We finally penetrated Spain at 5.30pm on day 3 of our road trip, 1000 miles exactly from Huddersfield to Spain. We didn't realise we had entered Spain until the Hombre at the toll booth corrected jimmys 'bonjour' with 'hola', and we all cheered to be out of France.
Roll on cheap beer and sangria, yeah!

At the border control we weren't asked for any form of passport at all - instead we all had to exit the car and kick a bull to prove our worth and be allowed to enter the country without restriction.
We all did as we were asked but Vicky showed a real talent for bull kicking and eventually the Spanish guards had seen enough and literally had to restrain her before the early demise of the bull - which was to be ritually slaughtered for entertainment later that evening.
As we all piled back into the car and slipped quietly away from border control, the guards were seen to be performing mouth to mouth and cardio pulmonary massage upon the bulls limp form.
On a happier note we've seen ponies, donkeys and sheep so far - as a general rule the animals in Spain are much happier than the animals in France - apart from that bull.

Ellis cheers on some BRCA members arriving at the Hotel - rapidly.
We arrived at our hotel in Bilbao sometime early Saturday evening, booking in for the oOple room was a fairly straightforward effort, however when it came to team Evans, complications were in the air. When we extended our stay by 1 day to include the Saturday evening, team Evans' requirements weren't taken into account, and due to a number of room changes there were some difficulties entering the pair into a boudoir.
Anyhow the confusement was eventually resolved and we were all homed in what turned out to be quite comfortable, if slightly erotique (transparent toilet door / glass wall from the bathroom to the bedroom), accomodation for the week.
There was time for a brief encounter in the bath whilst the lads went to buy in supplies, then our 'road trip' resumed in the comfort of our accommodation, with cheap beer, vodka, diet coke and many, many cheetos. We were also able to order pizza via the medium of telephonique... and it was delivered to our door! Ace. The first attempt to order though resulted in the rude espagne people hanging up on me! how harsh. Anyway we got through in the end.
| | |
| --- | --- |
| | |
| After two days hardcore driving, Stu could barely keep his eyes open. | The solution? Tattoo Joffreys head and go to the bar to cause chaos and debauchery. |
| | |
| --- | --- |
| | |
| Yardy performs some heart-shaped trickery with toilet paper, well done :) | Lion-o and Son-of. |

| | |
| --- | --- |
| | |
| Jonesy struggles to maintain his composure (and bladder) when he sees the price of this round. | Whilst our in-room bar worked out to be the cheapest hydration of our holiday so far. |
| | |
| --- | --- |
| | |
| Telephone pizza! Awesome :) | The morning after the night before - lesson learnt |
A very proud Stu 'phoned us at midnight after returning to their room in the bowels of the hotel, proclaiming loudly 'There's RUDE stuff on the telly, and I just wee'd in the bidet by mistake'.
Pre-report - Euros day -1, Sunday August 9th 2009.
The first thing on the agenda was of course a trip to the track to suss things out. The track isn't far from the hotel that the majority of the racers are staying in, literally a couple of minutes down the road. Parking around the fenced-off sporting venue isn't great but then that seems to be the same for the whole of Bilbao.

When we arrived, we saw UK racers meandering around the area and after a few words were exchanged we quickly got the message that with less than 24 hours before the cars hit the track there was no access to the pits. We had a good walk around but looking was about the most anyone could do - so apart from the various locals working away on last minute preparations we were the only ones there.

Lots of yummy refreshments were being prepared for the competitors right next to the track.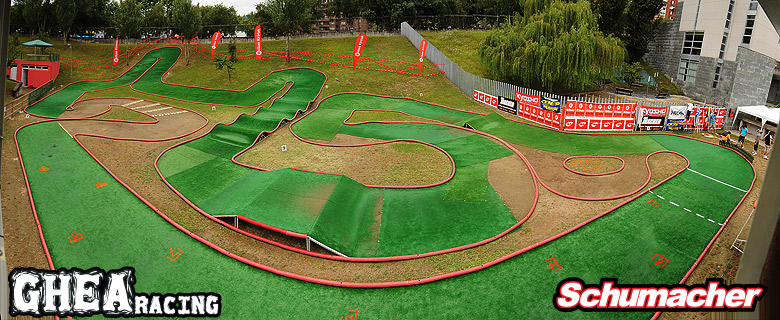 The track itself is squeezed into a corner of the sports complex - some of which ascends the very steep hill up toward street level. The top left hand corner of the track is almost a wall ride - it may not look steep in the photo, but believe us, you'd not want to be marshalling up there.

The drivers rostrum is scooted off to the right hand side of the track - making the hill in the far corner quite a long distance from the drivers view point. The photo (top) is looking from the centre of the relatively small rostrum.
Cerrado!!! - As Stu walked toward the entrance to the pits one of the officials leapt from his seat in a panic to slam the door in his face, shouting CERRADO!!!!... Actually no that didn't happen, but they did shut the door to stop us entering.
| | |
| --- | --- |
| | |
| Spade | We talk to one of the Spanish warriors about Schumacher tyres and how best to utilize their outstanding performance! ;) Cheers Robin. |
After a visit to the track there really wasn't much happening so we decided to take a look around Bilbao town centre and prepare outselves for racing the following day.
| | |
| --- | --- |
| | |
| A massive hill leading down to the river - eventually | Mike (far right, not politically) has new pumps |
| | |
| --- | --- |
| | |
| A street - Bilbao all looks the same | The main river runs through the centre of Bilbao. |
There was some racing, Hupo and Marc won - I managed to get 2 pairs of wheels, some shock pitsons, a ball diff rebuild kit and a bent driveshaft - a successful haul. Then we started the journey back home!
Sunday - leg 1 of the journey home.

Following a rather late night trying to search for signs of life in the city of Bilbao with our Austrian friends, we opted for a leisurely start to Sunday, meeting for breakfast in the hotel before packing up our belongings and setting on our way at around 10:30am. Todays journey would take us from Bilbao, of course, to somewhere in northern France (Bourges) - the idea being to do as much travelling on Sunday as we possibly could, to allow time on Monday to see some of France and not feel too pressured in our drive to the evening Ferry from Calais to Dover. In effect this meant that our journey on Sunday worked out at 500 miles. Alas though, we didn't want to keep it simple, if you're travelling 500 miles you want to see something new and innteresting right? So we planned our journey around the magnificent Milau bridge, adding a further 200 miles to the trip and an initial estimated arrival time at our booked B&B of 9.30pm - not including the many stops that we'd need to make throughout the day.
| | |
| --- | --- |
| | |
| | |
| We found some funny dogs in a car - so we took photos! | We celebrate entering France - the journey really begins. |
We fuelled the dogmilk machine at the start of our journey, and set off to the exit of Spain. Unfortunately due to some battered old Fiesta, Spain was actually closed, so finding food or hydration for our journey wasn't easy, and we resorted to shopping at the very expensive services. As we returned to the car though, what would we see other than these two delightful puppies. Awesome. The nice man in the car didn't seem too disturbed by us trying to steal his pups, but we figured they'd become somewhat restless in the dogmilk machine so duly returned them.
The heat was pretty intense throughout the days drive, with on-board guesstimations of temperatures ranging from 37-50 degrees, hot stuff. Despite the long journey ahead it became necessary to take frequent breaks from the driving to cool off under the showers provided at service stations. We weren't in Spain for long, as we discovered at our first French toll booth where the bill almost cleared our loose change fund, and deprived Stu and Carrie of food for the remainder of the day.
Stu pours water over himself as he drives along at 110kmh - I almost vomited with laughter at this point, perhaps it was the heat getting to me, but I had to concentrate on keeping my eyes in my skull.
It was so unbearably hot that we had to keep stopping at these convenient outdoor 'showers' they have in France - spraying a cooling mist of water. We were soaked to the skin, but it brought short term relief.
After what felt like an entire days driving (actually it probably was the entire day) we passed a glistening patch of blue to our right hand side, which the boys pointed out as being 'the med', and Joffrey at this point informed us that we would now be commencing our drive North - yes, we'd spent the entire day detouring East. It was good fun though. As we drove into the heart of France we gradually began our ascent into the mountains, reaching heights of 1110m above sea level, although we debated whether or not this was at high or low tide. And what would happen to all those signs when the icebergs have all melted and sealevels rise, some poor highway patrol has to trudge through the mountains changing every single sign (these were placed a few metres apart for miles on end.

Not sure how this happened - somehow we're driving NORTH but end up at the Mediterranean sea! WTF.
We found the magnificent Milau bridge at 19:30, but immediately drove past the viewing point and through a toll booth - so proceeded to leave the motorway to find the back route to the viewing point. A pleasant rest stop followed, whereupon the boys strolled off to take photos of the massive construction, whilst the ladies guarded the books in our dogmilk machine.
| | |
| --- | --- |
| | |
| Lots of COOL tunnels in the mountains | There was some nice scenery in the middle of France |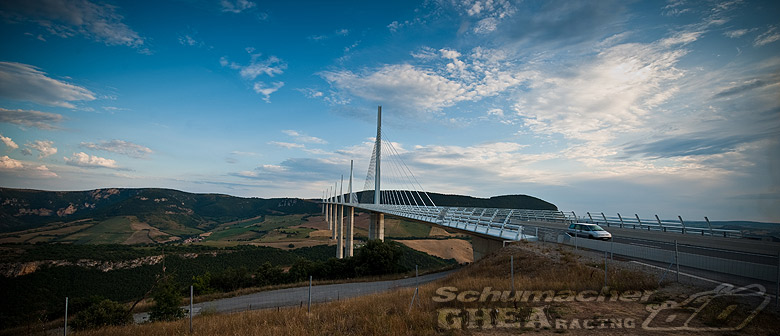 The Milau Viaduct - this caused us a lot of grief but it was worth it.
Having reached our main target point for the day we pondered 'it can't be that much further to the hotel', alas, we were half way there, a further 300 miles would still need to be driven, and following some badgered tampering with the tomtom by Stu, instead of counting down the hours, our journey time was actually increasing.


At the start of our journey tomtom had predicted an ETA of 21.30, and we all debated how accurate this would be. Vicky suggested 11.12pm, Stu thought 10.30 would be about right, whereas Jimmy, ever the pessimist suggested 2.30am but later tried to change this to 3.30am. (Jimmy: I was of course closest with my guess.)

And so we pressed on, well, Stu did because he'd insisted he could do all the driving, chortle. The sunset was pretty anyway, and we took lots of nice pictures.
As the evening drew on, and tomtoms ETA ventured ever further away, we left the motorway and ventured on to the country roads, which Stu said he preferred because he could concentrate more. And then finally at midnight, Stu pulled over to the side of the road muttering rain-man style 'I've got badgers in my head, I can't drive any more, I can't drive, bleeeuuuurrrrrrrrr' - that was after 13 hours on the road though, and 650 miles.
Carrie stepped in like a Heroine and took control, manoevering the dogmilk beast back through the country roads to take us to the motorway, and reducing our ETA by an hour - good skillz boss.
'Bezzing' through small badly lit french countryside at 1am after many hours on the road is.......... Bullshit. We only triggered two speed cameras - thankfully the French can't get us now we're back home! yay.

1:07am and still 36.7 miles to go.
At 2am we reached our destination, somewhat tired and bleary-eyed, but we'd seen a bridge, and some puppies, so all was OK. Especially because the following days journey would be shorter, or so we thought. On arrival at our hotel we started to plan the following days journey, which turned out to be a further 250miles, approximately 5 hours driving, or so TomTom said, and we know how poor he is at estimating arrival times.
Thankfully the next days drive was just a chore, no excitement. We stayed in a B&B in Dover after an evening crossing - then the following day made our way back up through England to the 'NORTH' where we emerged from. Unfortunately we were all totally exhausted by this point in the story, hence the lack of photos or inspired & entertaining words.
| | |
| --- | --- |
| | |
| The roads to Calais were.... crap. | Back on the ferry. - LOL |

The white cliffs of Dover - back in England, phew!
Thanks for reading our little race report - if you liked it please consider a donation (link is top right on the header image!) or just drop us a line to let us know you liked it. We didn't come close to covering our costs and only went to report - some nice words are about all we get out of doing this stuff. Thanks!
Brought to you by Stu and Carrie Evans, and Jimmy and Vicky Storey.