The brushless controller itself came pre-wired to the motor with long cables whilst the battery wires came pre-wired with connectors that I'd not seen before - I assume Losi also make LiPo batteries which have similar connectors but since I'd be using 'normal' corally-style plugs I cut these off straight away as will most racers I suspect. The connectors actually do look very good - I just didn't have a corresponding connector for my batteries.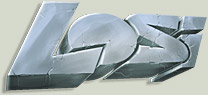 The ESC is fairly large but not really any larger than its competitors, with the odd exception. The unit does have a large external capacitor however - and this will need taking into account when mounting in your car. A black heatsink is topped by a fan to keep things super-cool.

The Xcelorin S has several options included to tune the ESC - three pre-set profiles are included within the controller which can be selected by holding the setup button on the power switch - 'Stock Race' which is meant for users in the brushless 'stock' classes to get the most from their motors (and is strangely the default setting). 'Modified', which doesn't have quite such an agressive profile but is meant for low-turn motors and high traction conditions we'd suspect. Lastly there's the 'Off Road' setting, which has a lower motor timing and initial acceleration than the other profiles and should help get the power to the ground better in off-road & lower traction conditions.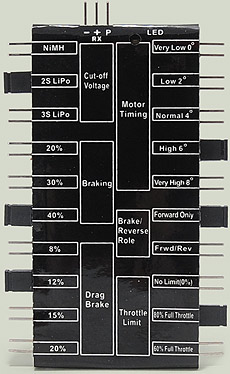 Advanced Quick Setting Card
AQPC
As well as the built-in profiles, the settings can be changed with the included advanced quick programming card (AQPC). This retro-looking device is included to help with quick and simple trackside changes. So there's no scrambling around for the manual when you need to change a setting - nice! Not all the settings can be changed, but those that can are changed on the currently selected profile.
Things that can be changed with the quick setting card are:
Cut Off Voltage: Nimh - 2 cell lipo - 3 cell lipo

Braking (strength): 20% - 30% - 40%

Drag Brake: 8% - 12% - 15% - 20%

Motor Timing: 0 - 2 - 4 - 6 - 8 degrees

Reverse mode: Forward & Brake - Forward, Brake, Reverse.

Throttle limit: No limit - 80% throttle - 60% throttle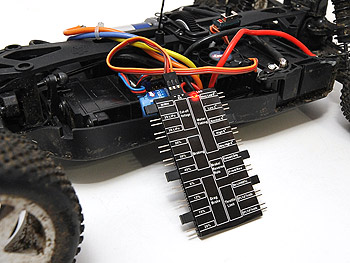 Advanced Quick Setting Card in action
USB interface
For finer tuning Losi also supply something that's starting to catch on but is still pretty unusual and therefore a bit of a talking point - a PC interface and setting program.