Team oOple driver and all round great guy John Price (oscar on the oople forum), took over the reigns of the X-5 for this years National and Regional races for a sort of long-term test of the car, so we can get another perspective and see what the cars weaknesses and plus points are over and extended period. So, over to John for the first part of his write up on the car.
(John Price)
As you may or may not be aware, I will be campaigning the oOple Xfactory X5 review car at this years nationals and NE (North East) regional series.
Other than the limited photo shoot we did at a local quarry, I hadn't driven the car prior to arriving at Kidderminster. Also to make life that little bit harder still, I hadn't ever been to the track before.
Following the 2wd nightmare of the day before, where I had probably my worst days racing for a long time, confidence was not in abundance.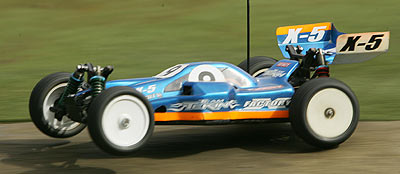 Dan Greenwood flying at Kidderminster
The track itself is very much unique, in that it is ultra high grip when dry but quite slippery when wet. This demands a setup somewhat different to the usual. Throughout practice and the first couple of runs, I was basically learning the track and the feel of the car. I was also using Schumacher mini spike tyres, which as time went by were highlighted as the wrong choice. Before the third run, I spoke to UK team drivers Daniella Greenwood (See the toilet episode picture on oOple dot com) and Chris Long, who advised on some slight setup changes, mainly to the front end. Chris also kindly supplied a set of Ballistic Buggy tyres to run, (thanks mate!). Unfortunately the powers that be- decided to thoroughly soak the track for this run, so it was really hard work. The car felt OK.
In round four, I ran a full five minutes without incident which in itself is an achievement for myself. The car was noticeably so easy to push over the bumpy sections of the track, and had an excellent steering response without the back end ever wanting to get out of shape. It did feel a little nervous through the longer faster sweeping type corner, but I'm sure this could be dialled out with more setup time.
Due to only having the one reasonable run time, and nothing to back it up with, I ended up in one of the lower finals. Further rain prompted me to remain with Ballistic tyres, but now in Pink compound. During the final, Traffic was the enemy, I got taken out at least 3 times from behind which ruined the chance of a win. The car itself was excellent, the best all day and I comfortably set the fastest lap time in the final by some margin.
Chris long in the dirt at Kid.

To sum up my first impressions of the X5, I have to say it is neither like the XXX4 I ran last year, or its donor XX4 which I have been using throughout the winter. The X5 rides the rough ground as well or better than my XX4, but strangely seems to have the direct steering response of the XXX4. It seems it is not a difficult car to be consistent with, and also feels to be very responsive to throttle input and really quick in a straight line. I don't want to make too many more statements until I have actually had the car around a track I am familiar with, and in favourable weather conditions. I think once I have done this I will be able to offer a more objective view on the car. If the weather stays good at Bury for the regional late this month I'll keep you all updated then.

Regards John