Kyosho ZX-5 Review, page 1/7
BIG PHOTOS GALLERY - MANUAL - ZX-5 Ti Screw Kit Review - Atomic Carbon Fibre Top deck and Towers
NEW - Atomic-Carbon Ion Spec Main Chassis - NEW

The all new Kyosho Lazer ZX-5 marks Kyoshos return to 1/10th electric off road racing, after a few years of various prototypes that never made it outside of japan, kyosho are back!


Kyosho has recently undergone some restructuring in the USA with the formation of "Kyosho America" and have hired some well known names, Mark Pavidis, Joel Johnson, among others. With a 2wd Prototype buggy also in the works its clear that kyosho is serious about moving back into Electric Off Road racing.

The Lazer ZX5 is the latest in a long line of competition 4WD buggys from kyosho, starting with the chain driven buggys like the progress and optima, through to the belt driven Optima Mid and original Lazers, this is the first shaft driven competition 4wd from kyosho
The design layout is similar to some other modern shaft driven layouts with the cells down one side of the centre driveshaft, motor and electrics on the other side, most notably the Jconcepts BJ4x4, but where the Jconcepts car uses mainly Carbon Fibre parts the Kyosho uses injection moulded parts (plastic to you and me), The chassis is a moulded carbon composite plastic.


Initial impressions of the box were that there couldnt be an entire 4WD buggy inside, its a rather sleek looking box with just logos and text, hinting that this is a serious racer.

I did try to coax a ZX-5 Kit out of the UK Kyosho importer to review, ok, i tried to blag one! alas they have sense and chose to ignore my email, so i spent the last of my food money on this kit.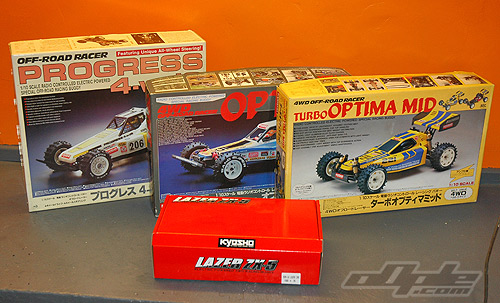 Do you get the impression i might be a fan of Kyosho Buggys ?
From left to right, The boxes get smaller !
Progress 4WDS (1983?) Kyoshos first competition 4WD machine, 4 Wheel Steering, Chain driven.
Optima (1985), Kyoshos first 4WD with modern suspension layout, Chain driven.
Turbo Optima Mid (1987) Kyoshos first belt drive - mid motor 4WD.
And ofcourse the latest and greatest, Lazer ZX-5, Kyoshos first "competition" Shaft Driven 4WD.
all images, designs, texts and concepts copyright 2003-2005. All Rights Reserved. Jimmy Storey. rc(at)oople(dot)com.