Saturday 30 August 2008 - Test & qualifying
The French cup 2008 was held in Gargenville, in Yvelines, in the Parisian West. The club of Gargenville went through a big improvement program on the track, taking into account comments left by the pilots of the previous regional sleeves. The

drivers qualified for this national cup found a magnificent grass track (at the beginning) peppered by miscellaneous jumps, double jumps and triple jumps.
During the first day, we were still on holidays, thanks to a fantastic sunny weather. Staying 5 minutes on the driver's stand became a real physical test though. On Sundays, the rain made its appearance, fortunately during lunch break.
Four Wheel Drive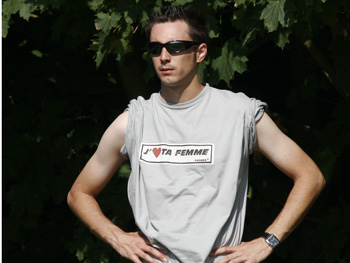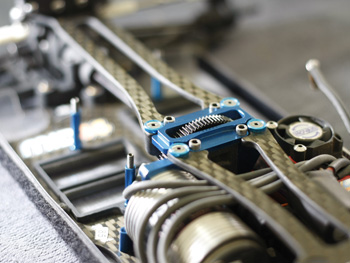 Antoine Rossetti almost stopped the impressive series of Cyril Baldini's victories. His MID44 saw him take the pole position after 5 rounds of close battle between both men.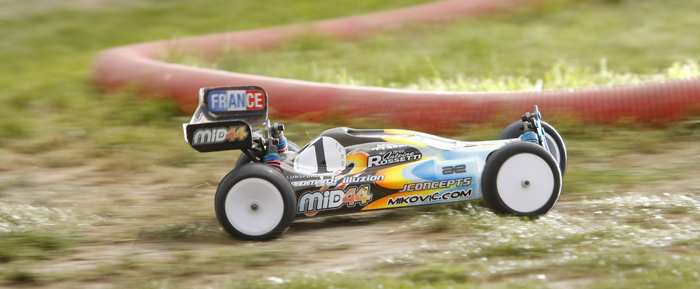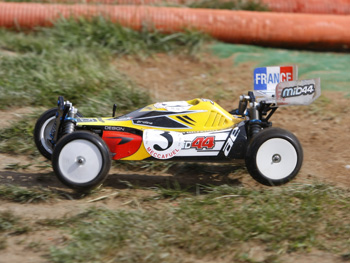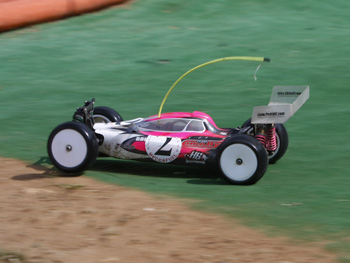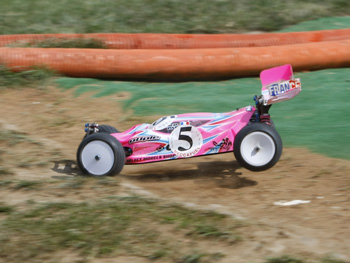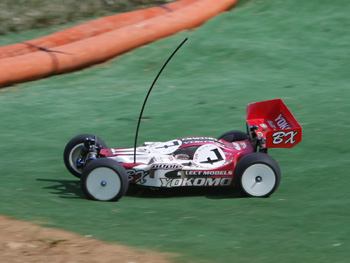 QUALIFYING
Antoine Rossetti and his MID 44 took the fifth round and thus sat on the first place of the starting grill. Vincent Héligoin hoisted his Hot Bodies in 3rd position. Like his teammate Jean-François Cave, Vincent is expecting the new Cat SX. Frédéric Pain took the 5th position, in front of Olivier de Montfumat's MID 44 and Arnaud Ledun's Yokomo BX (that's me!!). Cédric Pasca, Cyril Fages and Pascal Caillaud took respectively the 8th, 9th and 10th place. Cheers for Mathieu Hélène's great 11th place.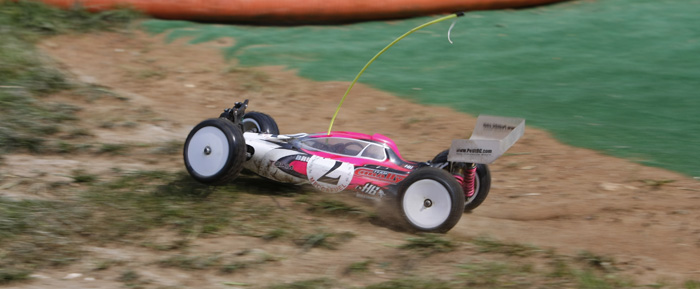 FINALS
As I was driving, its is hard for me to comment the 3 A finals. Antoine and Cyril won each one a final, so it was in the third that Cyril added a victory to his list. He is about to sweep all the season, having already won 5 national rounds on 7, 2 still to come. Antoine Rossetti took second place and Vincent Héligoin managed to keep his qualification place. Olivier de Montfumat made great races but ended at the 4th place. Pascal Caillaud gained 3 places and ended 7th.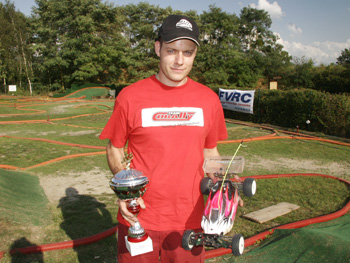 Cyril Baldini with his D4, soon to be replaced by a Yokomo BMAX4.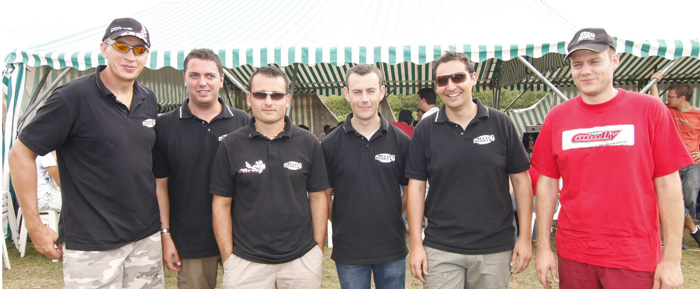 Impressive performance of the Select Models team which all drivers were in the A final.
From left to right, Frédéric Pain AKA Calimero, Jean François Cave, Cyril Fagés, Vincent Héligoin, Arnaud Ledun and Cyril Baldini
Board of the 4x4 Open finalists
2

Antoine Rossetti

MID 44
Mikovic.com

1

Cyril Baldini

Select Models
Corally

3

Vincent Héligoin

Select Models
Corally
MID 44

5

Jean François Cave

Select Models
Corally
MBGO

6

Frédéric Pain

Team GM
Graupner
SERVO
Select Models
Team Ptityo

4

Olivier de Montfumat

84/20

CocoTrack
MID 44
Relay.fr

8

Arnaud Ledun

Speed Passion Gran Turismo

Corally
Select Models

9

Cedric Pasca

Speed Passion Gran Turismo

10

Cyril Fages

Select Models
OZON
Petit RC
Millenium

7

Pascal Caillaud

MRCI
Gaz-On
PIT WALK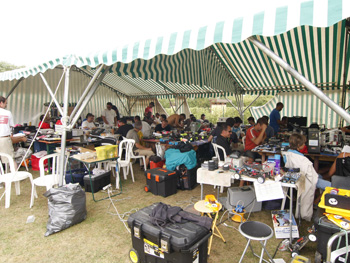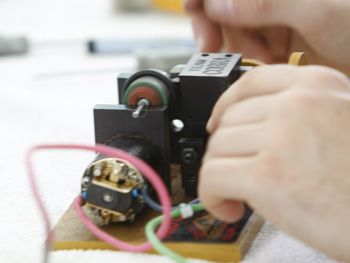 In the pits, we spotted somebody using a comm lathe. Vintage attitude!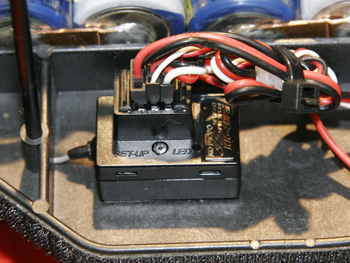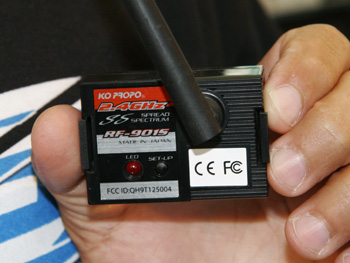 The new Spektrum kit for KO-PROPO. The receiver is so tiny!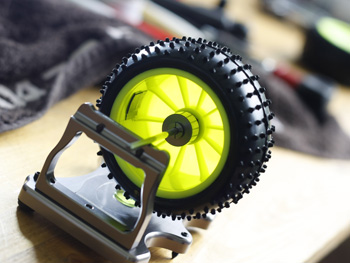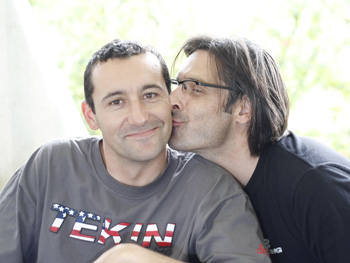 Arnaud Collet balances his wheels but I doubt of the balance of his love affairs...
When the love displays in public...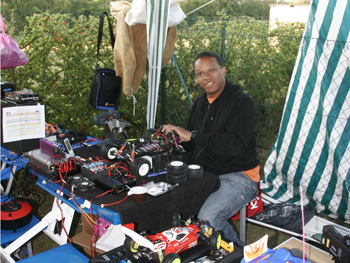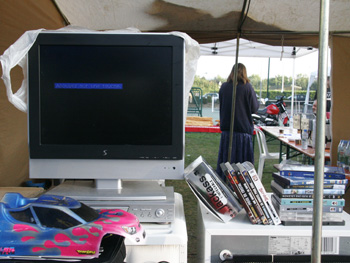 Widy, a famous truck driver. As you can see, the wait between heats was a bit long.
Someone had the idea to bring a TV. Jackass rules.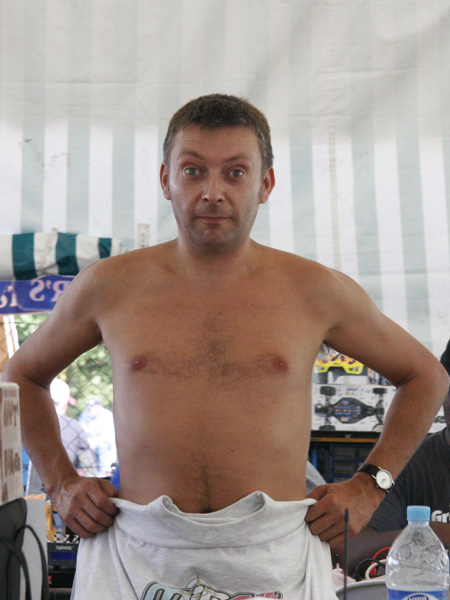 Strange truck drivers...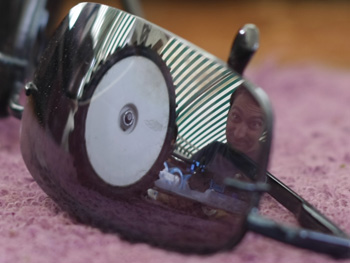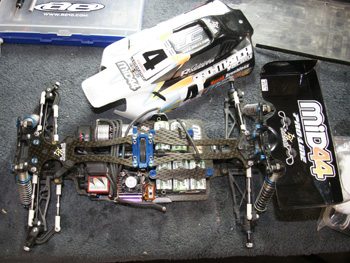 This is Olivier Langlet, designer of the MID44 conversion kit, now distributed by the japanese company Team Azarashi.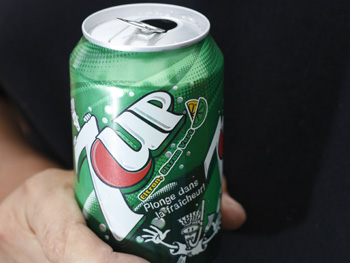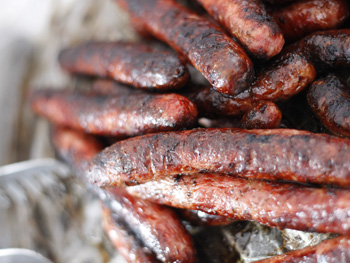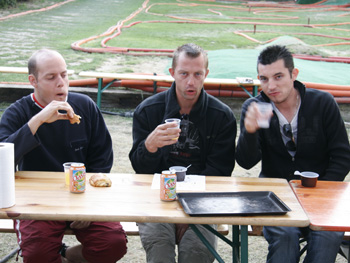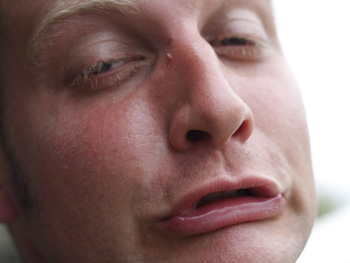 Seven Up + sausage + orange juice + coffee + chocolate bread = Rodolphe!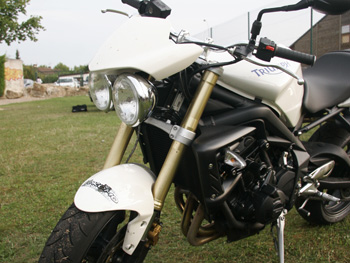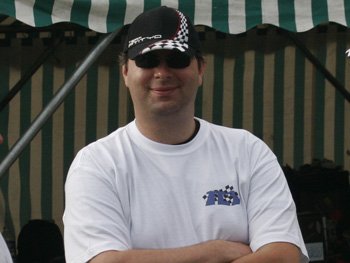 Yokomo rhymes with Thomas Blondeau. Even on his brand new Triumph, there is a small space for the Japanese brand.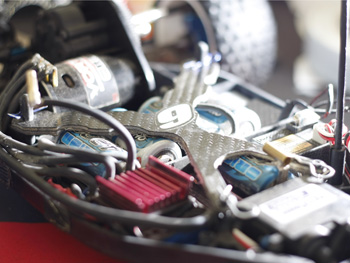 Lionel Labbez's X-6 sported the new motor plate from Optimized. Please note the awesome battery plate that Cyril Baldini made himself.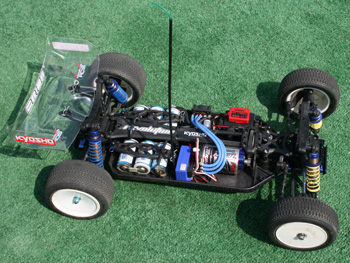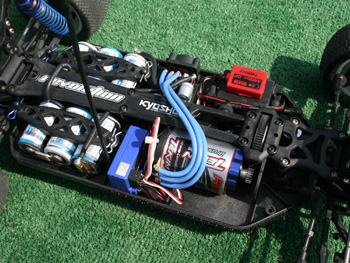 Bruno Gisquet came back specially from Arcachon to show us his new Lazer ZX5 with the motor in front.
TWO WHEEL DRIVE

Lionel Labbez was the fastest with the X-6. Olivier de Montfumat on his B4 did not succeed in worrying him during qualifying. The very fast Xavier Ansellem catch the 3rd place with his B4. Arnaud Collet, driving a Kyosho Ultima RB5, stand only on the 5th position. Cyrille Hélias with his Academy qualified 10th, making Julien Parnot's misfortune.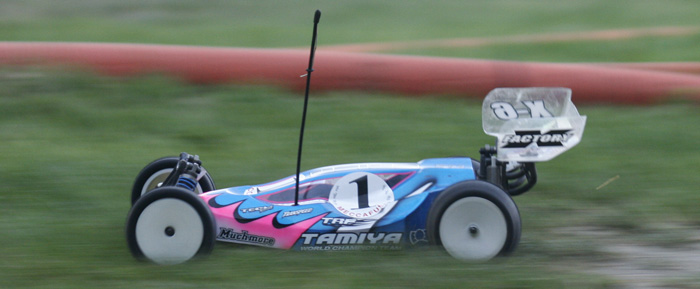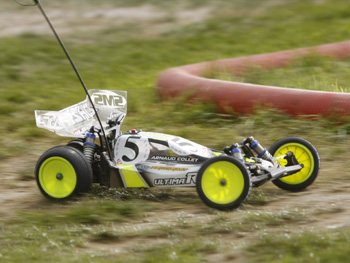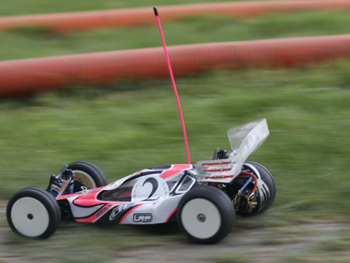 Finals : a cahotic start allowed Arnaud Collet to lead the race, followed by Olivier de Montfumat and Lionel Labbez. Labbez passed de Montfumat on a mistake and closed the gap with Collet's RB5. They made 3 laps of very close racing until Lionel's X-6 pushed the back of the RB5 and sent it airborne in the straight. The crowd expressed his dissatisfaction, Lionel Labbez tried to wait for the return of Arnaud Collet before crossing the lane but because Olivier de Montfumat was now second, he finally crossed the finishing line first, winning the first main. Lionel received a severe warning from the race direction.

The second final saw the great attitude of Lionel Labbez which, leading the heat from start to finish, stopped his car 2 meters before the line to allow Arnaud Collet to pass and make up for the first leg. Bravo lionel!

The third final would be decisive between both pilots. Although Arnaud Collet's RB5 was more agile than during qualifying, finally Lionel Labbez won the last final. Olivier de Montfumat did not benefit from his 2nd place and ended 3rd.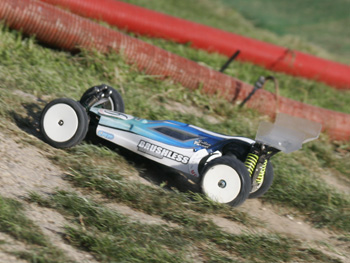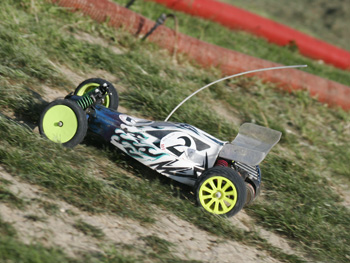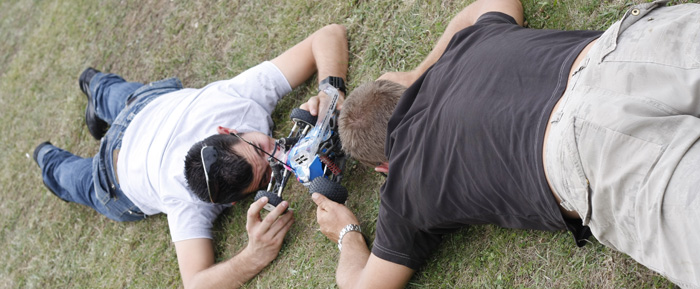 Lesson N°24 : Balance an X-6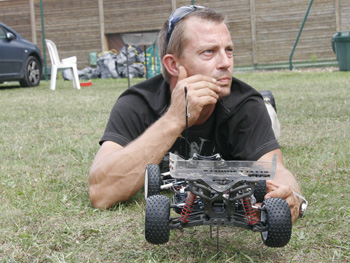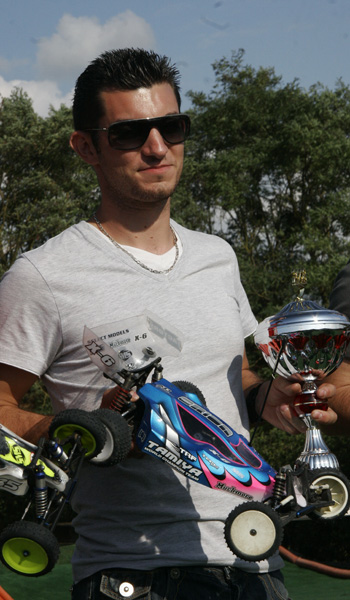 Lionel Labbez, pole man, wins the French Cup in 2WD Open. With his X-6, he was untouchable all the weekend and showed a great spririt during the second final. Bravo!
2WD Open finalists
1

Lionel Labbez

3

Olivier de Montfumat

CocoTrack
MID44
relay.fr

4

Xavier Ansellem

Select Models
Corally
Ansellem ingenierie

5

Laurent Calliet

Speed Passion Gran Turismo

mini-zone.com
Millenium Modelisme
BAK Design
M2D Shop

2

Arnaud Collet

Kyosho
TEKIN
Select Models
Corally
2LB Racing
PetitRC

6

Cyril Fages

Select Models
Ptityo
PetitRC
Millenium

7

Julien Formentin

Speed Passion Gran Turismo

RC Bolide
OPTIMIZED RCP

8

Martial Bouillard

Speed Passion Gran Turismo

10

Georges Saux

9

Cyrille Helias
1/10th Electric TRUCK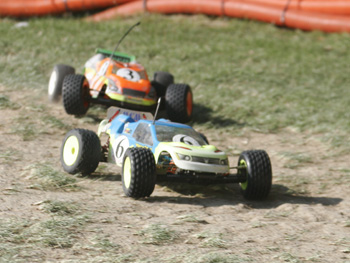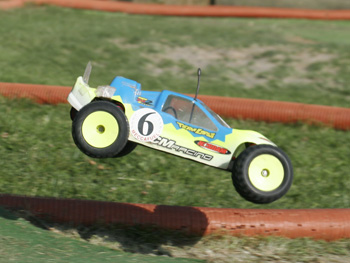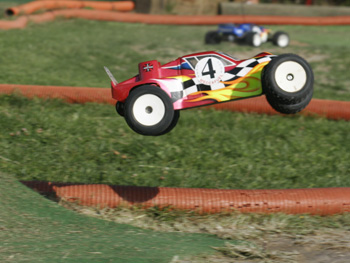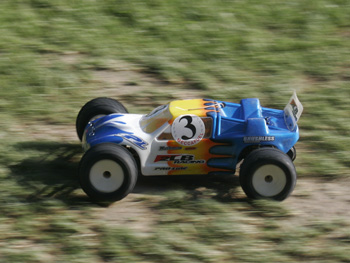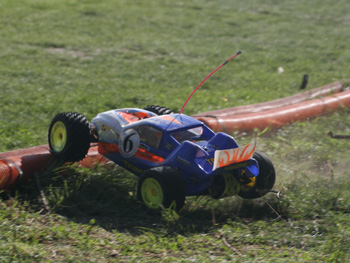 Phillippe Hautecoeur, pole man, wins the cup.
Board of Truck podium
1

Philippe Hautecoeur

RC10 T4

Stagger Bleu
Mini Pin Jaune

MID 44
RC Bolide
Bertrand Desclaux

2

Novak 4.5
Ptityo

Speed Passion Gran Turismo

SERVO
Ptityo
Petit R/C

3

MCM Racing
NOSRAM
Wheeling Concept
2 ROUES MOTRICE PROMO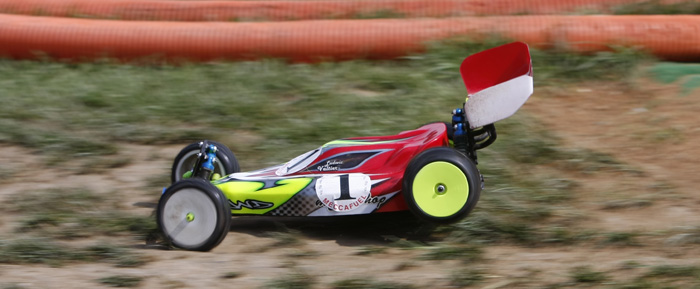 Ludovic Valtier, really faster, took the pole position in front of the feminine representative, Virginie Freland.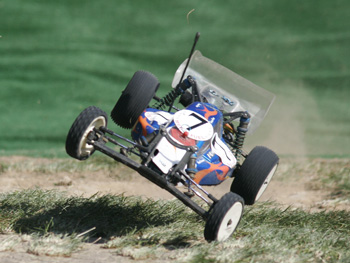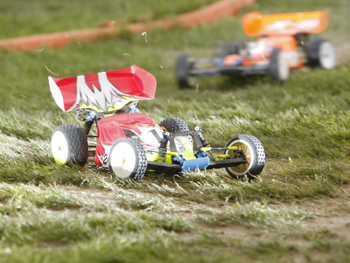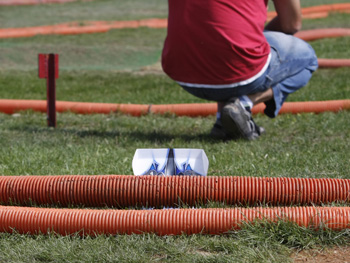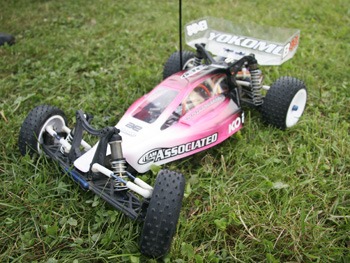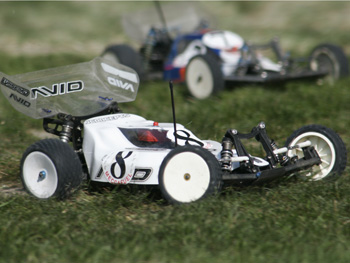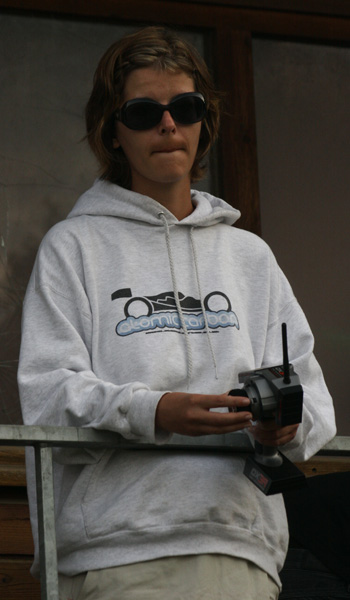 Virginie loves 3 things : her Daihatsu Copen, her pink X-6, and a RC driver!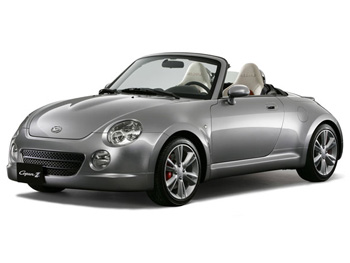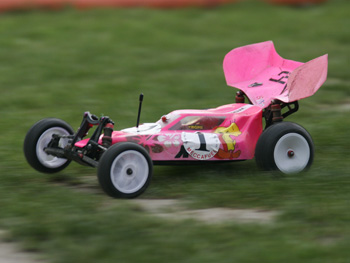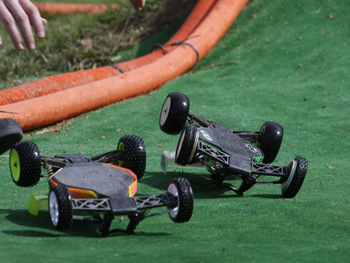 Sometimes life is cruel...

In finals, Valtier won easily the race. Fouad Elward, starting from the 7th place, finished 2. Beautiful race also for Cyrille Dubois who went back from the 6th to the third position. Ludovic's brother, Alain, won the B-final.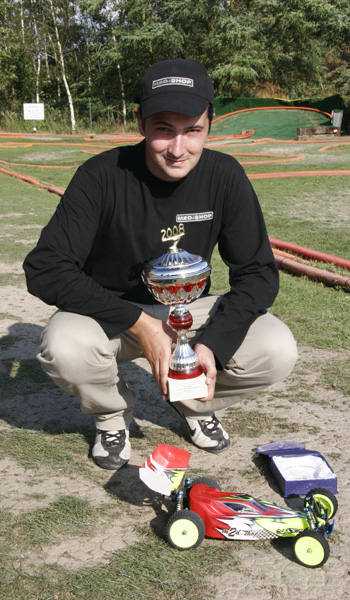 Ludovic Valtier, pole man, wins the French Cup. The Open category is waiting for you, Ludo!
Board of 4x2 Promo podium
1

Ludovic Valtier

M2D Shop
JN Design
RC4EVER.com

2

Team Ward
Petit R/C

3

Papa
Many thanks to the club of Gargenville for this French Cup 2008 and specially to Nicolas, the president, for his dedication.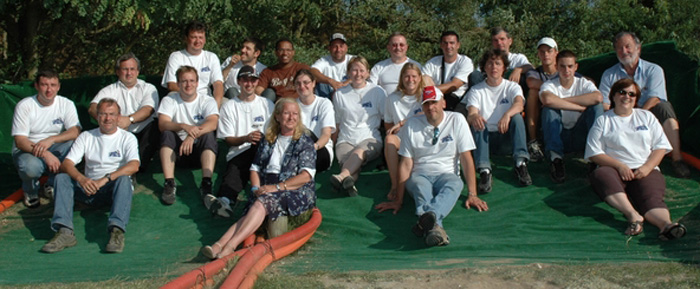 Text : Arnaud Ledun. Pics : Christophe Boulain, Cedric Devillers & Arnaud Ledun
Special thanks to Raphaël Gayoso for his help especially for the english version

Many thanks from the oOple team to Arnaud for writing this awesome report - and Arnaud, Christophe, Cedric and Raphaël for all their help!