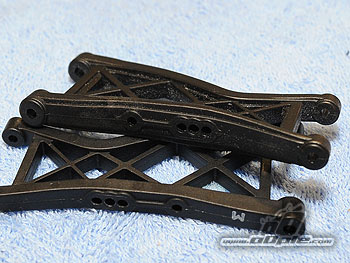 New front suspension arms are much improved.


Schumacher Racing have some interesting new development parts on their 4WD cars - sadly the new 2WD was swiftly taken away after some secret testing at the nearby RHR race track facility and won't be run this weekend. We were told by a little birdie that it's as unique as the CAT SX was when it was released.
The big bore dampers are the 'biggest thing' on the cars - and only the top team drivers had the chance to run them this weekend, with only three sets in existence it was a bit of an exclusive club. The dampers are large - possibly not as monstrously humongous as the Yokomo big bores, but maybe that's not a bad thing.
All the springs for the new dampers are black - but helpfully have the weights etched into the top shoulder. The springs are tapered toward the bottom to clear the suspension arms.
The team also have some new suspension arms to test out - and our man Graham 'blitzboy' Smith was one of the few drivers with them, and is sure to give them a thorough strength testing! ;)