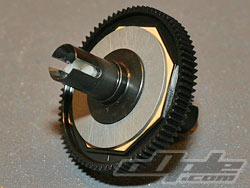 Assembled slipper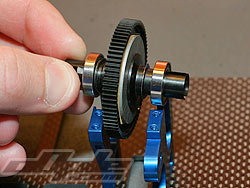 Slipper slides into the centre bulkhead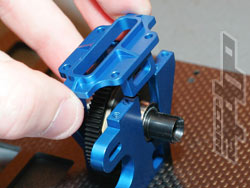 Top of centre bulkhead, holds bearings.
Building the slipper is like a cross between building a differential and building a slipper. The spur gear and slipper pads are clamped from either side by large alloy discs. These alloy discs key onto a hex on the outdrives which take power to front and rear.
The whole lot is clamped together by a long screw and diff nut, a spring is used to modulate the pressure applied and provide a range of slipper settings.
Putting the slipper together is a bit of a juggling act with the slipper pads jumping out of their position in the spur, slipper plates falling off the hex on the out drives and of course that goes for both sides of the slipper unit. Once I wrestled the unit together it was ok.
I noticed one of the slipper plates wouldn't sit flat on the outdrive, I mistook this for a manufacturing fault on the out drive but it turned out to be some sort of hardened grease or similar, once cleaned up everything was fine.

A thin metal shim washer goes over each outdrive on the slipper unit, followed by a rubber shielded bearing. This then slides into the bulkhead on the chassis as the last part of the bulkhead screws down from above, pressing the slipper bearings into place and making everything very sturdy.
A hole cut into the chassis gives the spur gear some breathing room, it extends slightly into the hole which also gives an outlet to any small stones or dirt which could otherwise get trapped between spur and chassis, causing damage.
The spur is still a couple of mm from the bottom of the chassis, so even when running no undertray the spur should be safe from damage.