Have I seen cleaner and better looking moulded chassis ? yes, to a small degree, but make no mistake about it, the X-5 chassis is a very good quality moulding indeed, and way beyond what I expected from a small company like Xfactory.
The chassis is very similar front and rear to the XX4 chassis, as it of course needs to be to accept the XX4 running gear. The only real difference in these areas is the extra material and reinforcement designed in by Xfactory.
The front part of the chassis uses a modified (by the user) xx4 front belt cover, and the rear uses a kit supplied belt cover.
The front and rear of the chassis aside, the rest of the design is unique to the X-5, there is very little similarity to the XX4. The servo is further forward and inline with the belt tunnel. Since the belt runs down the centre of the car the motor now sits far out on the left of the chassis. The 6 cell slots are arranged to counter balance the weight of the motor on one site, with a 4+2 cell arrangement.
This cell arrangement is clearly going to put some people off, no "basher" stick packs in here I'm afraid, certainly. The ethos of the Xfactory team seems to be no-holds-barred performance and function, which persists throughout the car, including the cell arrangement.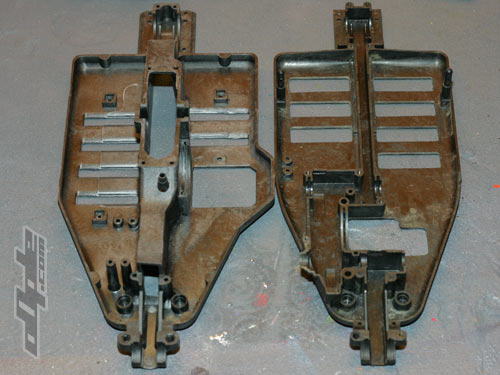 The heaviest components in the X-5 are more centred front/rear in the car than the XX4, the cells sitting further forward and the motor further back. This should make the car turn a bit quicker.