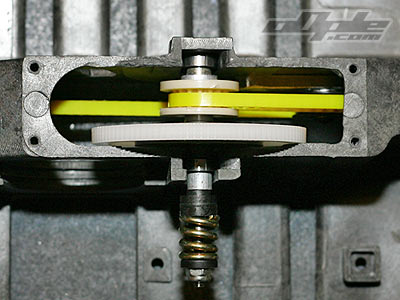 The slipper is easily adjusted with the nut, unlike the XXX4.
To get the spur to spin freely I ended up with both washers out and took of a small amount of material from the top hat washer to get it to fit in.
With the lay shaft now in the car and spinning freely, the pulley looked at first to be egg shaped, but on closer inspection the teeth in the middle looked quite good, just the flanges around the edge were quite out of 'round', no problem at all, but not perfect.
The belt is wrapped around the tensioner and lay shaft pulley, the tensioner then slides backwards to tighten the belt. Xfactory advise the belt tension is the biggest factor in drive train performance, too tight and the car will be slow and put excessive strain on the motor, too loose and the belt will skip like crazy.
On the high grip tracks we sometimes run in the UK some belt skip under acceleration is inevitable and not a problem.
A moulded plastic cover which extends up into the 'drivers cockpit' clamps the lay shaft in place and finishes off the drive train.