The bodyshell and wing package of the X-6 is striking in a couple of ways; firstly its clearly designed to be low and sleek whilst providing the maximum in downforce. The shell stays low and without feature at the front – moving toward a small driver cockpit with signature JConcepts roof shape. The rear of the shell sweeps upward to clear the gearbox and motor, wilst also guiding air flow onto the deeply-scooped & large rear wing.
Aesthetically, the shell isn't the best, especially unpainted. The compromises of function over form are apparent in a similar fashion to the shell of the X-5, XFactorys four-wheeler. But it is far from bad, it's the sort of shell that, whilst strange at first glance, grows on you.
The shell does cry out for a decent paint scheme and the loving touch of some well applied decals to break up its plainer areas like the sides and rather large rear end. With the large expanse of lexan, a 'one-can wonder' paint job will simply not do here.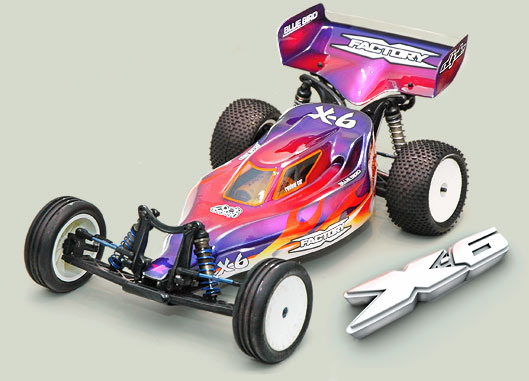 Traditional window lines are moulded into the shell, with front and two side windows. The window masks provided come in two parts however and are designed to create a single 'wrap around' window type effect - Yokomo Super Dogfighter style.
I wasn't too happy with the wrap around effect, nor with the moulded window lines which I feel look a bit awkward. The front window for instance is wider at the top than the bottom, and looked a little 'squeezed'.
I created my own window & frame masks on the computer, and cut them on my plotter. You can see from the photos that the bottom of the front window now reaches as far back as the moulded-in side window lines, with the side windows now pushed further back.
Looking around, everyone seems to have a different window design and their own ideas on how the X-6 should look.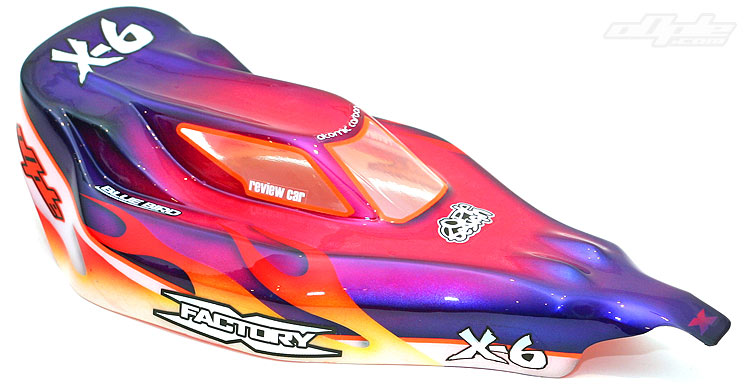 In a similar way to the X-5, my initial impressions quickly disappeared when the paint started flowing. I quite like the design now, so kudos to XFactory for sticking with their original concept.
ooh yeah, looks mean!