JConcepts CLASH - day 0 - 9th December 2008.
With one day to spare before racing was due to start, teamGB ventured out to see the sights of Miami. First stop of course was the track, where organisers were preparing the surface and surrounds for raceday. Various contraptions could be seen, including a mini tractor, vibrating plate, and some blowing device. The dude on the tractor could be seen trying to clear the triple jump, but he never quite made it to the top of the first ramp.
After the oOplers had sussed the track out thoughts turned to sun, sand and sea so we headed to Fort Lauderdale beach for some baywatch action...
Phwoarrr

Shortly after this photo was taken we spotted a giant jellyfish so all ran out of the sea like big girls, shattering the hunky image.
| | |
| --- | --- |
| | |
| The day was rounded off with a cruise round downtown Miami, which has to be said is a pretty cool place (Bradders even said he'd move there). | |
After taking some time out to relax back at the hotel, it was decided that Hooters would be the choice venue for our evening meal. The food was pretty good, and the ladies were very friendly, especially towards lil' Ben who was quite a hit with the hotties.
| | |
| --- | --- |
| | |
| Ben works some magic madness. | And wins!- HERO |
| | |
| --- | --- |
| | |
| Team Hooters - Ben up to his tricks again | Team USA Pool Team |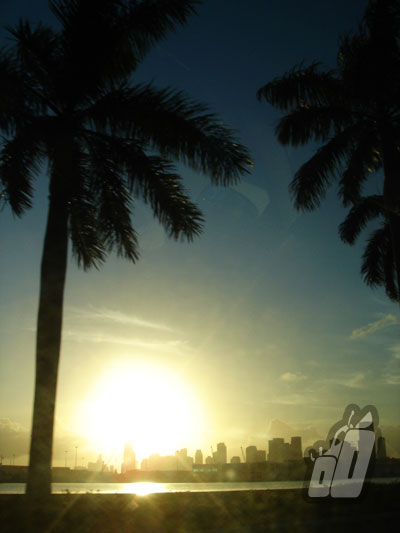 M I A M I