With the front and rear ends of the truck nearly finished it's time to take a look at the chassis for the first time. This is pressed from 3mm aluminium alloy and has milled areas to help lower the engine and differentials slightly and raised edges to add stiffness. Thankfully Tamiya chose a mid brown earthy tone for the anodising - blue would look hideous over such a large area, but this looks trick.
Large plastic side guards are included and these raise up high toward the front to help keep out the worst of the debris. The sides are actually a little on the low side but the body shell is a good close fit so it's no matter.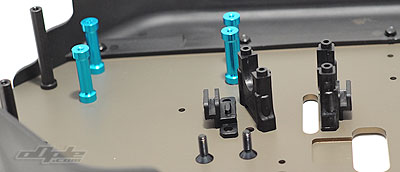 The centre differential needs a place to sit and this comes in the form of a multi-piece moulded mount - joined together at the top by a carbon fibre plate. The centre differential itself is assembled in exactly the same way as the other differentials - the only difference being the spur gear instead of crown gear.
Stamped out ventilated steel brake discs slide over the centre differential outdrives and are held in situ by plastic guides once the differential is seated in the mounts.