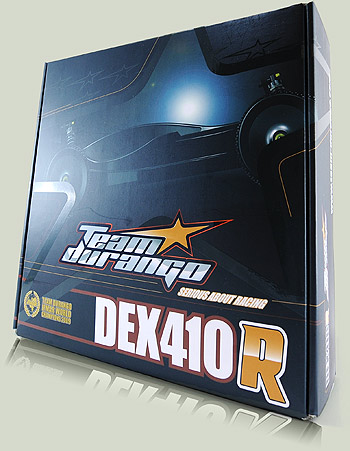 The DEX410R is the new cut-price way into 'Durango' ownership - coming a few months after the release of the original full-on competition slayer and 2009 IFMAR World Champion winning DEX410. This new 'R' version does away with some of the things you could possibly live without whilst keeping all the bits it needs to be a top-level racer, or at least that's the promise. We managed to sneak one of the first kits out of the factory to get an idea for the new budget racer.

The 'R' is essentially the same car as the original DEX410 but with less of the expensive alloy parts. Team Durango kept the alloy main chassis and vital parts such as the motor mount, but did away with the ultra expensive alloy side pods which as spare-part items came to a whopping £90ukp on their own should you somehow manage to damage them - replacing them with moulded plastic parts where appropriate.
Whilst the car is so similar to the original 410 it would be easy to overlook some of the neat new features and details on the 410R that we wanted to do a full review on the car - to see whether the new pretender can match up to the race pedigree of its big brother.
If you don't already know the history of the 'Durango' concept then have a look at the original DEX410 review we conducted on oOple in 2009 when that car was originally released. Gerd Strenge is the originator of the concept - an ultra narrow shaft driven hand-machined prototype that was only ever available to team drivers.
Michael Volmer is the brains behind the DEX410 production design - capturing most of the aspects that made the prototype cars winners on the race track, whilst improving the designs for ease of use and cost.