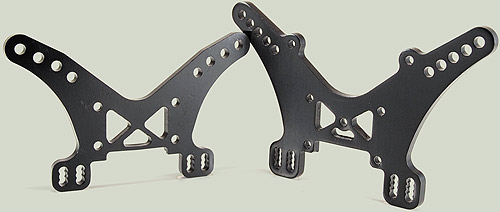 The shock absorber towers tie left and right bulkhead sides together at either end of the car. The towers have a vaguely similar look to the original car but instead of carbon fibre the 'R' gets cheaper pressed alloy towers - the material is more than thick enough however so should hold up well - but the extra weight high up on the car will raise its centre of gravity slightly.
Front and rear towers are curiously larger than those on the 410 - an extra outer hole on the front end and two extra holes on the rear plus some extra 'tabs' lead us to believe these might be the same items to be included on the rumoured 'SC' Short Course truck coming from Team Durango.
The extra height of the towers might see the car more prone to 'digging in' and apply more stresses to the rest of the structure in the event of a crash - but we'll have to wait and see for a proper verdict on that. The towers look good when assembled onto the car.
The ball studs used on the 410R are simpler than those used on the 410 competition car and thankfully no more losing cone washers in the grass whilst changing setup - since the 'R' does away with all that nonsense in favour of a fairly standard socket-head ball stud. The studs have a nice wide shoulder for extra support and secure with a nyloc nut on the towers.
Left: rear bulkhead combines the wing mount