Big Photo Gallery

1 - 2 - 3 - 4 - 5 - 6 - 7 - 8 - 9 - 10 - Next


JConcepts is a small company run by a handful of guys with a distinct passion for R/C. And with the BJ4 Worlds Edition they have conquered some of the biggest names in R/C - Winning the 2005 IFMAR World Championships in Italy in the hands of Ryan Cavalieri. That winning car, slightly refined, is now generally available to the masses in both full kit form and an upgrade conversion for the original BJ4x4.

The car is an evolution of the original JConcepts BJ4x4 released in 2004. The motor has moved to the centre of the car with cells now in saddle pack formation at the rear - either side of the centre drive shaft. With various improvements to add strength and tuning options, the car is topped off with a new body shell.
The build of the BJ4x4 World Edition begins with bag A, containing an array of carbon fibre components, the largest of which is of course the chassis.
Everything is cut from high quality satin-finish carbon fibre, which looks nicer in my opinion than the glossy material usually seen.
The main chassis and top decks are cut from 2.5mm material and the shock towers from stronger 3mm carbon.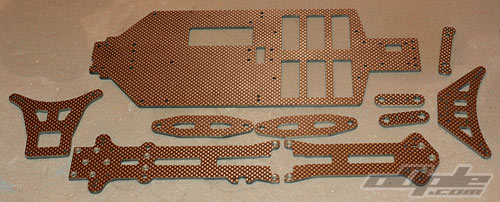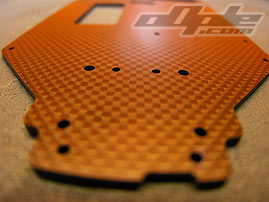 The first job is to file a small bevel into the main chassis for the rear tc3 gearbox to sit in. This is the same job as was required on the original BJ4x4 and I'm not entirely sure why the hole isn't just slightly larger to accommodate the gearbox. Still, it is an easy and quick job, only a careful minute or two is required to get the job done perfectly.
I used the gearbox bottom from bag C to compare against.
Carbon Fibre is nasty stuff, so use a file rather than a dremel or similar rotary tool and clean up the dust afterwards, or better yet do it outside. The dust isn't overly pleasant on the skin or in the lungs.
1 - 2 - 3 - 4 - 5 - 6 - 7 - 8 - 9 - 10 - Next