Electrics:
Installing the motor is quite straight forward, the motor sits to the left side of the chassis and two 3x12mm screws are used to secure it onto the thick motor mount.
There is a 17tooth pinion supplied in the kit, its a long-boss pinion since the spur is a little further than most from the motor, but I found normal pinions fit and work absolutely fine. There is no gear chart but the rear of the manual has a setup for Masami Hirosaka, who was using a 10x1 on 18t pinion.

I chose to put the 17t kit pinion on my Peak Vantage 12x1 motor for initial tests later going to a 22 which felt a lot more suited.
The receiver fits just in front of the motor in the space provided, not much room is available though so a small receiver is required.

My small KO fitted in no problems but my other larger receivers were a tight squeeze but did fit although with very little clearance of the belt.

camber plate secures rear diff in place.
The Electronic Speed Controller goes opposite the motor, there is a decent amount of room here to fit an ESC, even some of the larger models by the looks of it. The problem is that if you stick a larger ESC down you wont have proper access to the slipper nut or the motor screws.so a smaller ESC is preferable for motor access unless you use ball-end hex drivers. And the slipper nut can be adjusted best with a proper nut driver as the kit 4-way tool is a tight squeeze / impossible with the ESC in place.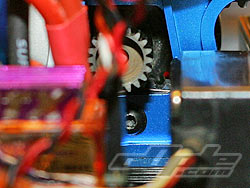 Peekaboo with the motor screws
Battery trays hold the cells well
Cell straps pivot on either end, quick!
I looped all the wiring over the top deck with enough clearance to avoid the exposed spur gear, there are probably neater ways of wiring the BX but this was quick and similar to what I'd seen on team drivers cars.
Cells are the last in and while the chassis is slotted the cells actually sit inside plastic trays which mean the slots don't need bevelling or any work what so ever. The plastic trays simply push into the chassis slots and the cells sit well down in the trays which have raised edges for extra security.
The cell straps are 2mm thick carbon and sit slightly diagonal across the cells, the holes over the posts are slightly over sized and allow you to just remove 1 pin to lift off the brace and pivot it on the other post and remove the cells easily.