Michael Vollmer is the designer that was able to work with Gerd in bringing the Durango to a product capable of selling to the mass market. Michael is an oople.com fan and we caught up with him for some insights into his work on the DEX410.

Hi Michael, what is your job with Team Durango and what contribution did you make toward the DEX410?
I am the designer for Team Durango to make the production drawings of all products. My job is to convert Gerds prototype - and experimental cars into production-ready products.
Different to other companies, we make experimental-prototype cars before we start makings production-drawings. This way we can check new technologies, geometries, drive-trains, etc. very quickly and can learn from the races whether it works. Gerd is able to make prototype parts very quickly and he always find improvements or new ideas. If we both think, the system of a chassis works well, I start making the 3D production-drawings from Gerds prototypes. We save a lot of time if we do it on this way, because we are absolutely sure that everything is race-approved. The suspension-geometry, shocks, drivetrain, weight-balance and all other small things and details.
But this doesn't mean that the production car gets the absolutely same look as the prototype car. Before we start making production-drawings we discuss every little detail and we put Gerds and my ideas into the new project. We both are very experienced and we both have different views in design and solutions. So at the end we get a production car that is not a compromise from our different views, we get a production car that has the ultimate solution from both. Gerd and I are very "lateral thinkers". If we discuss about a car, we never argue. It´s great to work with Gerd! I respect his experience and ideas and he respects my design-skills and my ideas.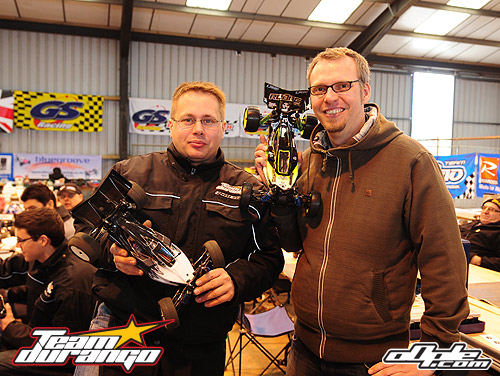 Michael (right) poses with his creation alongside Gerd Strenge.
With this mind set we started the DEX410 (Serpent 500) project. To be honest, it was the most complicated job I ever did. The technical requirements from Gerd were extremely high. The Durango prototype car was very extreme in every way. To convert it into a production car, that was affordable, usable for the average racer and easy to maintain was very complicated. I had thousands of problems to solve. If I solved one problem, the next problem came. Horrible! But after solving all problems we all are very happy!


Did you know Gerd Strenge before getting involved with this buggy?
I know Gerd since 2002. I saw Gerd for first time at the worlds in South Africa. But he was extremely busy wrenching for his team there and I did not get chance to speak with him. I was there with my VITEC SYMBIOSIS 2WD prototype car there. Funny, 2 guys from Germany and both with prototype cars on the worlds and we found no time to talk. After the worlds we became friends here in Germany. I remember Gerd showed me the first hand-drawings of the last generation prototype 4WD and I was impressed! We both knew we need to work together, but the time was not right.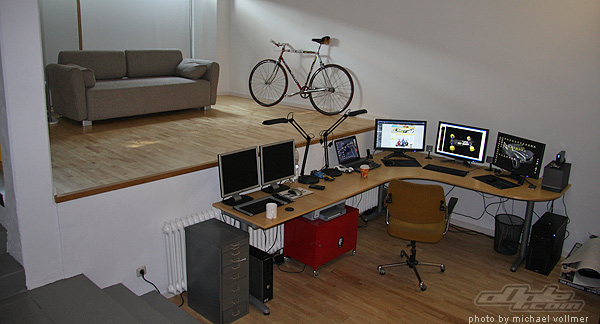 Michaels new office - first day after the opening party. It shared with other creatives and only 5 minutes from Michaels home. oOple on one screen, what a guy!
What other things did you design before the DEX410, and where did you work before Team Durango?
I started rc-car design 2005 in a Austrian company and made a touring car and a 1:18 pan car and a lot of accessory, like tools, cases for electronic devices, etc.
After 2 years I cancelled my job there and worked as a freelancer back in Hamburg/Germany in my new own design-company. I made the Serpent S120 and some other projects for Serpent. I also made some projects for a US company and later for other companies.
Before I started as designer I made a lot of different jobs, I have an education as a precision engineer. I was for a much-too-long-time a bike-messenger, worked in the electronic-industry, made for some years special-effects for the tv-commercial industry and then I worked with endoscopes in the medical-industry. I never was really happy with my jobs and was very frustrated at that time. I really saw no future for me in this situation, so I started to study as an engineer, my last chance to get happy with my life. After that I started directly into the rc-business, and here I am today.
The office leads out on to their own private bar!
The DEX410 is a work of art - do you think you created the ultimate off-roader here and what if anything would you change or like to see improved in some way?
As a designer you are never happy with the result. You always want to improve details. But sometime you have to find the point to stop updating drawings and to complete the project. Otherwise it's a never-ending story.
Yes, for sure, there are details to improve. If you look into the future, what will happen with new generations of batteries, motors, or new editions of the production car, you have to improve parts. The global design of the DEX410 is very good and absolutely race-approved. If we would make changes, we would improve some details. We have a lot of crazy new ideas about this platform and we have to sort out, what we can do and what makes sense.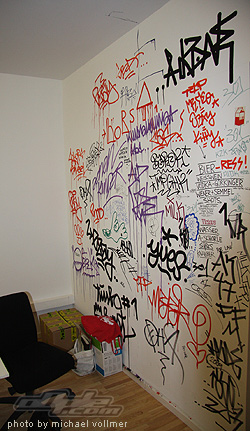 The graffiti wall at Michaels new offices - if we did this at my work we'd be given a kicking!
It looks like you had almost a free hand with design and materials - were there any compromises you had to make with the design, manufacture, materials that you can tell us about?
Yes, I nearly had free hand in design and materials. The costs of some machined parts are very-very high. We had no compromises to do. We simple wanted to offer the best materials, the best design and the best quality in one car. And we are very happy about the manufacturing quality of every single part of the car.


What are some of your favorite features on the DEX410?
I like all features about easy maintenance. It was so complicated to design these features - so I must like it. Haha! But the main-feature on the track is definitely the great handling of the DEX410! And the solid drivetrain with the geared-diffs. The acceleration is amazing! There are some people who think the high-rotating mass is bad for acceleration. I say, the high-rotating mass is good for acceleration! The torsional moment of our gear-diffs when acceleration is much higher than a lighter ball-diff. That means, we get a lot more mechanical traction to the rear axle under acceleration. The torsional moment of the gear-diffs is pressing the rear-end of car down on the track because of the higher weight-transfer when accelerating. Same with braking: The higher weight transfer press the front-end of the car down. And the DEX410 can brake without loosing the teeth.


You like vintage R/C buggies, we know that. Are there any features inspired from older cars you admired, designs, materials - anything? And for the next version, can you make the body look more like a Kyosho Javelin please? :)
I love the old-school stuff! I've raced since 1984 and I always modified parts, or made new parts for my cars at that time. I remember my old Turbo Optima (with my self-made saddle-pack chassis) had geared diffs and they worked very well!
I like the vintage cars, because there was a lot of very innovative cars in the 80´s and beginning of 90´s. I know nearly none of these innovative cars were very successful in racing, because they were way too complicated and fragile and not perfected. What I like from these over-engineered cars is the spirit of design and the courage to bring this cars on the market. The first true innovative and perfected racing buggy was for sure the RC10! I remember, all other products on the market looked like toys in comparison at that time. And I like the old days, because the quality of parts. I remember, my old cars nearly never broke.

I hope I get some day the chance to make a true old-school-car, like a Tamiya Sand Scorcher, Holiday Buggy, or something

like that. Simple, but cool design and a realistic look. Maybe a Javelin-roll-cage body included. We will see ;)
But for the moment I have to design racing cars, because, you know, we are serious about racing.