TrakPower is a new name on the battery scene and their first product is the TrakPower 4900mah LiPo. This brings with it the latest in battery technology, Lithium Polymer.

Hard cased for the rigors of racing and with huge capacity and impressive performance on paper - this pack is a glimpse of the future. So lets take a closer look...
Lithium Polymer or 'LiPo' batteries are slowly making an impact in the R/C car market, a Market long dominated by the Sub-C NiCd and NiMH cells from a handful of manufacturers. This new breed of battery comes from a new breed of company, and those established brands have something to at last challenge their dominance.

Nickel Metal Hydride cells, introduced a few years ago into the hobby by the likes of Sanyo and Panasonic, have really taken off.

GP and Intellect now dominate the market with huge capacity NiMH cells (around 4200mah at the time of writing), with higher voltage and lower internal resistance than ever before.
The TrakPower pack at 4900mah isn't at first glance a huge leap forward in capacity. OK, it's 700mah more than the highest capacity NiMH pack – but it's the way that power is delivered and the life of the battery which promises to really make the TrakPower 4900 pack stand out.
And stand out it needs to do, since this battery is more expensive than any "ultimate team spec world pack (...blurb) " – from any manufacturer, ever. At just shy of 80ukp this is probably double what the average person would spend on some mid-level race packs.
The TrakPower pack has safety info on the bottom

What do you get for the money?
The first thing you'll notice is the GOLD factor! This could have ended up looking disastrously tacky and an act of poor judgment – but the results are actually quite pleasing.

The LiPo cells are encased in this hard, gold effect plastic case, which adds a certain level of safety to the pack and stops the soft cells being damaged in an impact. The case is square and is the same size as any of the current crop of 7.2volt NiMH packs.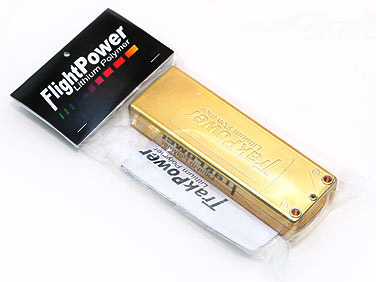 Since the pack is ultimately square on all corners / edges, there could be some fitment issues in some cars which are designed either for stick (Tamiya style) packs or side-by-side cells – and where the chassis / battery tray is moulded to conform to the traditional round cells.

This sort of fitment issue will certainly be eradicated over time as manufacturers are more aware of potential issues. One good example of this is XFactory with their X-6 2WD electric buggy. The XFactory team use a special 4+2 (sub-C) battery lay out, carried over from their X-5 car. They did however pay special attention to the upcoming LiPo revolution and incorporate the use of this hard-cased LiPo type of battery into the design.
Unlike regular NiMH or NiCd 7.2volt battery packs, the TrakPower LiPo uses only two cells rather than six. Each of these cells has a nominal voltage of 3.6volts and has a capacity of 4900mah.

The cells in the Trakpower 4900mah are arranged similar to how you'd find in a traditional pack, with a 2s1p arrangement. Ok, you're possibly as puzzled as I am, as to what 2s1p actually means.

The 's' refers to series and 'p' refers to parallel. So as an example, a 2s2p arrangement would have two cells in series and two cells in parallel, 4 cells total.


With the Trakpower 4900 being '2s1p' we have two LiPo battery cells in series – this adds their voltage (3.6v) together to produce 7.4volts Nominal. The '1p' refers to there being just one cell in parallel – so in effect, there are just two (large) cells of 4900mah in series used here.

The things to note are:

Cells in series affect the voltage without altering the capcity, whilst cells in parallel add to the capacity without affecting the voltage.
Once you have adjusted your eyes to focus on the blindingly bright gold brick before your eyes, you'll notice the discreet 'TrakPower" branding moulded into the case. Three connectors are recessed into the case, two large 4mm gold tubes to accept Bullet style / Corally connectors to provide power to the speed controller. The third connector is a smaller version of the other two and is incorporated to provide an easy to use balancing (equalizing) solution to keep the pack in top condition.


With only two cells, and superior technology, balancing the cells, I'm told, isn't as critical or necessary as with previous types of cells. The TrakPower pack is matched (both cells are selected for their similar performances to eliminate differences due to manufacturing tolerances) but it is however good practice every now and then to make sure things are equal. Trakpower have recently released their own balancer / equalizer, which automatically keeps the balance in check.
In Use:
The TrakPower LiPo needs a specific LiPo charger - traditional delta peak or other types of charger simply will not work and will damage the pack and possibly even cause injury. So be warned.

TrakPower advise the 4900 LiPo be charged at no more than 2C - this means two times the capacity. For the TrakPower 4900 this means a maximum charge rate of 9.8 Amps - or 10amps if you want to round this up since the cells can actually be charged at up to 2.5C.

The higher the charge rate, the quicker the degradation of the cells - just like with any battery technology, though possibly to a lesser extent with LiPo. A charge rate of 1C, or 5Amps should be plenty and give a longer life - you can always resort to a higher rate if you are stretched for time.

For charging duties I used the BANTAM e-station 301DX. FlightPower distribute and sell this brand of charger and I was lucky enough to get one to use with the TrakPower LiPo.

The e-station 301DX has the following specifications.
Specifications:

Safety Features:

1-5 Cell Li-Poly,


1-14 Cell Nicad/NIMH,


2-12V Pb

(Lead Acid).




100 mah to 5 Amp charge rate,


100mah to 1 Amp Discharge rate,


Banana Plug Output,


Adjustbale 2 line Back Lit Display,


Auto Charge/Discharge 1-5 times.


Input Voltage 11-15V DC.


Optional Temperature Sensor.

Verification of Li-Poly cell count. Prior to beginning a Li-Poly charge, the charger will compare the user input of cells to the number of cells the charger detected.

User adjustable time setting for auto termination.

User adjustable max charge capacity to prevent over charge

Optional Temperature probe
Either its the fact that I have a truly huge charger (Eagle CDC, 240v/12v) or that the Bantam e-Station 301 DX is just plain deceptive in the photos - but I was pleasently surprised by the size of this thing. Tiny.

The 301 DX is a clever little fellow and can not only charge all LiPo's known to man, but also handles your existing NiMh race packs. The charger is capable of a charge rate of 5 Amps - which is no problem for NiMh. It does mean you can't take advantage of the higher charge rates possible with the TrakPower 4900 LiPo. Still, 5 Amps should be plenty.
The 301 DX, is a multi functional charger and used in different areas of R/C such as flight - so charge leads aren't supplied as standard. TrakPower sell appropriate leads so there is no problem. To charge the TrakPower, no 'special' connectors are required since both the TrakPower LiPo and the e-Station use Corally / Banana plug style connectors. I made some simple charge leads with a male corally style 4mm connector at either end.

The left side of the 301 DX has a hard wired set of small crocodile clips, to connect to a 12v DC power source. These connectors are fairly small and weren't quite able to hook up to my leisure battery so I had to daisy chain from some larger crocodile clips.

Using the charger couldn't really be much simpler. The 301 DX defaults to LiPo mode on switch on. You can either navigate to different charge options or user setup (to adjust various settings), or you can adjust the parameters of the LiPo charge. These consist simply of charge rate in amps, and number of cells in series, 2S in the case of the TrakPower.
Once ready, holding the start button for three seconds takes you to the detection screen. Here the 301 DX will detect how many cells in series are actually in the LiPo pack, and display the information opposite the information you set in the previous stage - this is an extra level of safety, so you can check your settings.

Pressing the enter key begins the charge - and that's it!
Testing: The first test of the TrakPower LiPo came a little out of the blue. I intended to run in the "York Vintage Masters" race – a race for old buggies from pre-1990. I prepared my RC10 Graphite but at the last minute realized that it would require a lot of work to re-solder all my batteries to fit the car, and time was running out. The TrakPower lipo was a perfect fit in the car so I decided to go for it.

The vintage class all ran the HPI 20 turn sealed can motors – not the most extreme test for the LiPo, granted. I ran three qualifiers and totaled about 18 minutes of track time before the finals.

Because I wasn't sure of the capacity left in the pack, coupled with the fact that I didn't want to run to risk dumping in the final nor damaging the pack, I decided to put something back into the pack (1150mah before the final)

After another 6 minutes racing, the car was still going strong and upon discharging I noted there was 1118 mah left in the pack - so on a full charge I was looking at around 23/24 minutes with the 20 turn at racing speeds – not bad!

I am pleased to say I finished dead last out of the 6 of us competing in the vintage class- fair enough I was probably the worst driver! It was however good to note that my ancient car was widely accepted as being the quickest by some way. The extra power the pack delivers can make a noticable difference with controlled class motors. I am at least a good example that more speed doesn't always make for better results!

To sum up my first experience - it wasn't really an extreme test of the TrakPower 4900 LiPo, the pack made the car quick considering the motor but the current draw was low and I never really 'needed' to charge the pack all evening. The fact that you could possible do an evenings racing on one charge, is rather appealing though.

The TrakPower LiPo is more than just a high capacity pack - There's also a difference in how you can use it, compared with NiMh or NiCad cells. Namely charging straight after use and using just the one pack at a race day. This really is extreme stuff and will likely shorten the life of the cells, but you're surely getting your moneys worth.

For my third race with the LiPo I took it for a race at Garforth Touring Car Club, near Leeds. This was my first touring car race for a long-long time, and I was quite looking forward to it despite a little apprehension.

Things had moved on from the last time I raced touring cars, when shaft drive was starting to take over - now you'll barely see a shaft driven touring car at the track. Modified motors were also the main class - now it seems 19 turn is the "in thing". So, quite a lot changed and I wasn't expecting to do well.

I was going to run a plastic-fantastic Hot Bodies Cyclone S. This is the base model touring car from HB, and is basically a budget version of their World Championship winning 'Cyclone'. The TrakPower LiPo fits the chassis with the connectors facing toward the front. With the connectors toward the rear of the car one of them would be under the top deck.

I also installed my three year old 19 turn, Keyence Zero ESC, Blue Bird 616 MG+HS servo.

I didn't get chance to practice after turning up late but I was pitting with a few guys I knew from 10th Off Road racing. What was interesting was that everyone sat around me, being friends, the word had spread between them and all were running the TrakPower 4900 LiPo.

This was great opportunity to get some thoughts of others using this technology - I was the only one racing LiPo at both previous off-road meetings. It seems touring car racers are a little more quick to obtain the latest thing!

As well as the similar hair styles - these guys all ran the TrakPower Lipo

I did a few laps practice with the car before the start of my round 1 heat, but lasted barely three laps into the actual race before breaking the car - obviously a little out of practice. I was shocked by the speed - my ageing 19 turn has never been so quick. This was amplified by the relatively small indoor track - with 9 second laps being the norm for the best drivers.

I put the LiPo on charge and went to marshall.

In round two some of the "old magic" returned and I settled into a groove - the track was so short that you had only a handful of 'moves' to perform on each lap and it was easy to get into a rhythm. I managed a virtually clean run and put in 30 laps - 2 laps down on what the best drivers were doing so I was very happy.

Again, I put the LiPo on charge and went to marshall - this was a theme among the other drivers using LiPo. The only time I ever needed to remove the pack was when I had to fix the car after round 1.

Round three was a little disapointing since from here on the car was unsettled and unpredictable - this also lasted into my final. It was only afterward that I discovered the problem - the front driveshaft wasn't spaced correctly after my first round crash and was popping out of position occasionally and locking up the wheel.

Racing with the LiPo at garforth was great fun - the slight voltage increase gave the cars a kick and speed was excellent - as good or better than the best matched NiMh cells. Charging between rounds isn't really necessary, but a boost before the final would be needed. Everyone running a Trakpower LiPo was impressed - the only slightly negative comments were regarding the lack of saddle formation packs and the fact that it's not BRCA legal for off-road racing!

It's easy to spot the Trakpower in the pits

I installed it into the new XFactory X-6, and took the car to Bury Metro buggy club for some outdoor winter racing. The X-6 uses a bespoke cell layout, but the designers saw the future coming and designed the car to accept hard cased LiPo packs like the TrakPower. The TrakPower 4900 fits like a glove, as it should.

Outdoors in winter isn't always the best of ideas and the conditions were dire at best. The entire car got a thorough soaking, including the LiPo of course. This didn't seem to be a problem and it was at least easier to clean the LiPo afterwards than normal cells.

Performance with the tired 10 turn motor I was using was good and it was more power than I could put down on the wet track. I ran twice between top-ups with the charger.

It won't improve your social life and let you meet new people - but the less time I spend faffing with my car at a race meeting the better. I like to race, photograph and talk to people - so LiPo, for me, especially if combined with brushless - is a godsend, and a real boost to my enjoyment. Sure, I will still do Nationals and Regionals etc, and use NiMh in my 4WD buggys which aren't able to use LiPo - but for club racing and practice sessions, the LiPo does take away some of the chore factor- the lazy mans option perhaps!

Taking the TrakPower LiPo to a race meeting, particularly a relaxed club meeting, which all three races I attended with the pack were - is a revelation. Why take 4 or 5 packs of cells into the meeting when you can take just one!

The extra speed, longer run time and ability to charge after use are all factors that make the TrakPower great. You can charge weeks in advance without power loss, so the night before a meeting is certainly no problem at all.
The down sides – well of course this pack won't fit 100% of cars - Most obviously those using saddle or other formations of cells. A saddle pack version of this pack would be the most obvious next step for TrakPower, and I will certainly be one of the first customers for this.

Neither is the pack legal for many types of racing at the National or Regional levels – indeed, some clubs might take a dim view of you competing in a 'controlled' class with an unfair advantage like the LiPo gives. Instead of getting the pack to that point, I did 3 runs maximum between charges - or 2 runs with a modified motor.


Safety is often talked about with LiPo in high amp draw situations, and is something that brings out a lot of opinions. But to draw back from 'hype' a second, it's possibly a little unwise to draw any sort of valid opinion after seeing a video on the internet - where someone has clearly set out to blow up their LiPo. This is like someone at a nitro meeting setting fire to things - to see what will melt!



Using a proper LiPo charger is of course absolutely essential – and following the guidelines is similarly critical to safe and long-term usage. These things in place – there is no real reason any LiPo should be problematic.



The TrakPower LiPo should be protected from going below 6V during discharge. This can overheat and ruin the cells. So it's advisable to use an ESC which has a LiPo safe mode. This will shut down the car to protect the cells when they reach their low point. I didn't have any ESCs with this LiPo safety feature – so I was advised that, should I use the pack for long enough to fully discharge it, then it would be imperative to stop driving as soon as the performance falls off and get the car – rather than try and drive it back to the pits.
For racing at a high level, widespread acceptance isn't here yet, but for general fun and club racing – those that have used the TrakPower LiPo or similar know why it's worth its weight in gold.

(darn, that's a cheezy ending)