Billy Easton pilots one of the 'Serpent' branded Durango prototypes - Worlds 2007, Japan.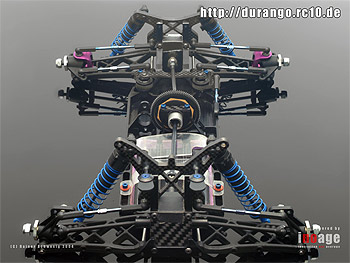 2004 Durango - photo by
Rainer Schwesig
The cars developed to the super-narrow design that was most well known, and most unique, with many machined alloy parts and a price tag that would be through the roof, if you could only buy one. Serpent Racing from Holland teamed up with Gerd Strenge to develop a Serpent-Branded 4WD electric buggy based upon Gerds prototype cars, calling the car the S500.
The car was a radical departure from the slab-sided hand-machined prototypes when it first saw the light of day at Nuremberg 2008, and seemed to hold nothing back in the quest to create the ultimate 10th off road buggy. Unfortunately things went sour for Serpent as the economic climate disintegrated and the S500 had to be dropped to allow them to concentrate on their core business. It looked as if the Durango would again be cast into the shadows and never see the light of day - at least for the average racer.
Various drivers with their prototype Durangos.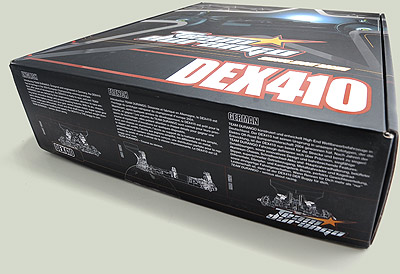 Step forward a few months from those dark-dark times and with new investors, Team Durango were formed - Thankfully, the team rescued what they'd created, rebranding the car the 'DEX410' and setting about many months of refinement and testing - and the wait continues.
The first production kits arrived the week after the last round of the 2009 UK 10th off road national series - we managed to get one of the first in the country so here's our take on Team Durangos DEX410.

Before you even open the DEX410 box - you know you've got something a little different from the norm. The spot-uv (glossy logos on a matte background to you and me) on the top of the box gives a real feeling of quality - and must have cost a pretty penny.
Inside the box you're greeted with two huge baggies of parts- along with the body, chassis plate and manual. The manual is similarly treated to spot-uv lovliness front and back and is in full colours throughout - again, this can't have been cheap to produce. One of the two large bags contains all the build stages and is mostly metal parts, lettered and ready. The other of the two bags contains all the plastic parts used - which aren't bagged into the stages.